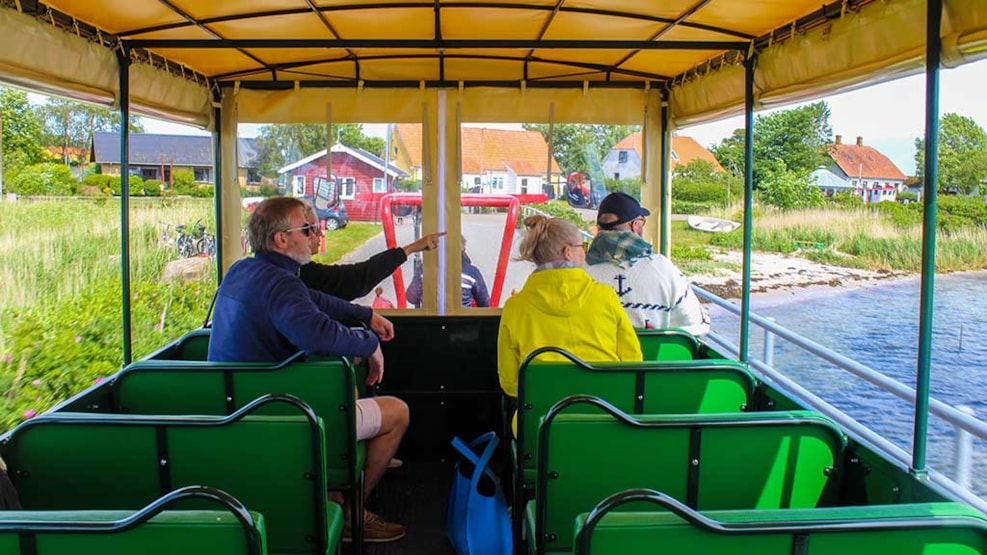 Hjarnø Tractor Tours (Traktorture)
Experience the island Hjarnø from the bed of a tractor. Come along for a guided tour and hear stories from the locals about anything from nature to history and the daily life on the island. On this roundtrip you will experience everything that the island has to offer.
Experience the island atmosphere with a local guide
Hjarnø offers lovely nature and easily accessible island atmosphere only 500 metres from the coast. With Hjarnø Tractor Tours you are transported around the island and will hear stories about everything that makes Hjarnø unique.
The tours start at the island's little harbour – and you can almost jump from the ferry to the tractor bed. You will stop on several locations around the island and hear stories from the guide. You will make a stop to visit Denmark's second smallest church, and you will learn more about the nature and the island's Viking history.
Please note that the tours are only in Danish.
Combine with a taste experience
Hjarnø Tractor Tours frequently organizes guided tours that you can sign up for. Some of the tours include a visit at a local eatery where you will eat lunch as you finish the tour.
Another tour includes a visit to the island's wine field where you will learn about the production and taste the wine.
Practical information
The tractor tours are frequently arranged and open for booking. Each tour and the price will be announced at the Hjarnø Traktorture Facebook page. Call Hjarnø Traktorture at +45 93993686 for booking. The tours start and finish at the the harbour. You must book at 9 AM, the day before the tour, at the latest. The Hjarnø Ferry sails 30 times a day, and you do not have book the ferry ticket in advance.
Book your own trip
It is possible for groups to book their own tractor tour. Here, you choose what you wish to see and hear more about on the island. Contact Hjarnø Tractor Tours to hear more about the opportunity.
About Hjarnø
We suggest exploring Hjarnø after the tour. Hjarnø is not too big, and it is possible to walk around the island – and even more experiences await than the ones you were presented to on the tractor tour.
You can find inspiration for experiences on Hjarnø on this page.
Destination Kystlandet © 2023