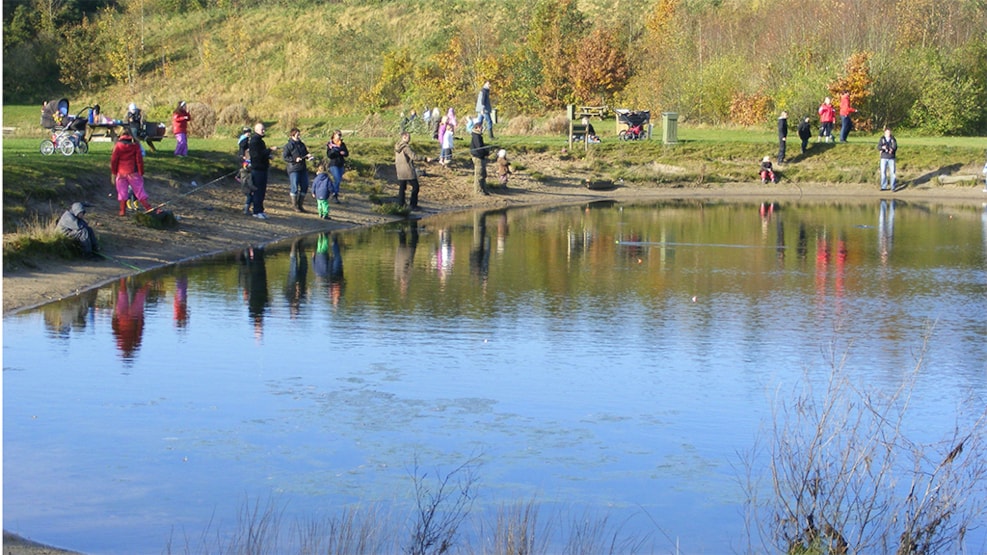 Hedensted Put & Take
Bring the whole family for a great day outside at this great fishing centre in Eastern Jutland. Five fishing lakes in good terrain along with excellent facilities frame the experience at one of Denmark's best put & take experiences.
Great fishing experiences await
Near the centre of the city of Hedensted, but still in calm natural surroundings, you will find Hedensted Put & Take. Divided in five different lakes there is a total of 30.000 m2 water surface available for fishing.
Fish is released into the lakes daily, and you have a chance to catch rainbow trout, brown trout, gold trout, eel and pike in the lakes. The lakes contain fish in many sizes – up to 8 kilos.
The cosy surroundings are characterised by green zones and lots of shelter from the wind. There are several areas where you can enjoy your packed lunch or even cook the catch on the grill. Feel free to use the four pavilions, tables, benches, the barbecue, the kitchen, and the fish cleaning table.
Bring the kids
Put & take lakes are a great way to let children try angling for the first time. At Hedensted Put & Take, the youngest members of the family can have fun at the children's lake where there is a higher number of small trout, which gives better chances for a catch. And while mom and dad enjoy some quiet time, the children can blow off some steam at the playground.
Stay a bit longer – spend a night
At Hedensted Put & Take you get the option to spend the night in a cabin or an apartment at the site. The two charming wooden cabins at 56 m2 have three rooms, a fully equipped kitchen, free wi-fi and sleeping accommodation for 6 people. Each cabin has its own 15 m2 big porch.
There are also apartments available for long-term and short-term lease. The spacious apartments have facilities that will meet all your requirements.
At the Hedensted Put & Take web site you can make a reservation.
How it works
Put & take is a fun activity at a low price. At Hedensted Put & Take you pay for the rod for a certain number of hours. For each extra hour you fish, you get a greater discount. There are no catch limitations.
You can choose to pay cash, with credit card or the Danish Mobile Pay.
At the website you get an overview of the current prices.
Open all year
Hedensted Put & Take is open all year from sunrise to sunset.