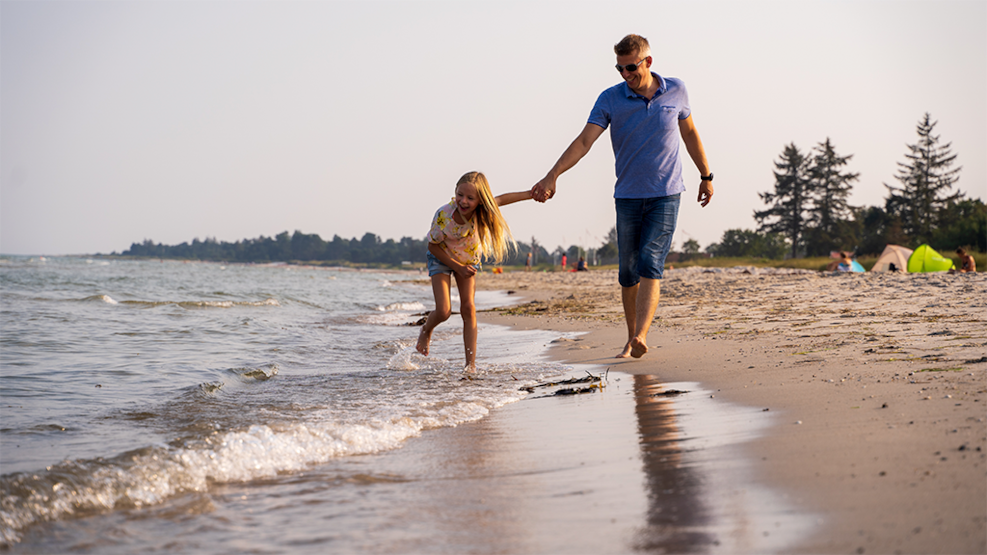 The Heart Path in Saksild
Experience the lovely coastal landscape of the Odder Coast on this short hiking route at Dyngby Beach and Saksild Beach. Perfect for a sunny summer day with lots of fresh air.
Go for a walk in the heart of the holiday territory
The beaches of the Odder Coast are a magnet to sun craving holiday home guests on coastal holiday. Behind the best beaches of the east coast are a blanket of holiday homes in cosy and peaceful surroundings. You can sense the special atmosphere on a hike in the area. This route takes you around the area between Saksild Beach and Dyngby Beach. The route starsts directly south of Saksild Beach so you do not hav to walk in an area that can be crammed with sunbathing beach guests. If you wish, you can extend the route, so it starts at the public parking lot in Saksild.
Perfect for a short Sunday walk
The route consists of two round trips that can be combined into one 5,6-kilometre-long route. Both routes start at the former beach hotel (Saksild Badehotel) on Chr. Petersensvej and are waymarked.
The short route heads north on Chr. Pertersensvej and circles around the holiday home neighborhood in Dyngby on Posmosevej and Strandparksvej.
The long route follows the beach towards Dyngby from the beach hotel, and back through the holiday home neighborhood on Dyngby Havvej and Spongsvej.
About Saksild
Saksild Beach is the most popular beach in East Jutland. Here, there is lots of life and activity in the summer period. Especially around the Triangle (Trekanten) where you will find eateries, ice-cream parlours and shops. You can also rent a kayak, a SUP board or a boat and get on the water. 
About heart paths
Heart paths are waymarked hiking routes that make it easy for you to get daily exercise. The routes are typically located in the cities – where people live. The paths are located all around Denmark. The closest one is in Odder.