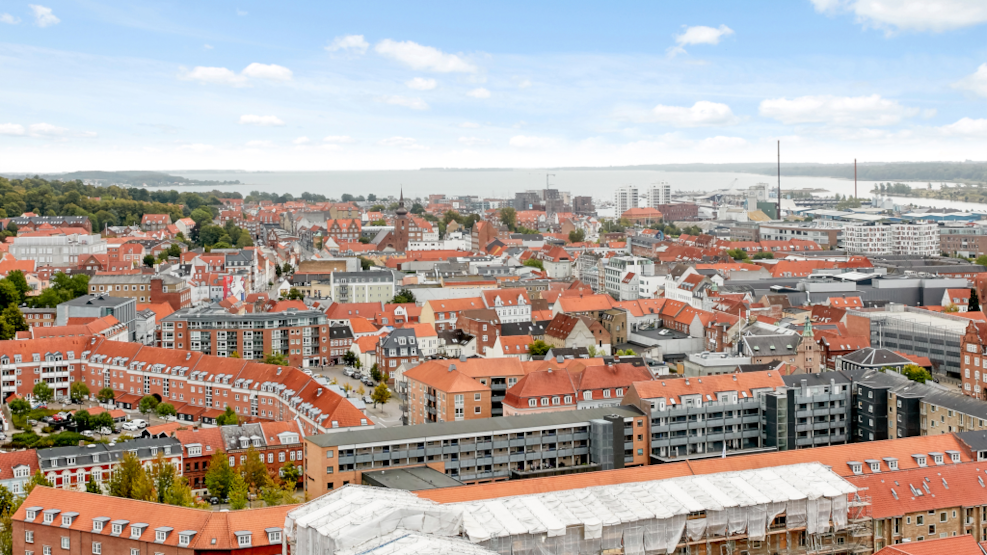 Guided tours to the top of Horsens
Come along for a guided tour to the top of Horsens' tallest building and see the city from above. From the roof terrace at the 17th floor of Campus Horsens you can see Horsens and its surrounding area from an angle you have never seen before.
The best possible view of Horsens
The new campus in Horsens can be seen from afar. 67 metres tall, it is the tallest building in the local area, and an iconic and easily recognizable landmark for Horsens. From the roof terrace at the 17th floor, the view is hard to match. You can see the many red roofs in the centre, parks and nature areas, the harbour, the fjord, and iconic buildings such as FÆNGSLET (the prison) and Nordstern Arena (the stadium). You can also see some of the villages that surround the city.
Guided tours
The guided tours are your opportunity to get access to the roof terrace and enjoy the view. You can get to the 17th floor comfortably with the elevator or quicken the pulse with a hike up the 378 stair treads.
You can look forward to exciting stories about the local area – and you also have an opportunity to take a really good picture of the city from above.
Book your ticket
The guided tours are scheduled on Fridays between 4 pm. And 8 pm. And Saturday-Sunday at 12 am.-4 pm. The tours are 30 minutes long. The meeting place is the entrance to Campus Horsens across from the train station. If you are in doubt, look up and find the tallest building.  
Price: 25 DKK per person. Free admission for children under the age of 7.
Follow this link for online booking.
Parking
On weekdays after 5 pm. And during weekends, you can park for free at Campus Horsens' big parking lot. There are also other parking lots in close vicinity – including the train station.