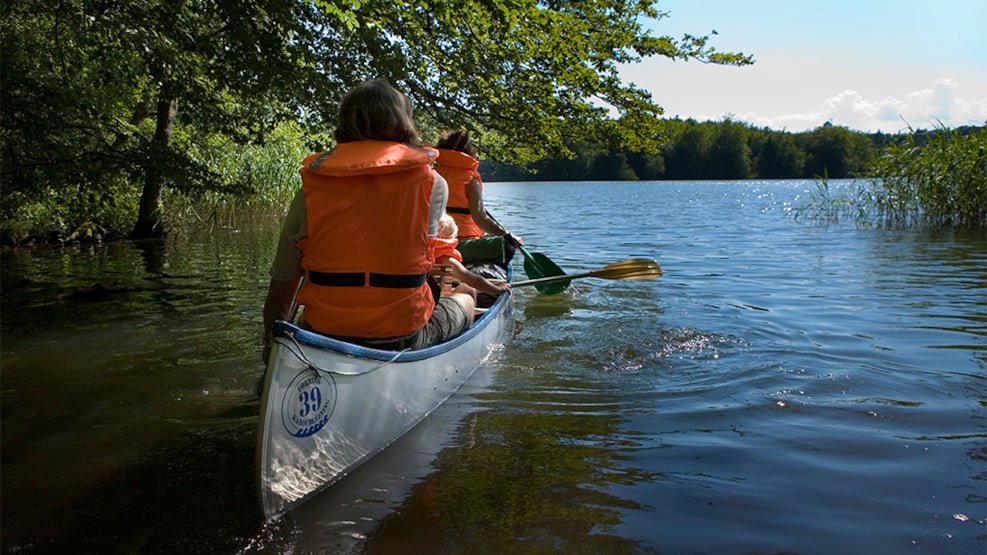 The Gudenå Bus (Modstrømsbussen)
If you canoe downstream on the southernmost part of the river Gudenåen during the summer holidays, you can take the bus back to where you started. Once every afternoon the bus will pick up canoeists at select stops between Klostermølle and Tørring.
Sail downstream and take the bus back
The southernmost part of the river Gudenåen from Tørring to Klostermølle is said by many to be the most beautiful part of the approx. 160-kilometre-long river. On this narrow, winding and calm stretch you can only sail downstream, which means that you cannot turn the canoe around and sail back to the starting point.
The Gudenå Bus provides easy transportation back towards Tørring or one of the many other stops on the way.
Departures 2023
The Gudenå Bus has 1 daily departure between June 24 and August 6 along the Gudenå during Summer 2023. The bus stops at local camp sites along the Gudenå. 
4:00 pm: Klostermølle
4:10 pm: Voervadsbro Campsite
4:30 pm: Vestbirk Camping
4:43 pm: Gudenå Camping
4:54 pm: Åstedbro Campsite
4:53 pm: Åle Campsite
5:15 pm: Tørring Camping
Not only for canoeists
Everybody is welcome on the bus. So, if you are hiking on the Gudenå Path you are more than welcome to get on the bus heading southwards.
Did we mention that it is free?
It will not cost you a single crown to go for a ride on the bus. It is a service that is made available to tourists in the area. So, no reason to pull out your wallet – just sit back and enjoy the ride.
And how about the canoe?
Unfortunately, you cannot bring the canoe on the bus. But the canoe rentals in the area will arrange transportation of the canoes. Contact them in advance and make arrangements.  
Destination Kystlandet © 2023