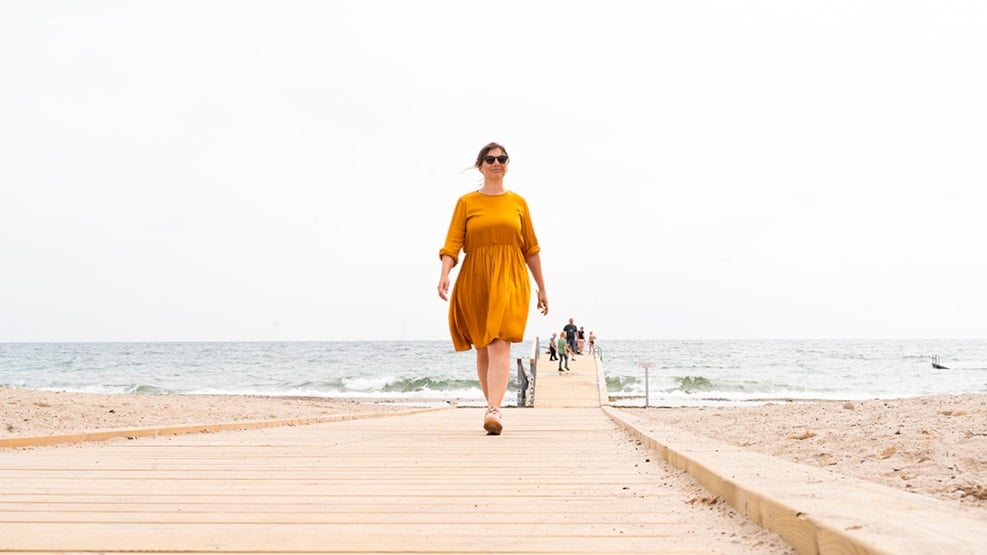 The Great Beach (Storstranden)
One of the very best beaches on the Danish east coast is located in Juelsminde. Located near the bustling yet cosy marina and family-friendly facilities, The Great Beach is worth visiting - both on daytrips and as the base of the coastal holiday. 
Blue Flag beach with a lifeguard tower
This lovely, wide sandy beach is a popular rendezvous during summer in East Jutland. The Great Beach is connected to the popular marina and continues about one kilometre south to the tip of the peninsula Bjørnsknude. The beach has fine sand and benefits from the calm waters of the east coast, making it particularly child-friendly. The many stone walls at the beach offers further protection from the waves. Lifeguards keep an eye on those who wish to bathe and swim in the ocean from the lifeguard tower during the summer period. 
The Great Beach is a Blue Flag beach, which is your guarantee for quality bathing water, all the necessary facilities, and a high focus on security. At the beach you can find information boards, first aid equipment, toilets, trash cans, and tables/benches. There is access for disabled and disabled toilets. 
Go for a ducking from the bathing jetty, catch crabs from the stone walls, or play soccer in the grassy area. There are many options. 
A stone's throw from the local restaurants and shops
The beach is located in immediate continuation of the popular and lively marina. Here you will find eateries, a playground, a miniature golf course, activities, and live music. There are several places around the harbour where you can park for free. There is also a big playground at the beach. 
The cosy city centre is located very close to the beach and marina. There is a fine selection of shops with anything from beach equipment to fashion clothing. 
Go for a walk at the beaches of Juelsminde
Juelsminde is more or less surrounded by coast and beach. The small coastal village has five kilometres of sandy beach. Apart from The Great Beach, there is also Sandbjerg Bay Beach to the north, and Bjørnsknude Beach. If you walk south on The Great Beach, you will eventually reach the tip of the peninsula Bjørnsknude where two beaches meet. Here you can stand with one leg in The Kattegat and one leg in The Little Belt. From Bjørnsknude you have an amazing view of the islands Endelave, Samsø, Æbelø, and Funen. 
If you walk nothwards from The Great Beach, you will follow the quay to Sandbjerg Bay Beach. This walk is a part of the popular hiking route The Coastal Path Snaptun-Juelsminde. 
Other beaches around Juelsminde
The Juelsminde Peninsula has several lovely bathing beaches. We have found the best ones for you here.