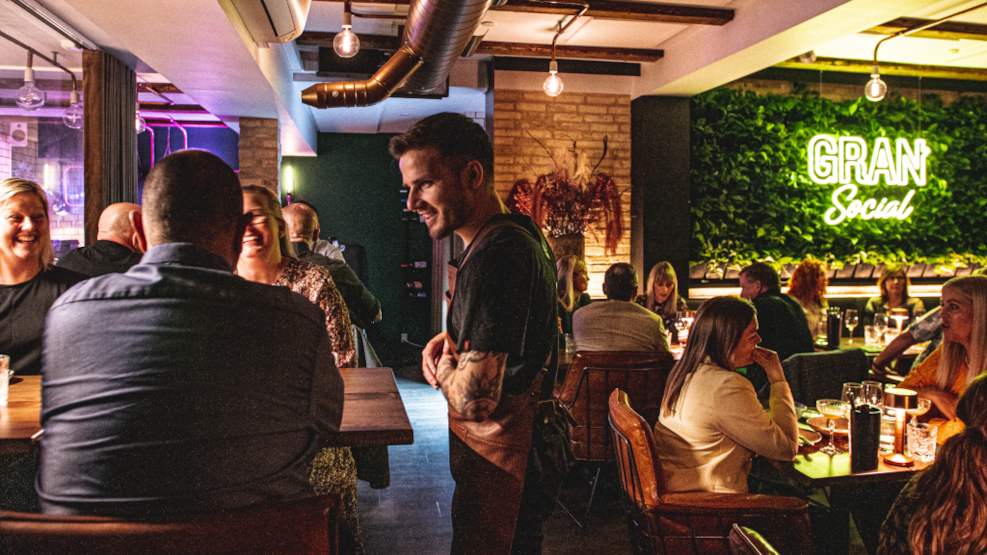 GRAN Social
Why settle for one dish when you can taste the whole menu? Let curiosity guide you through a unique taste experience with 10 courses at one of the region's best and most playful restaurants.
Social dining in the city centre
This modern and unique eatery in the culinary Latin Quarter in Horsens is built around the concept of social dining. You will be welcomed by neon signs, street art, and good music in a cosy and informal setting. "Hygge" and the interaction with your company is in focus.
The collation will be served and shared by the whole table. This makes it possible to taste a large number of dishes and try the whole menu of GRAN Social's creative kitchen.
What awaits?
You choose yourself whether you want to try social's favourites consisting of a table filed with delicious flavours or the entire taste experience including 10 servings consisting of snacks, starters, side dishes, main courses, and dessert. The courses will be served in 4-5 heats. The dishes are creative with inspiration from for example Asia, the Netherlands, and South America. You will get a unique food experience with dishes that you will not find on any menu.
The wide range of dishes on the menu changes over the course of the season, so you always get ingredients in season.
You can also choose to order one or more dishes from the a la carte menu. The dishes will still be served in accordance with the sharing concept, but this allows you to choose your own favourites. Feel free to come in for just one dish if you are in a hurry because you need to catch a show at the theatre or the likes.
You can see the current menu in english at GRAN Social's website.
Cocktails and other drinks
GRAN Social also specialises in cocktails and suggest that you enjoy cocktails with your food. The drinks menu that you can order to accompany the food includes five drinks – including cocktails, wine, beer, and water. The idea is that the taste experience of drinks is bigger if you are not limited to one type of drinks over the course of the evening. The drinks menu is also available in a non-alcoholic version.
GRAN social has a wide variety of drinks to suit all tastes. The restaurant is open late and serves as a bar after the kitchen closes. Bring your friends for a classy bar experience with a great selection – regardless of whether you prefer beer, cocktails, spirits, or wine.
Table reservation and opening hours
GRAN Social is open Tuesday-Saturday during evenings. At GRAN Social's website you can make table reservations and see the current opening hours (In Danish). Alternatively, you can call the restaurant at +45 76 25 03 03.
A part of the GRAN family
The owners of GRAN Social also run two other modern eateries in the centre of Horsens.  At Café Gran in the building next door, you can enjoy classic café dishes for lunch and exciting menus for dinner, a quality cup of coffee, or delicious cocktails.
Gran Bar offers exciting fish dishes and craft beer that you can enjoy on their big patio on Søndergade.
Destination Kystlandet © 2023