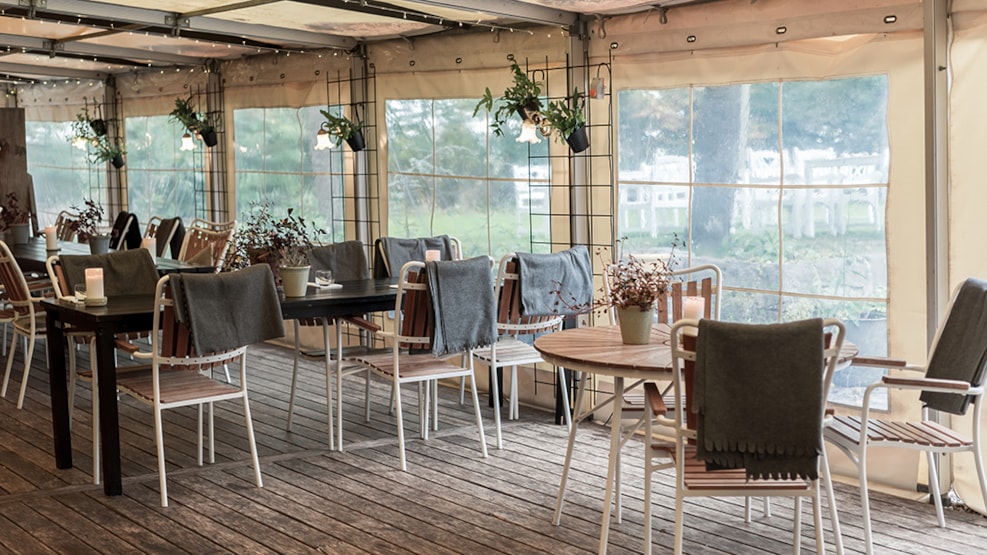 Fru Møllers Restaurant
Modern and flavourful country cuisine. Gourmet food prepared by local enthusiasts using produce from the farm's own fields and carefully processed. Visit Fru Møllers Restaurant and discover why the locals cannot stay away.
Gourmet experiences and rural idyll
Fru Møllers Restaurant is one of the best eateries of the area - just five kilometres from Odder and in close proximity to the coastal holiday homes. The place is run by real enthusiasts who work hard to spread the knowledge of the good produce and good processes in preparing food.
The restaurant is located on the farm Bjeragerhougaard, where the owners have created a small experience centre with a focus on flavourful experiences. In addition to the restaurant, there is also a farm shop, a butcher's and a dairy with their own production of produce which are naturally ingredients in the dishes in served at the restaurant.
Bring the whole family
Fru Møller calls the style "modern, flavourful country cuisine". Every single dish is served with pride in a relaxed and informal atmosphere. There is room for about 40 people in the restaurant and 60 people in the atmospheric, heated patio tent in the summer, but you are still advised to book a table indoors in the popular restaurant.
The perfect setting for your next celebration
Celebrate your wedding or hold your family reunion at Fru Møller near Odder - or have the food delivered. The quality is always top-notch and the food is prepared with great love for the produce. On the Fru Møllers website, you can let yourself be inspired and read more about the various offers for weddings, first communions, birthday parties, and much more.
Booking a table
Book a table by writing to restauranten@frumollersmolleri.dk or call T + 45 61 60 03 61. You can see the current opening hours on the website. 
Destination Kystlandet © 2023