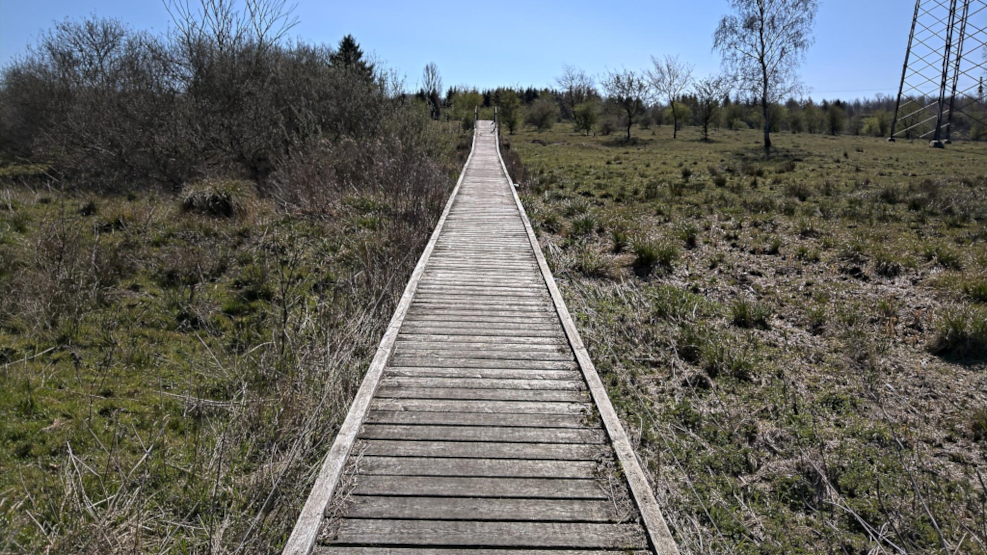 The Four Meadows
A hidden gem of a nature area in East Jutland. Both elevated paths and small wooden bridges make great conditions for a hike in characteristic nature with rich wildlife.
Get dry through the wetlands
West of the nature reserve of Nørrestrand, and close to The Prison Museum in Horsens, lies this area characterised by marsh, meadow, and wetlands. Along the stream, Store Hansted Å, there are four connected meadows: Horsens-, Hansted-, Bygholm- and Egebjerg Meadows. Together they make an exciting excursion spot with rich bird life, flora, and fauna.
The Four Meadows are open to the public and you get around on elevated grass paths, and in particular wet areas, there are small wooden bridges. There are tables and benches, information boards and birdwatching towers scattered around the natural resort, ensuring a great experience when you visit.
On an excursion to the meadows
The Four Meadows is located between the north-western Horsens and the suburbs Lund and Egebjerg. The Meadows cover a large area, so it can be necessary to select which parts of the meadows, you would like to visit.
You can park at the hotel Scandic Opus Horsens on Egebjergvej or at the lay-by on Skanderborgvej.
From Scandic, find the path north of the parking lot and follow the stream, Store Hansted Å, to the west. Continue along the stream, through the forest Løvhøj, and afterwards, you end at Skanderborgvej.
On the other side of Skanderborgvej lies Bygholm Meadow, which is probably the best place to experience the meadows' characteristic nature. Continue along the stream past a birdwatching tower. You will soon pass a small building by a lake where it is possible to take a break. Continue yet again along the stream and turn left towards the second birdwatching tower. From here you get a very beautiful view of the meadows and great opportunities for admiring the rich birdlife. Continue in the same direction until you meet a parking lot.
From this western parking lot, you are close to The Nature Path Horsens-Silkeborg (Bryrupbanestien), and from here you can follow the path back to the car. The meadows work as the linkage between Nørrestrand and The Nature Path, and you can easily use this area as a part of a longer hiking route.
Follow the routes through The Four Meadows on the digital map
On this digital map, you can follow the routes through the meadows with your smartphone and GPS location. On the map, you can also find parking lots and access to other paths, etc.
Are you looking for similar routes through wetlands?
It is a very special nature experience to hike through an open wetland. You can find inspiration for similar routes in our guide to hiking in meadows and marshes on this page.
Destination Kystlandet © 2023