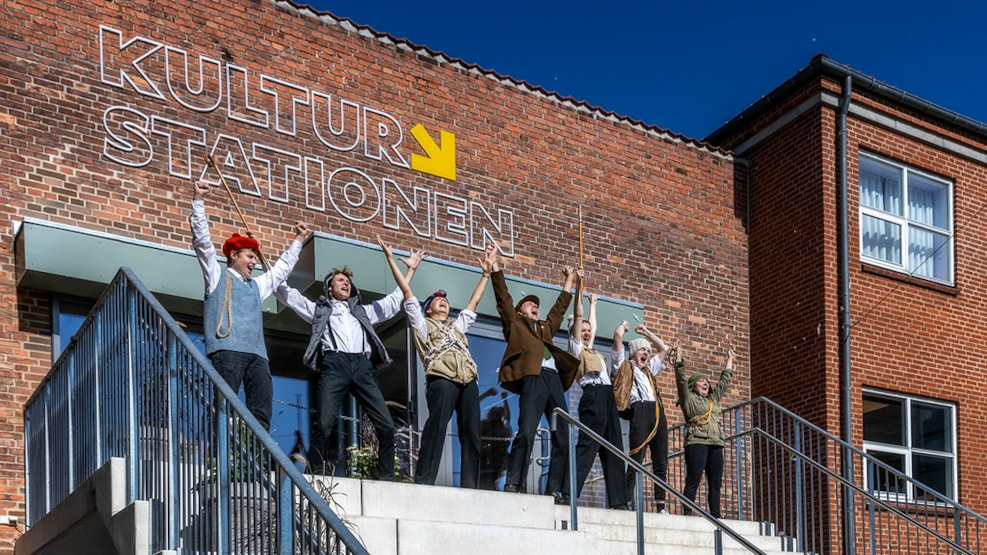 Culture Station Horsens (Kulturstationen)
Release your imagination and join the creative and fun activities at the cultural community center Kulturstationen in Horsens. Every weekend you can experience musical workshops, concerts, drama, and a variety of arts and crafts events – all family-friendly and free of charge.
Kulturstationen – free activities for families in Horsens
In Horsens there is a cultural community space just for creative and playful children (and their parents). In an old elementary school, only 5 minutes from the city's high street, the local music-, ballet-, drama- and art schools have joined forces under one roof to create one big venue for talented children.
Spread out across three floors, Kulturstationen is a creative haven of rehearsal spaces for music, dancehalls, theatre stages, arts- and crafts rooms, and spacious, modern, and cosy common areas.
The concept is admirable; each weekend the building opens up to the public, where the staff has planned themed workshops and activities for children in all ages. Instructors and volunteers facilitate the events, and Kulturstationen provides all supplies, instruments, costumes, and tools – children need only bring their curiosity and imagination. Activities are either scheduled in time slots or run during the whole day.

See the full program at Kulturstationen's web page or ask about the day's activities at the reception upon arrival.
You do not have to participate in the scheduled activities to be at the Kulturstationen. It is perfectly fine to stay in the building or at the playground, as long, as it isn't disturbing ongoing workshops or events.
Food and beverages
It is not possible to purchase food at Kulturstationen. However, everyone is welcome to bring their own lunch or snacks and enjoy it in the common room. Here, there is a small kitchen, where it is possible to take a glass of water or use the appliances, e.g., to heat some water for formular or borrow some utensils.
At special occasions lemonade and coffee will be available in the kitchen. Ask the staff if you have any questions regarding this.
If you have forgotten your lunch at home, Kulturstationen is only a couple of minutes away from a variety of cafes and restaurants.
Opening hours and parking
Kulturstationen is open every weekend between 10 am to 3 pm.
It is not possible to park at the premises.
Instead, park at one of the public parking lots on Nørregade only a few blocks from Kulturstationen. 

Looking for more budget-friendly family-fun in Horsens?
Try our free treasure hunt "Skattejagten Horsens Rundt", which is a fun and challenging activity for the whole family. After the completion of the treasure hunt, all children get a golden medal. The hunt is 6 kilometers long walk around the city centre in Horsens, and goes by the beautiful park Caroline Amalie Lund, Horsens Art Museum, the Industrial Museum and two real canons from 18th century sea-explorer Vitus Bering's ship.
Yo ho, let's go!
Destination Kystlandet © 2023