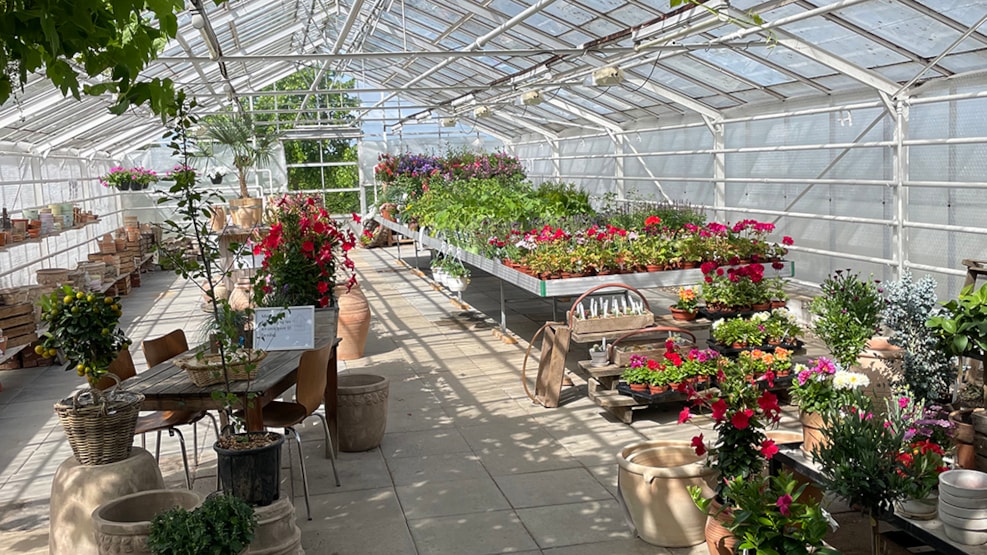 The Creative Garden Centre (Det Kreative Gartneri)
Visit this creative oasis in Stouby where a classic garden centre selling plants is combined with art, applied art, workshops, and events. Come and find new inspiration for the decoration of your home and garden.
New life to the old garden centre
At the main road between Vejle and Juelsminde you can visit the old garden centre of the village Stouby which has been reopened as an exciting and versatile shop and orangery selling plants, trees, flowers, pots, and other decorative objects for the garden. Furthermore, the shop sells arts & crafts, adornments, retro furniture, works of art, and offers the opportunity for you to participate in workshops and other events.
It is an experience visiting the store where music, coffee, creeping vines in the ceiling, a water fountain, and birds help create a relaxed feeling.
The Creative Garden Centre consists of the store and a large greenhouse. In the greenhouse you can find many plants and flowers in season – and during autumn you can pick your own pumpkin from the pumpkin patch in the garden. Come and see the selection of beautiful summer flowers, citrus- and olive trees, and other plants for the balcony or the garden. In the shop, there is a selection of cut flowers and some of the most popular house plants – and get them potted right away.
New inspiration for the interior decoration
In addition to plants, The Creative Garden Centre always offers an assortment of arts & crafts. You can find stylish adornments and retro furniture that are carefully selected and often found at flea markets. Make sure to stop by regularly to see all the newest bargains. The furniture is classic Danish, often made from teakwood or bamboo – and they are sold at an affordable price.
There is always new art in the shop. Every month, a new talented local artist gets a chance to exhibit and sell his/her artwork in a corner of the shop.
Workshops and events
The Creative Garden Centre regularly organizes workshops and events. You can attend ceramics workshops, carve your own pumpkin, make Christmas decorations, or the perfect gift for Mother's Day or Father's Day. There are often events in connection with holidays, and artists often hold workshops in the store.
At The Creative Garden Centre's Facebook page, you can keep updated on future events. This is also the place for current offers and news.
Opening hours
The Creative Garden Centre is open six days a week – it is only closed on Tuesdays. You can see the current opening hours on Facebook.
Outside opening hours, you can shop at the self-service stall at the entrance. Here, you can find a selection of plants, flowers, new potatoes, mould, and other things for the garden.