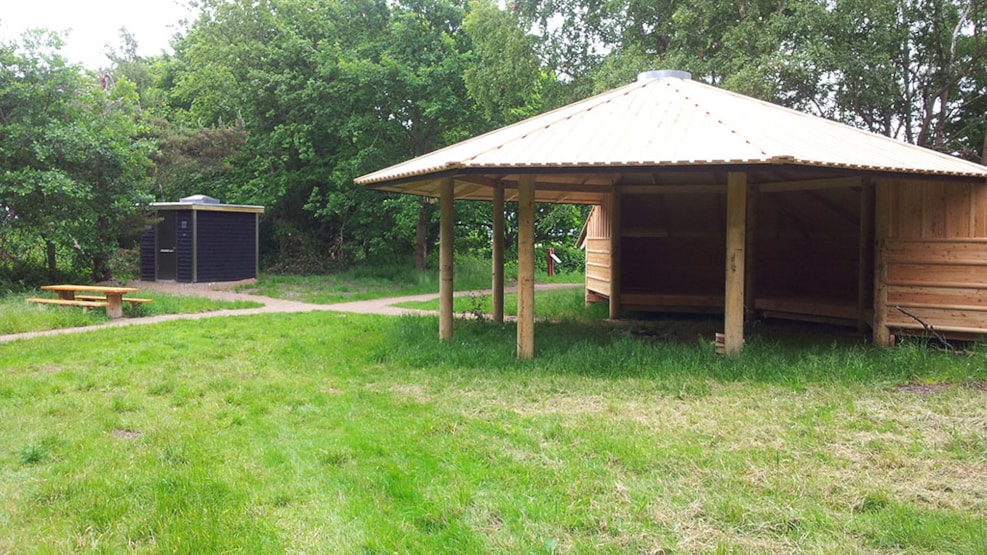 Campsite on Tunø Nordstrand
On Tunø you find this lovely campsite with a barbecue hut, shelter, and a tent campsite with great facilities. The site is located in beautiful nature by the coast, and close to the village on Tunø. Please be aware that the tent campsite and the barbecue hut with shelters are booked separately.
Go island camping in the East Jutland Archipelago
On the car-free island Tunø, you can sleep under the stars at the island's primitive campsite. The site is located in a peaceful and scenic area called Nørremose on the northern part of Tunø. Even though sleep right down to the beach, there is good shelter from the wind, and you are surrounded by oak trees on three sides.
Tunø's village, marina, eateries, and grocery store are only one kilometer away. It is the perfect base for a nature experience but also for exploring the unique island atmosphere on Tunø.
Free accommodation in tent or shelter
If you want to sleep in your own tent, you can book the scouts camp/tent site. Or you can choose to book the fine barbecue hut with three built-in shelters. There is room for six people in each shelter. No matter if you choose to sleep in shelter or tent, you have access to the site's disability-accessible toilet and tap. You can buy firewood at the grocery shop. Alternatively, you can gather firewood on the forest floor, but show respect for nature and do not break branches off the trees.
Book your stay
The barbecue hut and tent site are booked separately. Click here to book the barbecue hut and shelters. Or click here to book the scout camp/tent site. You can only book a maximum of two nights for each type of accommodation.
About Tunø
Tunø is Samsø's charming little brother. There is a unique atmosphere and idyll here. One reason is that there are no cars. You can occasionally see tractors and various creative vehicles in the streets, but generally it creates a calm atmosphere that makes it easy to relax. The island offers beautiful nature and several vista points that you can see on the 8-kilometre-long hike around Tunø. And you should also notice the unique Tunø Church with a combined church tower and lighthouse.
Destination Kystlandet © 2023