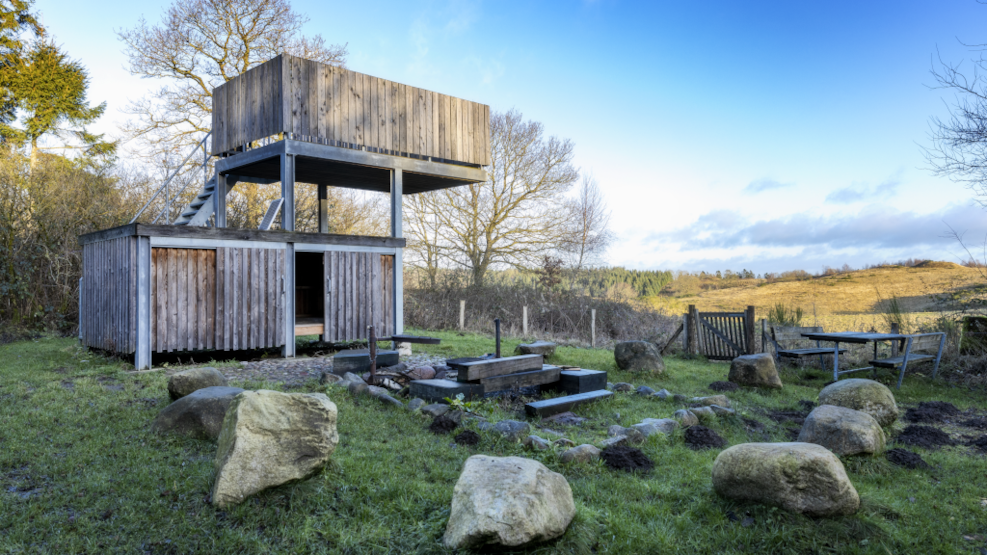 Campsite at Slaggård Banke
In the beautiful, historic, and distinctive nature at Slaggård Banke you can spend the night in this combined shelter and stargazer tower in two stories. You are also welcome to enjoy your lunch a the camp site on a hike between the many burial mounds in the area.
Sleep between burial mounds
The Vorbjerg area oozes of history. The elevated and hilly landscape is home to a large number of burial mounds which makes nature very characteristic with green hillsides and many manmade hills. Waymarked hiking routes take you around the hills Slaggård Banke and the nearby Vorbjerg Høje.
This little camp site is in connection to the route on Slaggård Banke, and you are welcome to take a break here or sleep in the shelter.
Cosy shelter with the option of closing the door
On Naldalvej, you can follow a path leading you to the shelter. Walk through the little wooden gate to enter the little camp site. The site has a fire ring with a grate, a toilet, tables, and benches. The camp site is placed in peaceful surroundings with a great view of the mounds.  
The shelter is equipped with a slide door that you can close and be completely sheltered from wind and weather. This is one of the few shelters with the option to "close the door".
You can also take the stairs to 1st floor which offers a great view, elevated over the landscape. The tower is ideal for both stargazers and bird watchers.
Book the shelter
You have to book the shelter in advance. The shelter must be booked in six-hour time periods, but you can book consecutive periods. The price is 50 DKK per night per person. Payment via the Danish mobile payment app, MobilePay.
You can book the shelter and read more by following this link. Pick a date in the calendar at the bottom of the page.