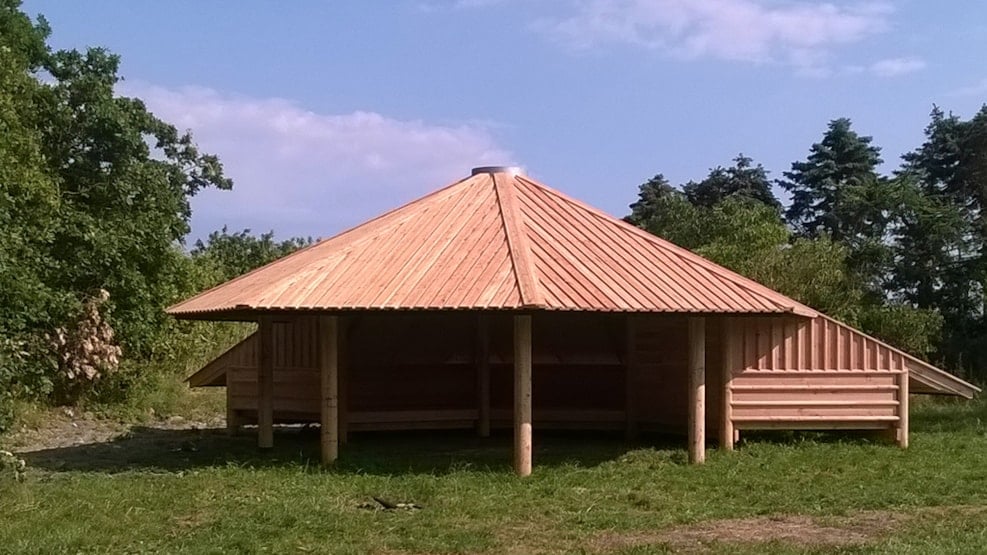 Campsite at Hølken Beach
This shelter with a bonfire hut is located next to the sandy Hølken Beach. Here, you can spend the night outside to the sound of the waves, but still sheltered from wind and weather.  
Sleep outside at the Odder Coast
Grab your backpack find the sleeping bag and spend the night at this nature camp site in Hølken. The site is located next to Hølken Beach which has excellent bathing water and a fine bathing jetty. The shelter is only 50 metres from the water's edge but well sheltered from the wind, which rarely causes discomfort at the calm east coast.
The camp site itself has a roofed barbecue hut with three integrated shelters. The barbecue hut and shelters are booked together with the adjoining lawn area.
There are tables and benches and a toilet. These are not booked together with the shelters and can be used by anyone.
You have to bring your own wood for the fire ring.  
Hygge Strand Camping
The primitive camp site is located outside the modern camping site, Hygge Strand Camping, with great facilities. They  have a kiosk and an ice cream parlour called Gr'Iseriet, that you are welcome to visit. Apart from this, avoid entering Hygge Strand Camping. If you want access to the camping site's many facilities and activities, then consider spending the night there in a cabin or a tent.
Booking
The barbecue hut and shelters can be booked for free via the Danish Nature Agency. Two of the shelters can be booked. The last one is used for storage by the municipality and local schools. If you are less than six people, then you can only book one shelter. You can book up to two nights at a time.
Book the camp site on this page.
In the heart of the lovely Odder Coast
You will find Hølken Beach in the large beach- and holiday home area, the Odder Coast. From the ferry port Hou to the south to Kysing to the north, there are many kilometres of sandy beach that is perfectly suited for hiking. From the camp site, you can easily walk to the popular Saksild Beach or Hou, where there are shops and eateries. You might want to go for a walk on the Hou Coastal Path which connects Hou and Hølken.