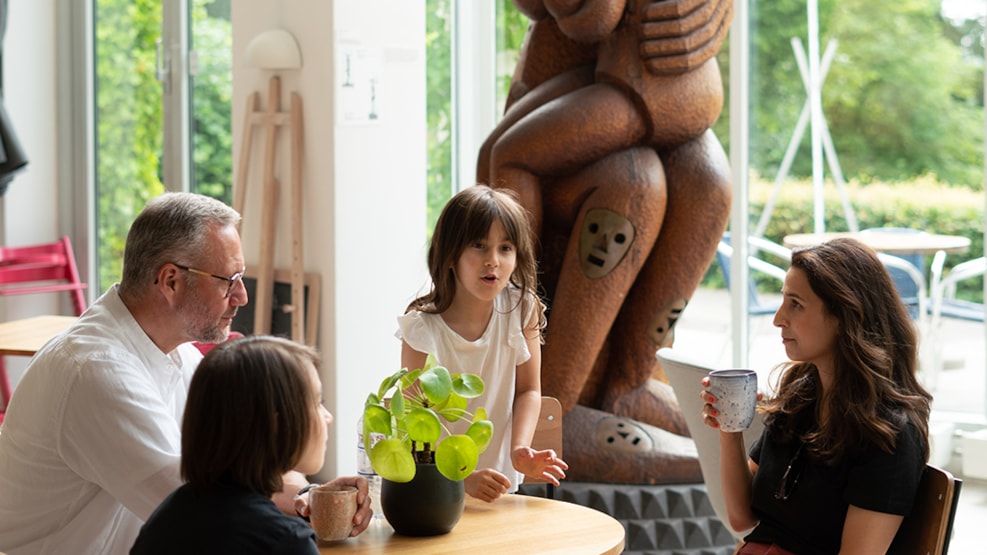 Café Ella
Enjoy your lunch at Horsens Art Museum. The café overlooking the park Caroline Amalie Lund serves organic dishes with local high-quality ingredients.
When in need of good lunch
You will find this inviting café between the trees of the park Caroline Amalie Lund, only a stone's throw from the centre of Horsens. Walk through the front doors of Horsens Art Museum, that towers up on top of the small hill in the park and get comfortable in the café.  You do not need to pay an entry fee to enjoy a meal in the big, bright room with a large glass wall that offers a great view of the park. And you do not need to dress in your Sunday best. The café is an informal and calm place where you can read a newspaper with a good cup of coffee or invite your friends for a sandwich after shopping.
The café offers delicious café dishes. The owner upholds the local authenticity and uses local ingredients to a great extent. The food is primarily made from scratch so you will have a unique quality experience that you cannot find in the supermarket.
Delicious dishes on the menu
Café Ella's small but well-constructed menu offers inviting and well-cooked dishes. Try the aromatic vegetable soup, the bacon burger, the green salad, the croque-monsieur, or fries with herb salt. And you can also order the traditional open Danish sandwich (smørrebrød) of the day.
Coffee and home-baked goods
There is new home-baked bread and coffee on the menu every day. Here, you can enjoy a bun with butter or a tempting piece of cake with your coffee. If you prefer sweet drinks, then there is also a selection of squash and soda on the menu.
Every Sunday, you can attend Ella's cake table with a variety of home-baked cakes. You can eat as much cake and drink as much coffee as you want for 185 DKK.
A visit to the café can be combined with a variety of different activities. You can of course see the art museum with its impressive collection of contemporary Danish art from the most popular artists.
You should also go for a walk in the park. It has a playground and is a great setting for activities and relaxation in nature.
Furthermore, the café is located very close to the city centre of Horsens with its many shops.
Opening hours
Café Ella is opeb tuesday-sunday bewteen 10 a.m. to 3 p.m. You can book a table in advance by calling the café at +45 76 29 23 78 to make sure that there is an available table when you arrive.
Visit the owner's other restaurant
The owner of Café Ella, Jimmy Boye Jensen also has another popular eatery in the centre of Horsens. At Ji-Mis you can look forward to culinary experiences with a5-7 course dinner in an intimate setting.
Destination Kystlandet © 2023