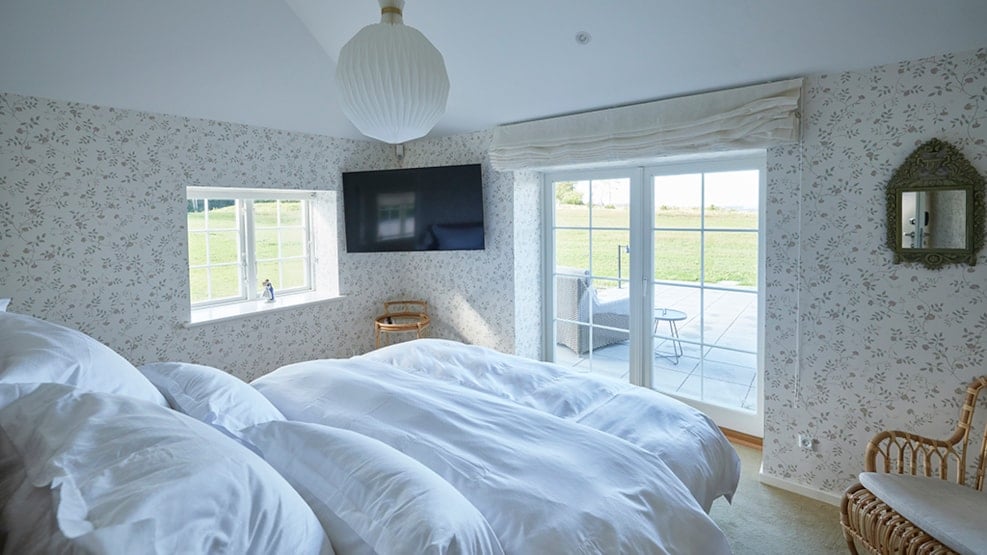 Borre Knob Hotel
Borre Knob is a hidden gem in the Danish countryside. Beautifully situated on a narrow peninsula in Horsens Fjord, you are surrounded by water and beach on both sides. Treat yourself to a summer break in beautiful surroundings inside and out.
Summer breaks focused on pampering
During the summer months, you can book a break at this lovely conference centre by Horsens Fjord. Here awaits a cosy and relaxed atmosphere in a setting where you can feel at home. When you stay at Borre Knob, you get good service from the smiling and friendly staff, and at the same time, the facilities that will certainly live up to your expectations.
The good facilities
The hotel has 36 rooms that all have their own bathroom and toilet, linen and towels, TV and Internet. The bright rooms are in quiet surroundings and furnished with comfortable furniture.
There is a restaurant at the hotel where the skilled chefs offer dinner and breakfast. The cuisine is full of fresh, local produce and the talented chefs prepare seasonal gourmet food, and they love to use homegrown fruit and vegetables, and everything is naturally prepared from scratch.
From the impressive fireplace lounge, there are views of the fjord and apple trees in the garden. You can relax in the cosy cellar with a game of pool, and in the garden, you can play a game of Crolf (a cross between croquet and golf) with friends or family.
When you go out and explore the beautiful countryside, there is the option to borrow equipment for activities. The hotel has mountain bikes, kayaks and paddleboards, among other things.
Stay in a unique setting by the coast
Borre Knob is an oblong, distinctive peninsula that stretches two kilometres out into Horsens Fjord. All the way out to the point there is a sandy beach, from which you can swim and fish. The hotel has a total of 4.5 kilometres of white sand beach. In the middle of the peninsula there is a lake and a plantation, while out towards the point there are small dunes and rose bushes. From the point you have an excellent view of the fjord's islands of Alrø, Hjarnø and Vorsø, as well as to the town of Horsens. You can watch the boats and ships sailing past the point and the many ferries that service the area's islands.
The peninsula is one of the area's hidden treasures, which is rarely overrun with people.
Book your summer break
Borre Knob offers summer breaks from week 26 through to week 32 with accommodation, breakfast, a 2-course menu and evening coffee. Contact Borre Knob Hotel using the contact information above and reserve your room.
Destination Kystlandet © 2023