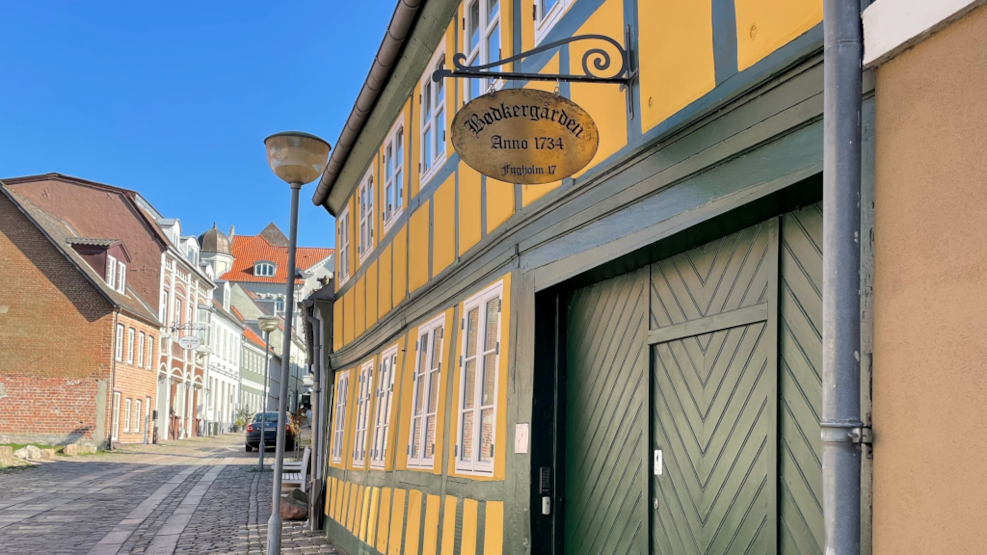 Bødkergaarden B&B
Would you like to sleep in one of the oldest and most beautiful houses in one of Denmark's oldest cities? This bed & breakfast in the centre of Horsens oozes of history and idyll. Book one of the two houses with fine facilities and own entrance.  
Enjoy a stay in a historic building in the city centre
The charming old cobbled street Fugholm in Horsens is home to the house Bødkergården from 1734 where the local cooper made wooden casks and barrels for more than 200 years.  Today, the half-timbered house is private residence. In the courtyard, there are two houses for rent. Bødkergården is a peaceful and rural oasis in the middle of the otherwise pulsating urban life – and as a guest you have a unique opportunity to sleep at a very central location, but still feel that you are far away from the hustle and bustle of everyday life.
The houses in the courtyard
There are two houses for rent in the courtyard, the Backhouse, and the Side House. Both houses are well renovated and equipped with everything that you need for your stay. Both houses have their own entrance, showers, kitchenette with a refrigerator, and a living/dining room. You have access to the charming courtyard with garden furniture.
The Side House is 55 square metres and can be rented on a daily basis. If you book the Side House, breakfast is included in the price.
The three-storey Backhouse is 85 square metres. As a rule, it is rented for more than one night and is perfect for weekend getaway or a short break. Breakfast is not included when you book the Backhouse, but if you wish to include breakfast, then an arrangement can be made with the owner.
Prices
1 person per night: 700 DKK
2 persons per night: 900 DKK
Extrea bed: 250 DKK
Breakfast: 85 DKK
There is an extra charge of 100 DKK per person per night during major events in Horsens. 
Book your stay
Contact the owner Anne Vibeke Ginnerup on +45 25 39 51 01 or boedkergaarden17@gmail.com to book accommodation in historic surroundings at Bødkergaarden B&B.
The surroundings
From Bødkergaarden, there is only 150 metres to the town square, and Denmark's widest pedestrian street, Søndergade in Horsens. Here, you will find good cafés and restaurants, and hundreds of shops. Bødkergaarden is also close the harbour, marina, and museums such as the Industrial Museum, Horsens Art Museum and Horsens Museum as
Destination Kystlandet © 2023