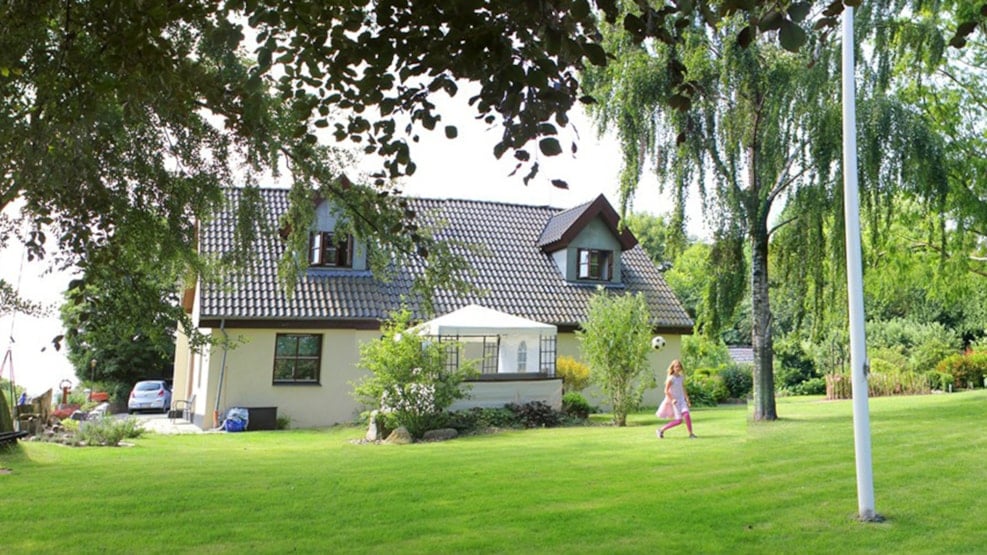 Bed & Breakfast Horsens
In the idyllic village of Rådved, you have the opportunity to stay in a spacious apartment, rooms, or a cottage at Bed & Breakfast Horsens. The charming country house is peacefully located in rural surroundings, yet only a short drive from Horsens Center.
Accommodation near Horsens
This private bed & breakfast is a great choice for those seeking affordable and comfortable accommodation near Horsens. The accommodation is a charming country property with access to a lovely garden offering unobstructed views of the fields. Located in the village of Rådved, it provides easy access to both Horsens Center and the motorway. In other words, it provides a suitable setting for stays near Horsens, close to the major attractions of East Jutland—whether you're traveling alone, with a partner, with family, or a larger group.
Rooms, apartment, or cottage?
Bed & Breakfast Horsens offers the rental of a 50 m2 apartment with its own kitchen, bathroom, toilet, dishwasher, TV with DVD and Blu-ray, and a private entrance. The apartment has everything you need for your holiday or weekend getaway. There is a double bed and a single bed in the bedroom, as well as two double sofa beds in the living room.
In the country house, there are also two large rooms with a shared bathroom. If you book a room, you will have access to a refrigerator, coffee machine, and microwave, which are located just outside the door. The rooms have either a double bed or a ¾ bed and an extra single bed with the option for additional bedding.
Last but not least, you can book a cosy wooden cottage with a living area, bedroom, and private bathroom. There is a small kitchenette for cooking. The cottage has its own parking space and a nice terrace with garden furniture.
Lovely facilities regardless of accommodation choice
Regardless of whether you stay in a room or the apartment, you can enjoy Bed & Breakfast Horsens' delightful organic breakfast/brunch, guaranteed to provide a great start to your day. The breakfast includes freshly baked bread, cheese, cold cuts, jam, dairy products, eggs from the farm's free-range chickens, served just the way you like it - soft-boiled, hard-boiled, scrambled, or sunny-side-up - juice, as well as coffee and tea.
All guests have access to the 5,000 m2 garden with several cozy seating areas, terraces, benches, a playground, swing, and a box of games and play equipment.
The hosts offer pick-up service from the train station/bus terminal in Horsens and transportation options for major concerts in Horsens.
Additionally, there is access to a well-functioning WiFi throughout the property.
Book your stay at Bed & Breakfast Horsens
Are you ready to book your accommodation at this lovely bed & breakfast near Horsens? Call the owners, send an email, or fill out the form on this page to inquire about the possibility of reserving your stay.
On Bed & Breakfast Horsens' website, you can also find prices and other terms and conditions.
You are welcome to bring your dog when staying in the apartment or cottage, unfortunately not in the rooms.
Nearby experiences
From Bed & Breakfast Horsens, it's 6 kilometers to the center of Horsens. There are excellent opportunities for shopping in Horsens, cozy eateries, and exciting museums, most notably the very popular Prison Museum, which is the largest of its kind in Europe and is located quite close to Rådved.
Alternatively, you can lace up your hiking boots and explore the beautiful nature near Rådved. Recommended places include Hansted Forest, the wildlife reserve Nørrestrand, the four meadows, and the Nature Trail Horsens-Silkeborg, all located close to the accommodation.
Not far north of Horsens, you'll find the natural area Bakkelandet and The Danish Lakelandst, offering popular attractions such as the Uncovered Bridge, the Monastery Mill, the Sugar Loaf, and many of Denmark's highest points.
Destination Kystlandet © 2023