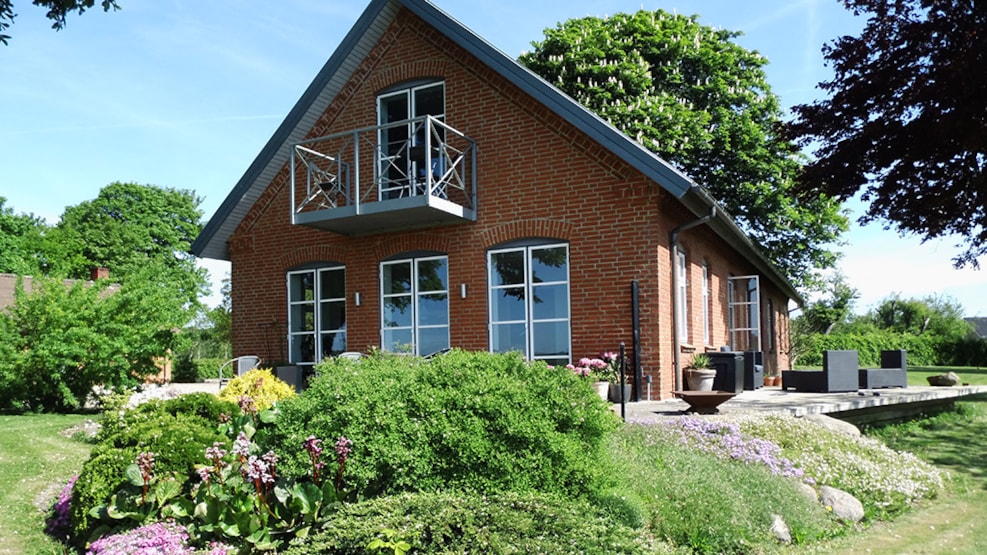 Bakkegaardens Bed & Breakfast
In the idyllic village of Haldrup at Horsens Fjord you find this bed & breakfast in calm surroundings with an amazing view. This great option for private accommodation is your perfect base for your bicycle or hiking holiday at the fjord.  
Bed & Breakfast near Horsens Fjord
Prepare yourself for a lovely stay in peaceful, beautiful, and rural surroundings. At Bakkegaardens B&B the hosts Bente and Henning will welcome you with open arms, great service, and good facilities. At Bakkegaarden you are close to the activities and restaurants in Horsens, but you won't feel that in Haldrup where the rolling countryside and the half-timbered houses with thatched roofs create a relaxing atmosphere.
Explore nature
Bakkegaarden is located in a hilly landscape near some of the most popular hiking- and bicycle routes in the local area. The popular route around Horsens Fjord passes close by the farm. The same counts for the new railway path that connects the cities of Horsens and Odder. A night at Bakkegaardens B&B can be the well-deserved rest that will give you strength for the rest of the hike.
If you are a golfer then you might suggest visiting one of the best golf courses in Jutland, Stensballegaard Golfklub, just two kilometres from Haldrup.
Rooms and facilities
Guests can sleep in one of three comfortable rooms that all have a great view of Horsens Fjord. You are welcome to use the shared shower facilities, kitchenette and the living room that has a balcony.
All rooms and the living room has TV with both Danish and international channels and free wi-fi.
Leave towels and linen at home – it is included in the price.
You are welcome to use the outdoor facilities at the farm and pet the sheep.
Breakfast can be added to the booking. The refrigerator will be supplied with everything you need for a good start of the day.
There are great parking conditions at the farm.
Prices and booking
Follow this link to see the prices for the different rooms and book your stay. 
If you have special wishes for accommodation, then feel free to contact the hosts Bente and Henning with your enquiry.  
Destination Kystlandet © 2023