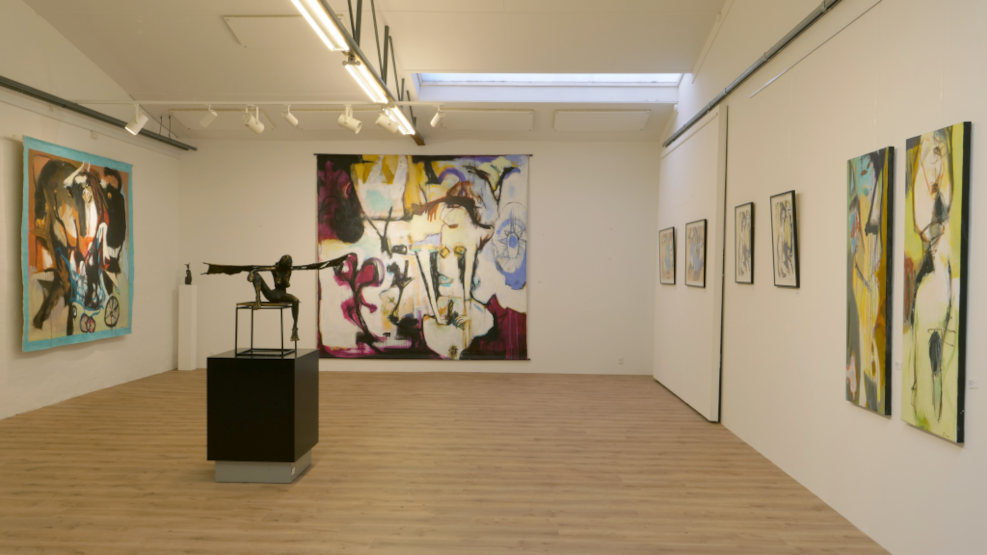 Art'M
Art'M gallery and showroom is Horsens' largest art gallery with 1.800 square metres of show rooms in the southern part of town. Here you can immerse yourself in art by established artists, litographs in the gallery's large showrooms or go searching for the perfect gift in Art'M little shop with art supplies.
The Coastal Land's biggest art gallery
Art'M sees as its mission to inform about high quality art to companies and individuals. They aim to have a representative supply of artworks by acknowledged and established artists and to exhibit art by young upcoming artists.
There are two large showrooms in industrial New York style and a few smaller inspirational rooms with litographies and sculptures in a wide range of sizes and prices. Furthermore, they have a frame factory and a small shop with gift ideas and art supplies in the building.
In addition to the permanent exhibitions, Art'M has 4-5 changing exhibitions annually.  
Events and art shows
Art'm holds several events during the year. See the calendar and sign up right away.  
Opening Hours and parking
Monday - Wednesday: 9 a.m. - 4 p.m.
Thursday - Friday: 9 a.m. - 5 p.m.
Saturday: 11 a.m. - 2 p.m.
In 2019 Art'M moved into new larger showrooms in the southern part of town out towards Vejlevej. There are plenty of parking spaces behind the building.
Art in The Coastal Land
If your are on the lookout for more cultural experiences in Horsens, Odder and Juelsminde, take a look at our culture guide and find an art gallery or exhibition that suits your taste.