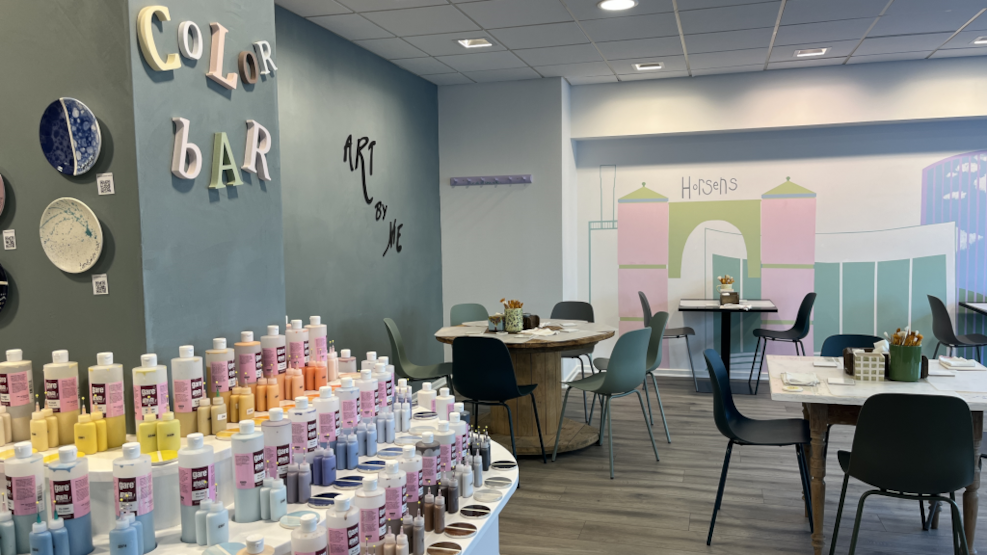 Art By Me Horsens
On Torvet (the town square) in Horsens, you will find this creative and cozy café where you can paint your own pottery. Once the ceramics are fired and glazed, you can take them home as a lasting memory of a unique activity. Come by yourself or bring your friends for a different social experience.
Unleash Your Creative Side
Art By Me is not like other cafes. Here, the focus is on providing an environment for immersing yourself in a creative atmosphere. The concept is simple: you book a table in the café, choose a piece of pottery, and paint it.
Art By Me offers more than 250 different pieces of pottery to choose from. The staff guides you with techniques and inspiration to get started. There are nearly 100 available colors, so the only limit to your design is your imagination.
Art By Me is an informal space where you have the freedom to play with the paint and make a mess. And luckily, you don't have to clean up afterward—the staff will gladly take care of that.
The café creates a cozy atmosphere and offers a wide selection of beverages and snacks.
Prices and Booking
It is recommended to book a table in advance so that everything is ready for you upon arrival. You can book a table through this link. When you book, you will have access to your table for 2.5 hours. Upon arrival, you can choose a piece of pottery from the 250 different designs available. You can choose anything from cups to small figurines, plates, vases, and pots. You have free access to paints and tools.
The price depends on the piece of pottery you choose and ranges from 125 to 800 Danish kroner. The price includes paint, guidance, glazing, and firing.
Once you finish, you can leave your artwork with the staff, who will take care of firing and glazing it. You will receive a text message when it is ready for pickup.
If you're not in the mood for painting but just want to enjoy the sun on a summer day, you are welcome to take a seat at the outdoor seating area on Torvet and enjoy a cup of coffee or quench your thirst with a cold beverage.
Events and Parties
On the first Wednesday of every month, Art By Me opens up the cabinet of crystallic colours and invites you to a crystal workshop. Here, you can use special crystal glazes that create a beautiful color play and a stunning metallic sheen.
Art By Me is also a fun and unique venue for your birthday party, bachelor/bachelorette party, or similar occasions where you can create a shared memory of a fun activity. Read more about the options on Art By Me's website or contact the café by phone for further information.
Part of The Coastal Land's Art Map
Art By Me Horsens is one of many exciting local art experiences. On this page, you can access the map and get inspiration for galleries, artisans, and workshops in the area.
Destination Kystlandet © 2023