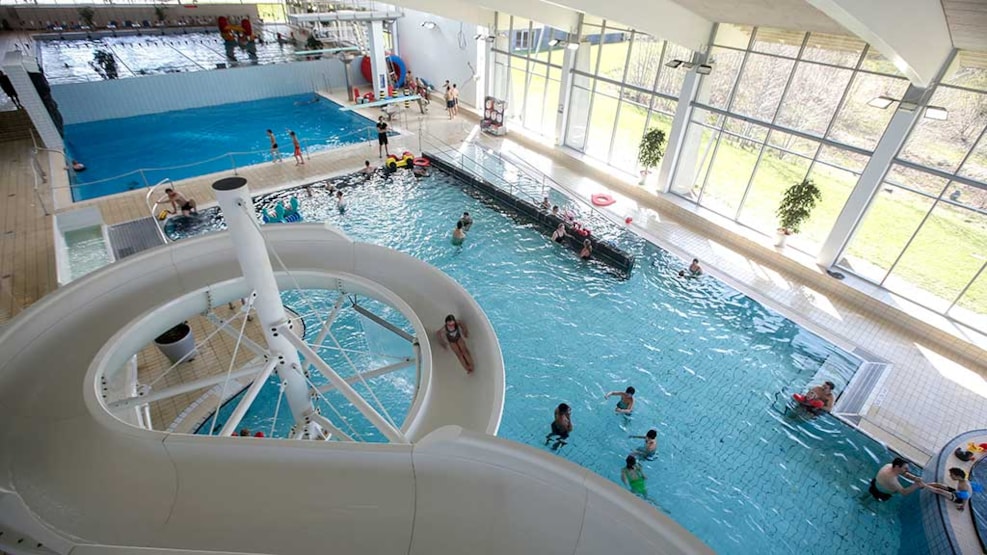 Aqua Forum
The Horsens Water Park invites to hours of play, wellness, exercise and swimming for everyone. The many pools and different activities make Aqua Forum the perfect choice for anyone who loves being in the water.
Much more than just a public pool
Do you remember the feeling of weightlessness as you glide through the water, the smile on the children's lips and the relaxing feeling spreading throughout your body as you suddenly move every muscle? When visiting Horsens' largest swimming pool, you awaken all your senses. Although the children enjoy lots of activity and splashing about for hours and you really, most of all, need to relax, Aqua Forum meets the needs of you all.
Pools for everyone in the family
By way of example, you can exercise your entire body by taking a quick swim in the long sports pool.
Prefer to feel butterflies in your stomach? Then try the diving pool where you can plunge into the water from the 1- or 3-meter diving boards or from the 5-meter diving board. You can swim around or through the many fun water installations, such as the massage nozzles, the bubble bench, the counterflow channels and the waterfall and you can also take a tumble with the family and "climb" both large and small play equipment.
If you have younger children, you can all enjoy yourself in the lovely warm water of the baby pool. From here, you also have a good view over most of the swimming pool, so you can keep an eye on the bigger children in other parts of the water park.
Wind down entirely with wellness
You can also try the Aqua Forum spa bath, steam bath, sauna or the shared tylarium. This is not just pure enjoyment but also a guaranteed relaxing experience.
Twice a week you can try sauna aromatherapy (also known as "saunagus" loosely translated as "sauna mist") – an aromatherapeutic experience where the master of proceedings  pours water with added essential oils over the hot sauna stones and spreads these throughout the sauna using a towel. The essential oils have a healing effect and sauna aromatherapy is believed to be good for both mind and body.
Training and fitness
During the week, several fitness activities are held. Participate in Aqua Fitness which is a versatile form of exercise in water with gymnastics and fitness exercises as well as cardio training. Or try Aqua jogging which is running and walking in water at various intensities. It is a simple but effective way of improving your metabolism.
Participation in both Aqua fitness and jogging is included in your entrance. You can find the weekly training schedule on the website. However, do be aware that there are no fitness activities during school holidays.
By the diving pool, there is always a cart with training equipment and descriptions of exercises that train your entire body.
Destination Kystlandet © 2023