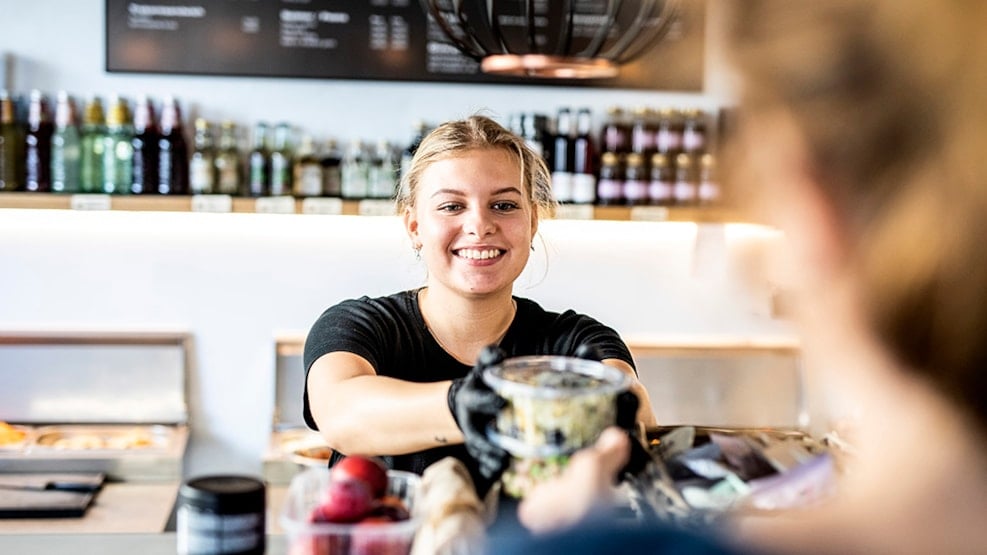 Anne's Frokost & Sandwich
If you are in need of a good, healthy and easy lunch in Odder Anne's is the way to go. Here delicous sandwiches, buns, salads, meat and potatoes are on the menu. You can enjoy a quick lunch or pick up a lunch pack for your day trip by the Odder Coast.
Lunch to-go in Odder
At Anne's Frokost & Sandwich you can find a great selection of delicious dishes that are easy to grab on the go. With opening hours spanning over morning, lunch, and evening seven days a week – no matter when you are looking for a fast meal.
Maybe you need a packed lunch for the bike ride in nature around Odder, a quick meal between two meetings, or maybe you just feel hungry while shopping in the city centre. No matter what, tou will always experience good, fast, and friendly service.
The menu
Anne's offers a wide selection of sandwiches. You can find the Danish classics such as chicken club sandwiches and frikadeller (Danish meat balls) with red cabbage, but also a series of more modern toppings. All sandwiches are available with white or wholegrain bread, buns, and fiber buns.
In addition to sandwiches, you can also get salads, pasta salads, and a selection of open Danish sandwiches.
You can also choose your own menu of meat, potatoes, and salad.
The menu is available at Anne's Frokost & Sandwich' website (In Danish).
Coffee to go and delicious specialties
At Anne's they offer much more than meals. This is also athe place where you can good cup of barista coffee. During the summer period, there are tables and chairs outside so you can enjoy it at your leisure. Anne's popular muffins make a perfect accompaniment to the coffee.
You also find an interesting selection of specialties in the store. Craft beer from Danish microbreweries, homemade pesto, rye bread chips, almond, and muesli as well as good gift ideas such as sirup, oils, salt, tea, and honey.
Opening hours
Anne's is open seven days a week until 6:30 p.m. Therefore, you also have the option of picking up dinner before the store closes. You can see the exact current opening hours at Anne's Frokost & Sandwich' website (In Danish).
Destination Kystlandet © 2023