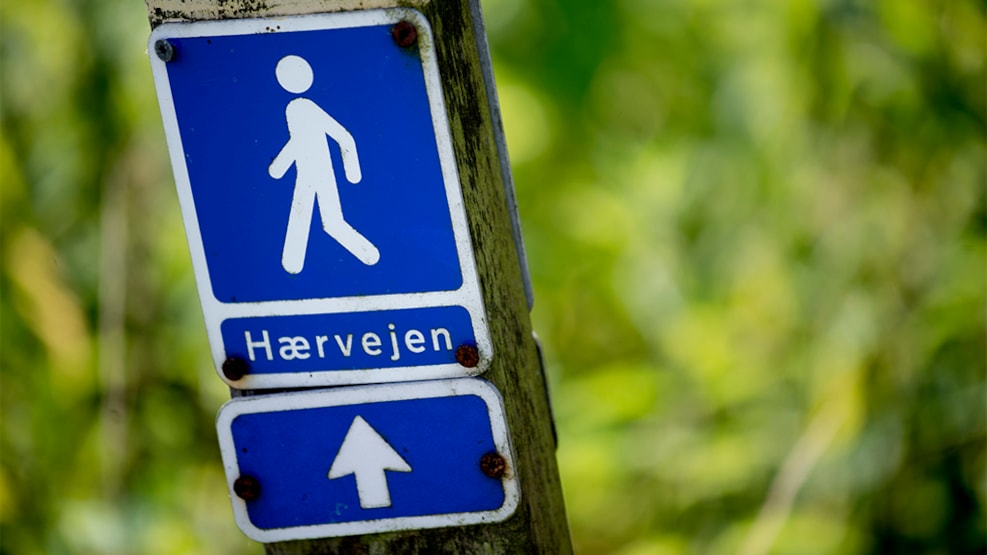 The Ancient Road by the glacial watershed (Hærvejen)
On the Jutlandic ridge west of Tørring lies this beautiful and diverse natural area, which includes the stunning Rørbæk Lake, Denmark's largest concentration of oak groves, the sources of the Gudenå and Skjern rivers, and several cultural-historical traces. The Ancient Road runs right through this area.
Along the Jutland Ridge west of Tørring you find a varied area of natural beauty, which includes the lake of Rørbæk Sø, the largest oak scrubland in Denmark in addition to several locations of historic significance. the Ancient Road Hærvejen runs right through the area, which is home to a number of popular attractions, including Vestermølle Watermill and Ballesbækgård by the lake of Rørbæk Sø as well as the headsprings of Denmark's largest rivers, Gudenåen and Skjern Å.
You can park your car at Koutrupgård Nature Center and start your hiking or cycling trip on the Ancient Road Hærvejen from there.
Thousands of years ago, before cars filled the roads and before the railway linked the major cities, Jutland's main thoroughfare from north to south followed the glacial ridge. This was where people from all walks of life would wander – pilgrims, robbers, noblemen, beggars, craftsmen, cattle drovers, tradesmen, and kings with their marching armies.
the Ancient Road Hærvejen was never planned; it simply emerged organically where people were able to make headway depending on the season. As a network of humble gravel roads and sunken trails reaching from town to town, the Ancient Road has become one with the landscape. From the northernmost part of Jutland to the German border and beyond, the wheel tracks meander through often rugged, unspoiled scenery.
Life was lived on and around the Ancient Road, which is why the road offers a journey of discovery through ancient history and past the nation's most important heritage monuments – not least the Jelling Monuments and the tomb of the Egtved Girl – and on through the most magnificent scenery of Jutland.
Destination Kystlandet © 2023