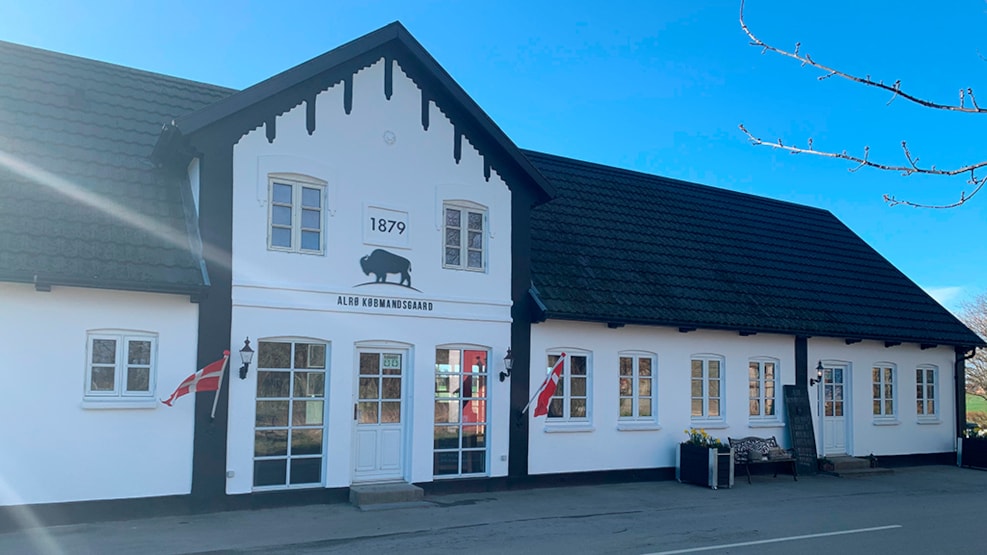 Alrø Købmandgaard - Bison Burgers
Enjoy a bison burger, some mouth watering tapas, or refreshing ice cream, with a scenic view of Horsens Fjord. At Alrø Købmandsgaard the bison meat is from the bison farm next door. It's island-idyll at it's best - and super tasty!
The great taste of the countryside
The small island of Alrø is a true gem in the East Jutland Archipelago. Once, the Danish author Morten Korch lived here and found his inspiration to a lot of his works, in the idyllic surroundings.
As soon as you drive over the dam to the island, you'll experience the slow pace of the island-life set in. Also, you'll experience the big bisons that grass on the fields down to the coast. At Alrø Købmandsgaard you can even get to taste them! Try a juicy bison burger, best enjoyed from the big terrace overlooking the fjord.
Restaurant & specialty shop
Alrø Købmandsgaard houses a restaurant, a shop and a smokehouse. 
The restaurant has a small but very interesting menu that focuses on the local bisons. Besides bison burgers, bison tapas, and bison steak mix, the restaurant also serves a a smoked salmon burger, a veggie burger, and the restaurant's popular Danish as dessert. 
there is also a fine selection of wine, draft beer, and a variety of cold drinks.
Is it time for afternoon tea? In the restaurant you can get different kinds of coffee, tea, cocoa, as well as homemade baked goods. If you're merely in the mood for a sweet snack, try one of the old fashioned Danish traditional ice cream cones. Enjoy it all at the terrace, with the idyllic scenery of the fields and the fjord.
Do you want to make reservations? Book your table right now at Købmandsgaarden's webpage.

Delicacies and picnic to-go
Alrø Købmandsgaard's shop offers a great selection of bread, delicacies, sausages, condiments, snacks and beverages, such as wine, beer, spirits and soft drinks. There is also a display of home décor items and souvenirs.
Pick your choices of delicacies and assemble the perfect picnic-basket. Then, find the perfect spot on the island to enjoy all of the delicious snacks.
Alrø Købmandsgaard has its own smokehouse, ascross the street from the restaurant/shop, where they smoke salmon, almonds, bacon, salt and much more. The products are used in the restaurant, but you can also buy the smoked products in the shop. 
Opening hours
Alrø Købmandsgaard is open Wednesday-Sunday during the season. On Alrø Købmandsgaards website you can see the exact current opening hours.
Do you need further inspiration to a great day at Alrø?
Browse through our guide to experiences at Alrø and begin planning your trip!
Destination Kystlandet © 2023