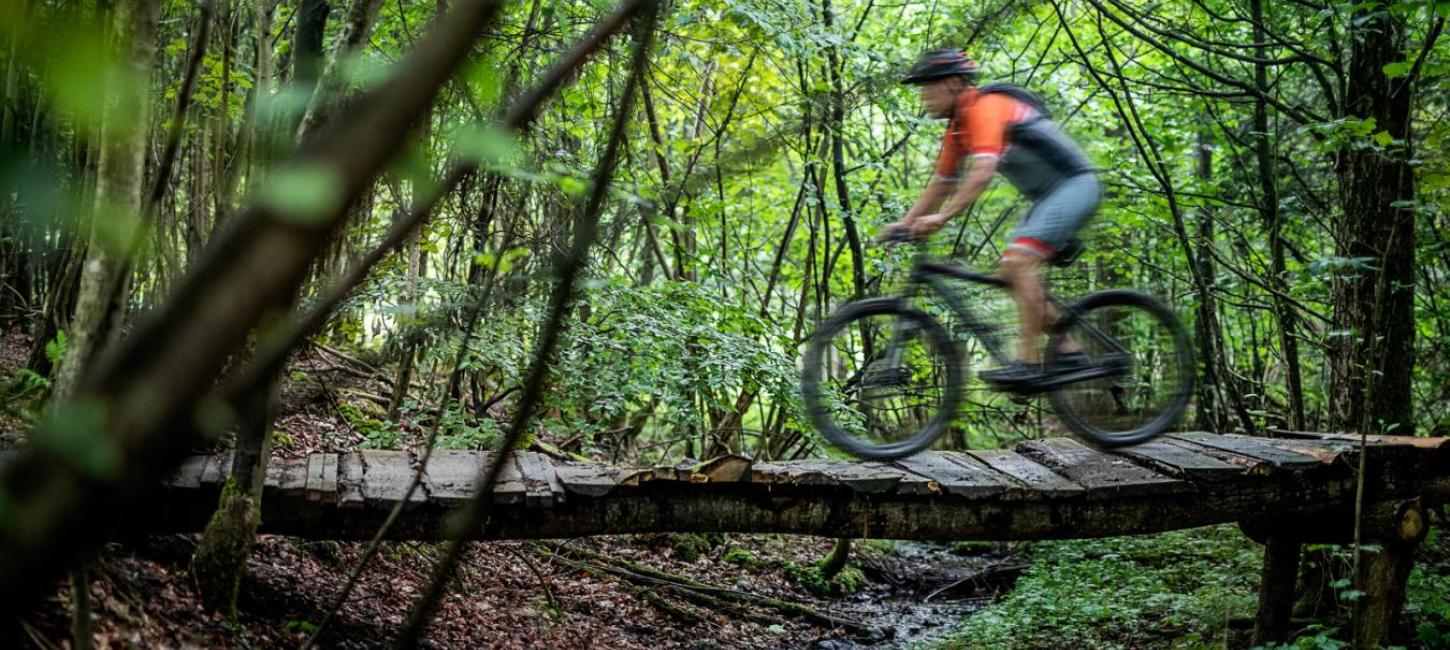 Mountain biking
Mountain biking has never been more popular. An action-packed ride in the forest is an adrenaline rush without equal but also relaxing. In the Coastal Land you will find many good trails - even some of the best in the country. We guide to experiences on two wheels in the forest.
Embark on the area's quality trail
With more than 200 forests and a hilly and varied landscape, the Coastal Land offers ideal conditions for mountain biking. In the area there are several MTB clubs with passionate members who have made a huge effort to develop beautiful trails in the nature of East Jutland. Knowledgeable volunteers work diligently to create trails that ensure you a good mountain bike experience with challenges for both beginners and intermediates. Today you can experience some of the country's best trails in the area. And it goes fast - if you look closely, you can almost see the trails spreading through the forest. 
The trail in Bjerre Forest
15.6 km - 778 vertical metres
The forest at the ridge Bjerrelide between Horsens and Juelsminde is not called Bjerge Skov (Mountain Forest) for nothing. Here in the quite hilly landscape is one of Denmark's best trails. The route consists of a blue main trail of 10 kilometres, which can be ridden by most people. In addition, there are two loops (red and black) of a somewhat more demanding character in the hillier parts of the forest with steep descents and difficult challenges. The route presents challenges for everyone. You can easily bring the children and give them a good and safe introduction to the sport of MTB. 
The trail around Bygholm Lake
11.2 km - 329 vertical metres
This trail is quite close to the centre of Horsens and is located in beautiful surroundings by Åbjerg Forest and Bygholm Lake. The trail is predominantly natural and relatively flat - especially on the south side of the lake, while it is hillier on the forest roads on the north side of the lake. The trail consists of a blue main route and red loops, which are a little more demanding. Among other things, you can ride a loop in a disused gravel pit, which is technically demanding. 
The trail in Tofteskoven Forest in Juelsminde
5 km - 170 vertical metres
At Hotel Juelsminde Strand, this singletrack route starts, which is a tour of Tofte Forest. Except for a small ride up Odelsbjerget, there are not many wild climbs or descents on the generally well-laid trail. The blue route is relatively beginner friendly and easy to navigate with good markings. 
The trail in Bisgaardskoven Forest in Odder
2.5 km
On the northern outskirts of Odder town lies a small but technically demanding trail in Bisgaard Forest. The 2.5-kilometre route winds through the small forest with challenging terrain. The forest is not that big and the route is built on a small area, but the terrain is well utilised for the technically challenging trail. 
Also try your hand at Gedved Bikepark just north of Horsens town. Here is, among other things, a 125 metre pumptrack and a serpentine track of 600 metres with 5 large berms. The park is entertaining and has good facilities like a picnic building and toilet.
Getting started with mountain biking
If you want to get started with MTB, you may want to contact your local mountain bike club.
The club can help you get your safety in order, and they can train technique with you, so you are well prepared to whizz through the landscape.
You can also go on trips that suit your level, so you are sure to have a good experience on the bike.
At a club, you can become part of a community with lots of other happy people you can share routes and experiences with. You can learn from others and develop faster in the sport.
What equipment do I need to remember when going on a cycling holiday?
•    Tire irons
•    Tools for gears, brakes, screws and bolts
•    Bicycle helmet
•    Cushioned cycling pants
•    Cycling Gloves
•    Cloth and/or disposable gloves in case you need to repair your bicycle.
•    Windproof outerwear
•    Bicycle Pump
•    Repair kit
•    Spare parts – e.g. a spare hose for your bicycle and bicycle trailer, and also extra bolts and nuts. Possibly also extra cables for gears and brakes as well as extra spokes and tools to replace these.
•    Moisture-wicking underwear
Where can I hire a mountain bike?
Where can I get my bicycle repaired?
Destination Kystlandet © 2023