On a treasure hunt in Horsens
Get a free family experience with a focus on the town's history. We take you along 6 kilometres with questions, puzzles, historical landmarks, culture and entertaining activities on the Horsens Rundt treasure hunt.
Experience Horsens on a cosy family trip around the town centre
Take a fun, cosy and active family trip around the centre of Horsens.
But beware! The trip is 6 km long, and you will challenge both your legs and brain when you and your family have to solve exciting puzzles. In a town shaped by the past, stories ooze from the town's secret nooks and crannies.
The treasure map helps you to look a little more carefully and discover the town's secrets. Then a walk suddenly becomes an adventure.
Start by downloading a free treasure map
There is no treasure hunt without a real treasure map. You can print it yourself from here or get a copy from one of the town's museums.
The hunt starts at the Industrial Museum, which is close to the town's new harbour pool and a large car park, where you can easily find parking for the four-wheelers. Of course, at this museum, they have a treasure map for you. Then the tour takes you past some of the town's most important, historic landmarks and cultural institutions - including the newly opened playground at the Industrial Museum.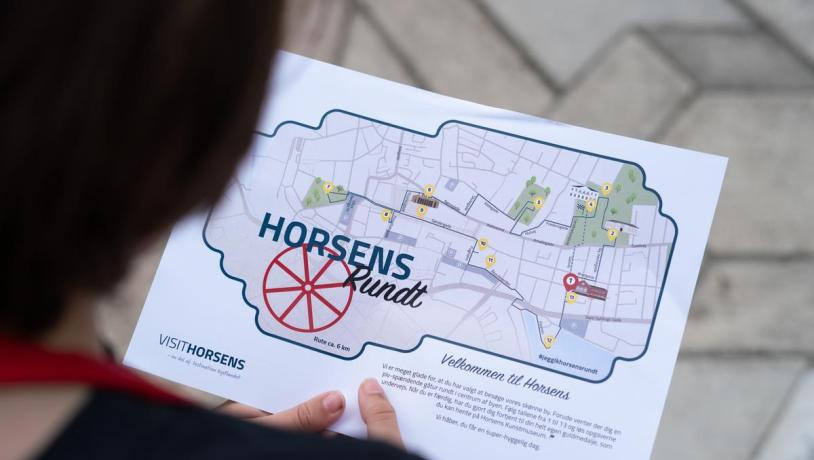 Photo:David jervidal
Food, art and shopping along the way
During the trip, the family's cool treasure hunters will find many delicious places to eat and opportunities for extra unexpected experiences and shopping, as the route goes straight through the central pedestrian street Søndergade and past pavement cafés and family-friendly restaurants - including the cosy Thonbogade and the harbour. Street art is in the most surprising places in Horsens, so remember to look up!
Hand in your treasure map and get a medal
Once you have completed the tour, hand your treasure map in at Horsens Art Museum. It's only a parrot jump from the Industrial Museum's playground, which is the last point - you just follow the dotted line on the map. The skilled treasure hunters get a free medal to take home as proof of their great achievement!
Also take a look inside the beautiful art museum. There are exhibitions here with challenging art, lovely souvenirs in the museum shop and a wonderful café with a view of the park and art.
Have a fun and educational family experience where the children can learn a little about the history of the town while having fun!