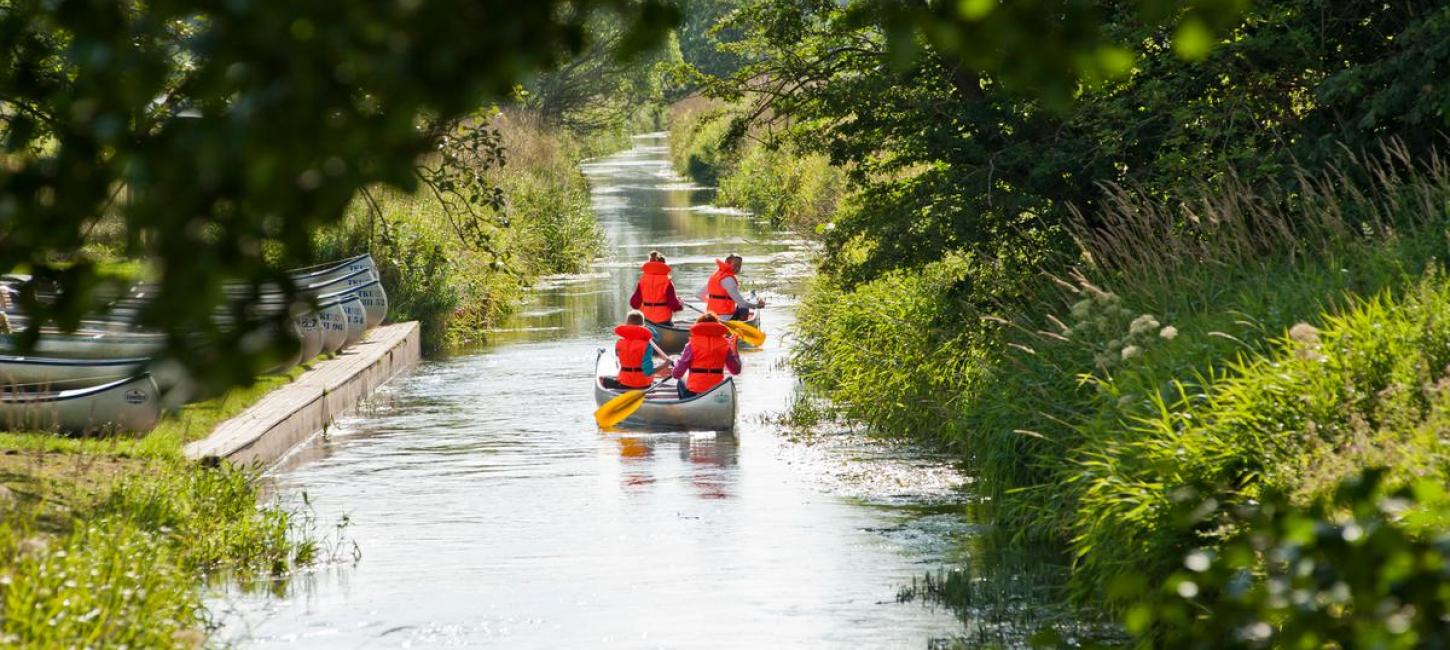 A day trip canoeing on the Gudenå: Tørring-Åstedbro
Canoeing on the Gudenå is a fun and climate-friendly activity for everyone. The southernmost stretch from Tørring is quite beginner-friendly and offers many turns where you can practice your technique. The trip goes through peaceful nature in Denmark's biggest wetland, Uldum Kær. 
Memorable trip on Denmark's only river
A perfect distance for beginners and families with children is Tørring to Åstedbro. It takes approx. 4-4,5 hours to paddle the distance. With big children onboard, you may be able to go all the way to Gudenå Camping in Bredstenbro in 6-6,5 hours.
We will guide you to a good day trip in the canoe.
Step 1: Book your canoe(s)
It is quite easy to rent canoes for the trip. Contact Tørring Canoe Rental to book. They have all the practical stuff covered. And they will even pick up the canoe for you in Åstedbro. 
We recommend that you rent the canoe some time in advance if possible. There are limitations to how many people can sail on the Gudenå per day - and annually. Therefore, you risk that it is not possible to rent a canoe if you try to book last minute.
On this southernmost part of the Gudenå river, you are only allowed to sail from June 16 to December 31 - the reason for this is to protect an important nature area. 
Step 2: Off to Tørring
Tørring is a popular starting point for canoeing trips on Gudenåen. This is where the river gets wide enough for you to sail in it. If you arrive by car, you can park at Tørring Canoe Rental - and it is possible to leave the car here until you return. If you wish to use public transportation, you can get on a regional bus from Horsens or Vejle. Find departures on Rejseplanen.
Consider ordering a packed lunch from Tørring Camping. It is located right across from the canoe rental where the trip starts. 
You are allowed to sail on the Gudenå from 8 a.m. until 6 p.m. Your time of departure depends of course, on when you expect to be in Tørring, and whether you wish to get a ride back to Tørring with the Gudenå Bus. It has one daily departure - we will get back to that. 
Step 3: Get in the canoe
Start by reporting to the reception at Tørring Canoe Rental. They are ready to inform you about safety and techniques, and will gladly give you tips and tricks. If you never tried canoeing, then do not worry. This southern stretch is narrow, with calm and shallow water, so you can safely get comfortable with the canoe. You will now be sailing north. The first couple of hours, you will sail through Uldum Kær, Denmark's largest wetland. After a couple of hours, you will get to the end of the world (yes, that is actually the name of the place), where you can get on land on your left hand. This is a logical place for your first break. If you wish, you can go for a walk and explore Uldum Kær. In that case, we suggest that you have lunch here. Alternatively, you can wait until you get to Aale Camp Site after one more hour of paddling.
There are quite a few turns and bends on this stretch, and you, and you will likely bump against the edges a few times. But do not worry - the canoe is quite stable, and you can easily use the paddle to push your way back on track. Besides, it is quite a fun and good way to learn the techniques.
The last stage of today's trip is to the final destination Åstedbro. On this stretch, the Gudenå opens up a bit and becomes wider. At this point, you will be much more comfortable in the canoe and can likely reach higher speeds here.
The whole trip from Tørring to Klostermølle is 15 kilometres long, which is perfect for a day trip. This distance is doable for most people - even families with children. You may want to take turns sitting in the front and rear of the canoe to relieve the body. The person in the front acts as the engine, and the person in the back steers through turns. 
You will find Åstedbro Camp Site on your left hand just after passing under a bridge. 
Step 4: Back to Tørring - or just back home
Pull the canoe to shore and leave it at the camp site. The canoe rental will pick up the canoe here, so make sure that you ask them in advance where they prefer that you leave it. In any case, make sure that you pull it so far up the lawn that it will not be in the way for the next canoeists. 
From June 25 to August 7 you can get a free ride back to Tørring with the Gudenå Bus. It departs at 4:47 from Åstedbro every day. You can see the bus sign if you go to the road (Nørresnedevej 139-140). Since the bus only has one daily departure, we recommend that you start the trip from Tørring quite early. The trip takes 4-4½ hours, but you should start quite early before noon, just to be safe. 
Alternatively, you can get on bus 116, which connects Horsens and Herning. This also stops at the camp site, but does not go to Tørring. 
Frequently asked questions about canoeing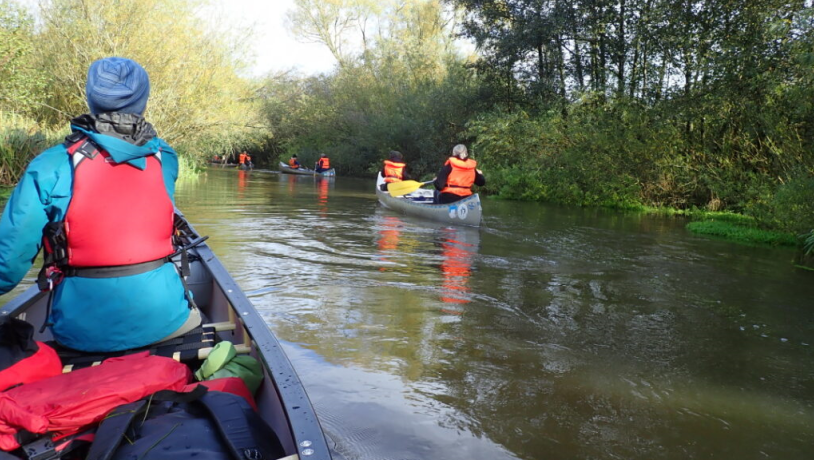 Would you rather start with a canoe course?
Some feel safest in the company of an experienced guide when they go canoeing for the first time. Outdoor Connection offers courses, tours, and fun activities in the canoe on Gudenåen. 
Active in the Coastal Land
Destination Kystlandet © 2023