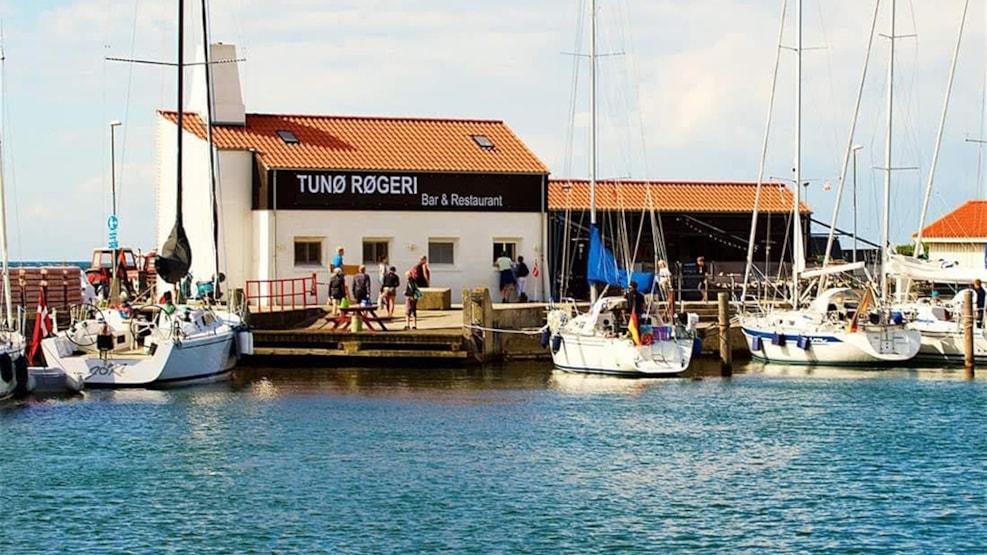 Tunø Smokehouse & Restaurant (Røgeri & Restaurant)
Nothing says Danish summer atmosphere as a smokehouse at the coast with outdoor dining and a menu of delicious fish dishes. At the marina on the car-free island Tunø, you can buy smoked products or enjoy a meal and a glass of white wine in the sun.
The taste of summer and white nights
This outdoor dining restaurant on the holiday island Tunø is located in first row at the water's edge with a view of the ocean and the masts of the sailboats. When you get off the ferry, the scent of fish and the sound of plates will present itself and lure you in for great food experiences. Here, the personnel serve dishes with smoked fish and a cold glass of white wine or warm fish cakes with a good cold beer. You have the option to taste everything that tastes good when it is smoked; fish, shellfish, pork tenderloin or almonds.
Also consider the very popular Danish dish shooting star with one steamed and one deep-fried fillet of plaice, hand-peeled shrimps, lumpfish roe, Danish rye bread and much more. And if you bring your kids, there are also child-friendly classics on the menu.
Locally produced specialities
In the smokehouse's little shop, you can buy a selection of freshly smoked fishto take home with you.
The popular smoked salt is a must when you visit the island. The smoked salt with its characteristic amber-yellow colour can be used in a large variety of dishes. It is perfect as a souvenir or an authentic locally produced gift. And you also ought to consider the delicious smoked, salt almonds that are perfect as snacks for drinks.
Smoking is a passion and craftsmanship for the owners. Method and selection of ingredients is carefully chosen so you are guaranteed delicacies of the highest quality.
Opening hours
On Tunø Smokehouse's website, you can see the current opening hours and study the menu in advance. Please note that the shop and restaurant is closed in the winter period.   
Also visit Mejeriet Tunø
The owners of the smokehouse also manage another restaurant on the island. AT Mejeriet, you can experience a varied menu with many classic dishes. On the large patio with ocean view you can often hear live music and the atmosphere is always good. Mejeriet Tunø is also the island's seaside hotel and a good place to spend the night.  
Destination Kystlandet © 2023