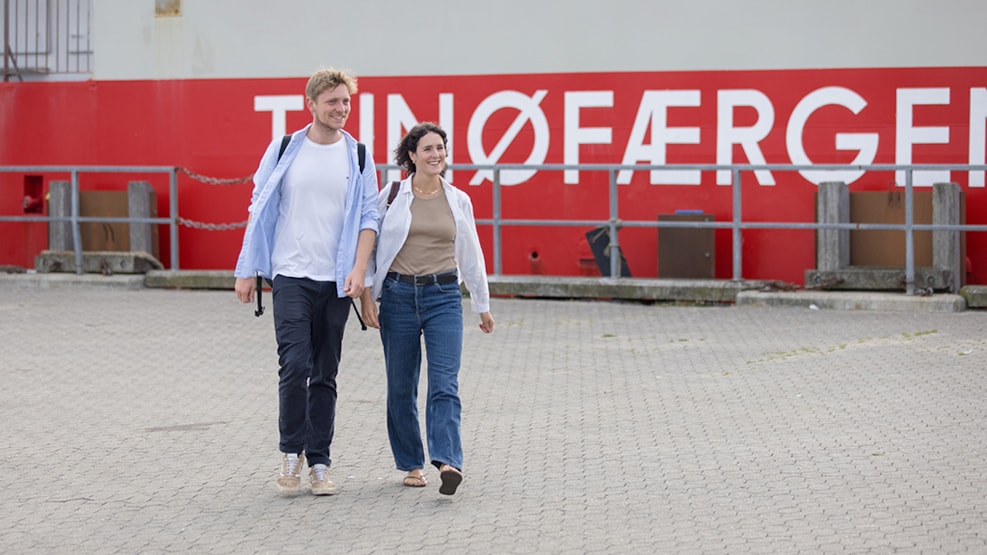 The Tunø Ferry
Tunø is one of Denmark's most charming islands. You can visit the car-free island in the Kattegat by the Tunø ferry. The crossing from Hou only takes an hour and there are two daily departures in each direction.
Come along on the cosy crossing 
A little west of Samsø lies tiny Tunø, which oozes with a unique island atmosphere. The crossing from Hou is the only ferry service to the island. Tunø is about 10 kilometres off the eastern coast of Jutland and the trip takes about 55 minutes.
The Tunø ferry is a small, cosy ferry. There are pleasant, comfortable seating areas inside with good views, and you can also choose to sit outdoors on deck if the weather is good. It is possible to buy coffee, soft drinks and sweets from vending machines. Children and childish souls are welcome to visit the captain on the bridge and see how to sail such a ferry.
The ferry operates year-round with at least two daily departures - even out of season, so it is always possible to visit the beautiful holiday island in the Kattegat. 
Leave the car behind in Hou
Tunø is a car-free island. This means that it is not possible to take your car to Tunø unless you have a special permit. This permit can be obtained from the crossing supervisor. However, the ferry can take commercial vehicles - a permit is not required for a tradesman in a van. The crossing supervisor can grant special permission for disabled cars, and it is the residents' association that must give the permit for passenger cars.
So, the easiest thing will be to park the car on the mainland. The island is also no bigger than that you can walk around. In Hou, there are plenty of parking spaces at the harbour and there is the option of both short-term and long-term parking.
Explore Tunø
There is a unique atmosphere on Tunø. On the car-free island, you can see tractors and creative vehicles in the idyllic little streets. There are charming and quirky buildings in the town such as the church that has combined a church and lighthouse. You can dine at delicious eateries at both the harbour and in the town.
A hike around the island is 7 kilometres long, and along the coast there are high slopes in many places with excellent views. It is one of the most beautiful hikes imaginable.
On the ferry you can get a treasure map for the trip around Tunø. If you manage the 7-kilometre trip and answer the questions along the way, then you can get a medal as proof at the island grocery store.
Timetables, prices and booking
On the ferry company's website you can see prices and departure times. Click here to book your ticket for the trip.
Destination Kystlandet © 2023