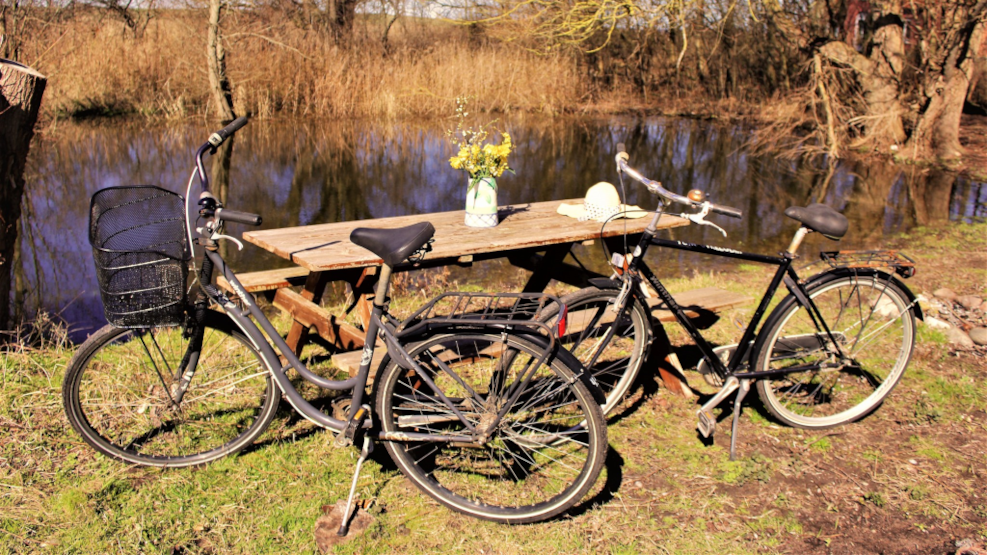 Tunø Bicycle Rental (Cykeludlejning)
The harbour on the island Tunø is home to the local bicycle rental. Here, you can rent bicycles for children and adults as well as scooters. It is both easy and safe to explore the car-free island by bike.
Cheap and comfortable bicycle rental on Tunø
When you get off the ferry on Tunø and walk down the harbour, you will easily spot the local bicycle rental on your left-hand side. Just look for the flags and the many bicycles as you turn left onto the island's main street. At Tunø Bicycle Rental you can rent bikes to suit all needs. You can choose from ladies' bikes, men's bicycles, children's bicycles, bikes with child seats, trailers, recumbent bikes, and e-scooters. The prices are transparent and affordable. You only pay 50 DKK to rent a regular bicycle for a whole day. Then you do not have to stress to hand in your bike at a certain time – just take your time as you ride around the island on two wheels.
How it works
Tunø Bicycle Rental is unmanned. The rental is self-service. The bikes can be rented for either a day, a week or two weeks. This makes it possible to rent a bike at a fair price no matter if you visit the island on a day trip or you need a means of transportation for an entire holiday on Tunø. It is not possible to book bicycles in advance but there are many available bikes. If you disembark the ferry and head straight to the rental, there will be bikes available for you. The bikes are all quality bikes from the Danish brand Winter. Prices start at 50 DKK per day for adult bikes with gears. You can see the exact prices at Tunø Bicycle Rental's website.
What can you see on the bike ride?
Because Tunø is car-free, it is peaceful and safe to ride your bike on the island. You only need to look out for pedestrians, a few tractors, and creative homemade vehicles. Tunø is not big – the hiking route that goes all the way around the island is only 8 kilometres long. You will ride on roads further inland that are primarily smaller gravel roads. Only the main street through the island village is tarmacked. There are several places that offer a beautiful view of the ocean.
You can read more about the bicycle route on Tunø on this page.  
Explore Tunø
Tunø is a very charming and idyllic island that is essentially the prototype of authentic Danish island atmosphere.Here, you will find many fun, characteristics for an island that has developed without motorized vehicles. We recommend that you combine the bicycle ride with relaxation on the beach, a nice meal in the sun on one of the island's eateries, and maybe a hike on the route around the island on top of its high slopes.
You can find more inspiration for your trip to Tunø on this page.
Destination Kystlandet © 2023