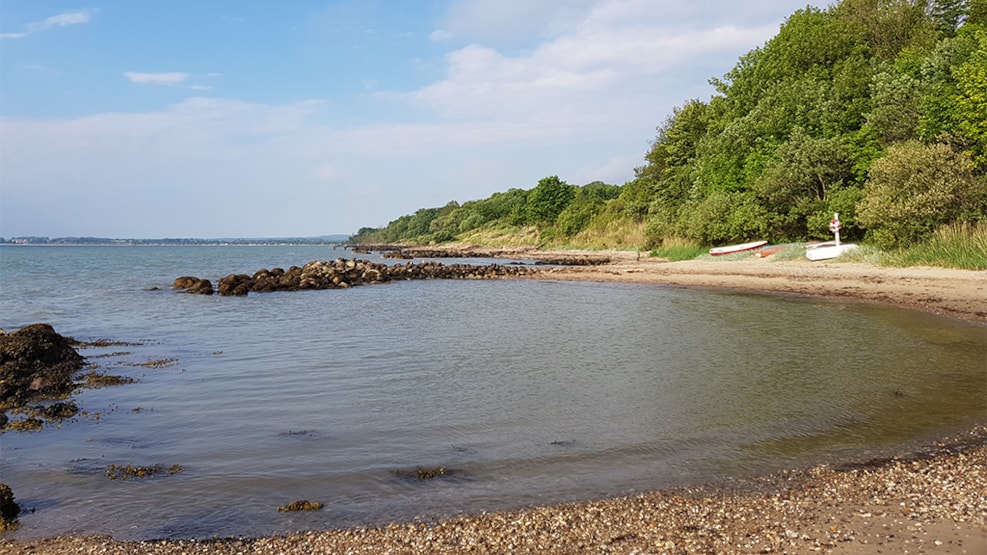 Pøt Beach
A series of small bathing beaches are located by the holiday home area Pøt Strandby. There are not many facilities here, but the nature is impressive, and the bathing water has a fine quality.
Calm and peaceful bathing beach at the coast
Enjoy the calm and warm bathing water of the Danish east coast from this little beach in Pøt Strandby.  There is a parking lot at the end of Pøtvej. From here, a path leads down to a nature beach at the foot of a bluff, well sheltered from all life and activity behind the beach. The beach has a sandy bottom and is divided by coastal protection. There is a grass covered open space by the parking lot where you can sit and enjoy lunch.
From beach to beach
From the parking lot, you can choose to follow the large grass covered open space between the waters edge and the holiday homes. A couple of hundred metres to the south there is a path leading to yet another beach. This one has a wooden pier, tables, and benches. If you follow the coast through the small forest ahead, you will reach another forest on the other side, Nørgård Beach, which has a fine bathing jetty and an impressive view from the grass covered hill leaning down towards the beach.
Nørgård Beach is followed by yet another small forest and then another beach, Sønderby Beach. All of this is within short walking distance.
About Pøt
In other words, there are many options, and it is an experience of its own to go for a walk in the area, visiting the small summer dip locations, the forest, and the charming holiday home area.
Pøt Strandby differs from other holiday home areas on the Juelsminde Peninsula by being relatively isolated, far from cities and shopping options. The place oozes of peace, tranquil and idyll. The forest surrounding the area means that you are surrounded by nature with many options for short walks. In some places you can see tall bluffs towards the beach with toppled trees lying higgledy-piggledy.  
Pøt Strandby is a part of the popular hiking route, the Coastal Path Snaptun-Juelsminde. Following the route, you are 8 kilometres from the ferry port Snaptun and 4 kilometres from As Vig Beach.