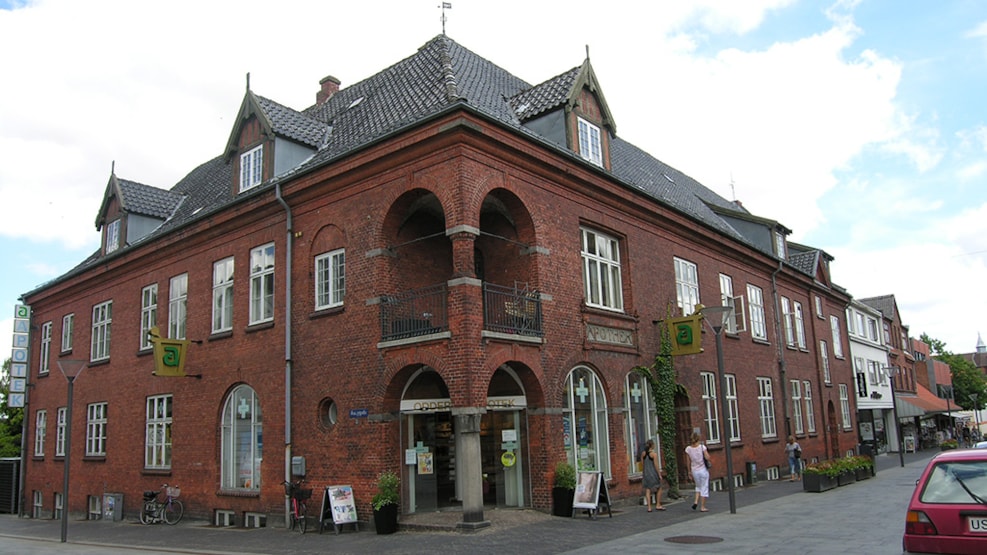 Odder Pharmacy (Apotek)
Odder Apotek (pharmacy) opened January 13th 1852 by resolution of King Frederik the 7th of Denmark. After almost 50 years of rejections to numerous applications from the town citizens and priests, the town finally succeeded convincing the ministry of health to open a farmacy in Odder. 1½ year later the first farmacist F.W. Aabye was opening the doors to the newly built farmacy which was located in what would later become "Centralhotellet". Before this the postal service had been sent to Aarhus to pick up medicine when emergencies occured.

The first Pharmacy in Odder was built in Rosensgade at the end of Torvet, where the building today known as Centralhotellet is placed. At this time the square had not been established yet. Instead there was a beautiful garden. The first farmacist F.W. Aabye was an keen gardener and he grew vegetables, fruits, flowers and medical plants and herbs.
His successor was not interested in gardening and sold the garden to the parish council, who established the town square in its place. The farmacy also moved to the corner of Aabygade and Rosensgade. The new building was made by architect Valdemar Schmidt from Copenhagen.