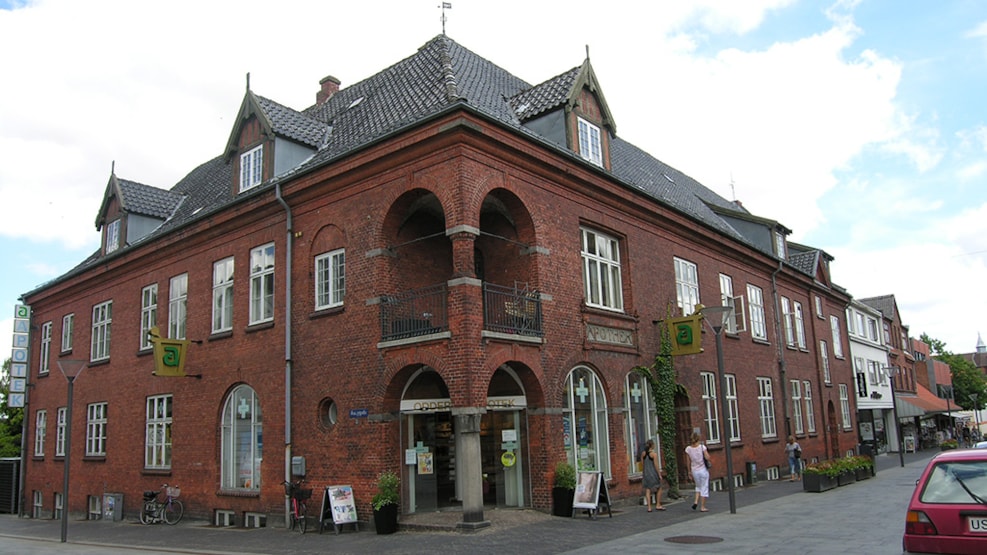 Odder Pharmacy (Apotek)
This pharmacy in the shopping centre of Odder is your friend in need if you need medicine during your stay at The Odder Coast. The professionally trained staff is ready to guide you with anything from prescription medicine, over-the-counter drugs, skin care products, and supplements.
When the need arises
Odder Pharmacy has supplied the local citizens,and  tourists with medicine, body care, and competent, skilled service since 1852. The pharmacy can help you in many different situations, if you are, for instance, staying at a camp site or in a holiday home at The Odder Coast or just passing through the city. Maybe you forgot to pack your medicine in the suitcase, maybe you are plagued by pollen allergy or dry lips, or maybe your son scraped his knee on the ball course and needs to have the wound cleansed and put a plaster on it. Maybe you need a toothbrush, skin lotion, condoms, mosquito repellent, or anti-dandruff shampoo. No matter what, the personnel is ready to guide you with professional expertise and the human compassion and insight that your situation requires.
Are you in urgent need of medicine during your holiday?
The pharmacy has a combination of prescription- and non-prescription medicine. Citizens in Denmark can contact their own doctor an get a prescription that is valid in all Danish pharmacies.
Foreign visitors can have prescription medicine handed out at Danish pharmacies. If you are from an EU or EEA country, the pharmacy will accept prescriptions if it clearly states the issuer and medicine in question.
If you are not a European citizen, the pharmacy can get you in contact with a local medical practice that can help you get a receipt.
Visit the pharmacy in Odder – or wherever you are
Odder Pharmacy is located in the middle of Odder on the pedestrian street Rosensgade. Parking is free in Odder, and there are plenty of spaces. The pharmacy is open Monday-Saturday.
A series of local pharmacies and medicine dispensers are a part of Odder Pharmacy. Therefore, it is possible to visit Odder Pharmacy in Saksild, Hou, Tunø, Hundslund, Gylling, and Ørting.
You can see the current opening hours, as well as the other pharmacies and outlets on this page.
Destination Kystlandet © 2023