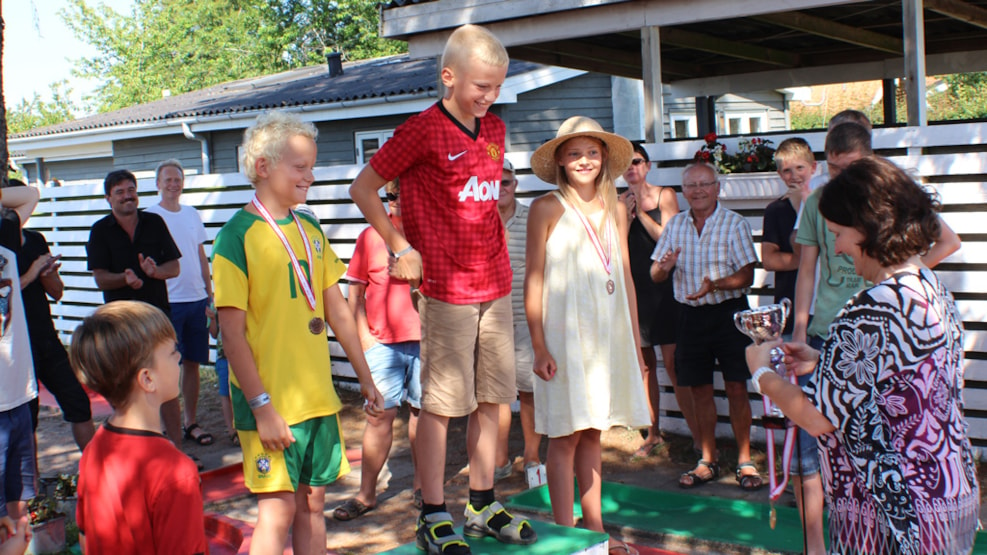 Miniature Golf in Saksild
Danish "hygge" and entertainment is given pride of place at this miniature golf course with proud traditions, located only a few steps from the best beach on the east coast, Saksild Beach. Here, children and adults can look forward to a good experience and combine the game with a meal or an ice-cream in the café.
Denmarks oldest miniature golf course
If you can refer to a miniature golf course as historic, then it is certainly the case for Saksild's fun rendezvouz for family time, where numerous beach- and holiday home guests have hav memorable experiences since 1947. The 15 vourses are all original, and can celebrate their 75th anniversary in 2022, but the entertainment value is absoulute still intact. The course offers challenges for both children and adults. 
The proprietors of the family-owned course uphold the traditions and original atmosphere of the place. Here, the family's older generations can be children again, and children will certainly have a good time, due to the dateless nature of this form of entertainment. The coastal- and holiday home atmosphere is evident when you are at the golf course. The place oozes of Danish summer atmosphere. 
More than miniature golf
Visiting Minigolfbanen is about more than just a game om crazy golf. Therefore, they offer much more than just a round with club and ball. The café is a central part of the experience. The owner Evy is ready in the kitchen, and during high season she will serve delicious dishes such as sandwiches, Danish meatballs (frikadeller) with potato salad or tempting sausages. And there are nine different kinds of tapped beer, 40 types of craft beer, and a wine menu to choose from, when you feel thirsty. Maybe it is not everyone in your company who want to battle on the old course, and great effort is put into ensuring that they will also have a good time. 
How about gourmet ice-cream?
Who doesn't enjoy cold ice-cream in the summer heat? Minigolfbanen Saxild offers Italian style quality ice-cream from Kastbergs. The many flavours can be served in a cone ur a cup. Do you think someone in your family can eat a "giant golfert" with seven scoops, topped with Danish softice, meringue foam and cocoa topping?
If you want to bring sweets home with you, then there is also a selection of pick-and-mix sweets in the kiosk. 
Open during summer
The miniature golf course is open when the sun is shining and Saksild is full if life and activity. Roughly from May to the end of August. It is open during day time as well as in the evenings. You can see the current opening hours at Minigolfbanen Saxild's website. 
Follow these links to read more about Saksild Beach and experiences in Saksild.