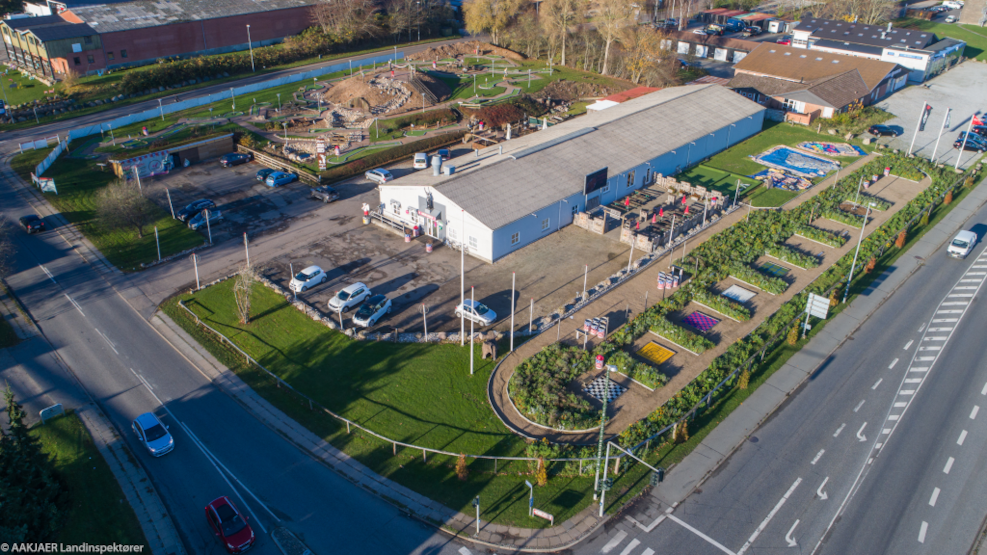 Kuglen & Keglen Together
In the mood for fun and games? Then Kuglen & Keglen is the place to go. You can try your skills at a host of fun activities, both indoors and outdoors. Take your family or your friends for a day full of competing, adrenalin, smiles and joys at the cosiest activity centre of East Jutland.
A heaven of play and activities
Near the centre of Odder, you find one of the funniest activity centres in East Jutland. The minute you step into Kuglen & Keglen, you are met by a plethora of entertaining choices. You can play and play games, joust and battle for hours without feeling bored. And you do not have to take out a mortgage – as soon as you have paid for the entrance, you have free use of the activities of the centre for the entire day. The price is DKK 129 for adults and DKK 99 for children (up to age 12).
Is it raining outside? Make a hit on the bowling alley
You can play on the modern bowling alleys of Kuglen & Keglens for as long as you like. Battle your dear ones or hone your skills with the bowling ball. The alleys are equipped with fully automated  side barriers and you can also borrow a ramp and a push bar for the youngest players.
Indoors, you also find pool tables, table football and air hockey. 
Is the sun shining? Then try your hands at the many outdoor activities
Outdoors, you can swing the club on the enormous 18-hole crazy-golf course. The Wild West golf course has nine easy holes and nine that are more challenging. The children can complete a 'Kids Round' or the entire family can complete the large 18-hole course.
You can also try your hand at a game of crolf which is a hybrid of croquet and golf – or how about a game of ladder golf?
There are also giant boardgames in the outdoor areas. Fancy a game of chess, draughts, three-men-in-a-line, Mikado or maybe noughts and crosses?
Oh, and yes – you can also play pool football, beer pong, knock'em or stilt cross. The choice is yours. You will be busy if you want to do it all.
Oh, we forgot to mention the three giant bouncy castles for children and childish adults to bounce around in.
Escape rooms
You should also try the very popular escape rooms where you are locked into a room and need to solve various riddles to get out. There are traces and clues in the room and it takes good teamwork and concentration to solve the riddle before time is up and you are let out again. Escape rooms are a fun activity for everyone that strengthens the feeling of solidarity. 
As the only activity, escape rooms are not included in the Kuglen & Keglen Together-package that provides free access to all other activities. The rooms must be booked in advance.
In need of a break? Grab a bite to eat
When you need a break, you can get delicious, juicy burgers and crisp fries, lots of different snacks and a wide range of cold beverages at the centre's American-inspired diner. They have burgers for the peckish and the really hungry. You could try a Double Classic US Cheeseburger with a 200 g beef patty, 4 slices of cheddar cheese and 8 slices of crisp bacon! To finish your meal, you can enjoy free whippy or a lovely ice-cream cone.
Prefer a drink? Then, try one of the eight different types of beer, lovely cocktails and ice-cold cider, perfect for the hot summer days. Enjoy your drink with your food, an activity or on its own, indoors in the cosy setting or on one of the many outdoor terraces.
Friday-Sunday, you can also visit the restaurant at Kuglen & Keglen, where you can enjoy delicious American-inspired dishes.