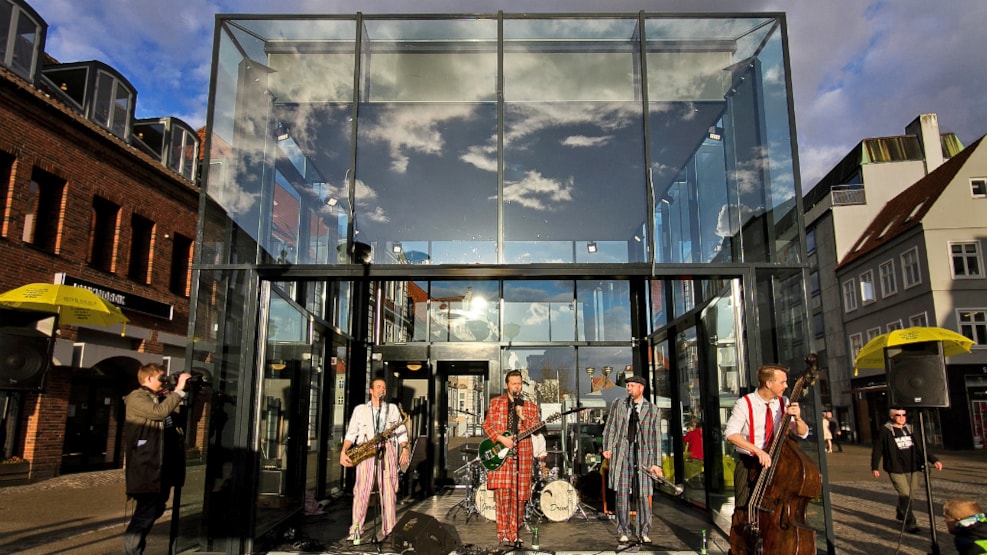 KUBEN
This glass cube in the middle of Denmark's widest pedestrian street serves as a cultural hub. Here, you can experience exhibitions, art, concerts, workshops, and much more.
The city's transparent cultural center
At the most central location in Horsensa, right on the bustling Søndergade, lies this cultural center where you can peek inside without even stepping in. KUBEN is a 6x6x6 meter large transparent cube, serving as a venue for a variety of cultural experiences in the city center. Throughout the year, it is used for concerts, theater performances, rehearsal spaces, and exhibitions for the city's cultural, sports, and community activities. KUBEN contributes to the lively atmosphere in the city center. Here, you can often experience something new while out on a shopping trip. Immerse yourself in posters and exhibitions, enjoy live theater performances, talk to tourist guides, or get into the holiday spirit in December.
Available to everyone
KUBEN is publicly accessible and can be used by everyone, as long as you treat it and its surroundings with respect and consideration. This includes maintaining a responsible noise level and ensuring that the area remains clean and tidy.
Do you have an event or an exhibition that you would like to showcase in KUBEN? Please contact MÆRK Byen at maerkbyen@horsens.dk or call 23 37 22 03.
About MÆRK Byen
MÆRK Byen is the urban initiative of Horsens Municipality. Their mission is to encourage more people to create cultural activities in public spaces, ensuring that the city center of Horsens remains a vibrant and exciting place to be. MÆRK Byen regularly hosts events in KUBEN and various other locations in the city, including Langelinie. They are also responsible for the numerous murals in the city center and pre-events for major stadium concerts that have put Horsens on the map.
Destination Kystlandet © 2023