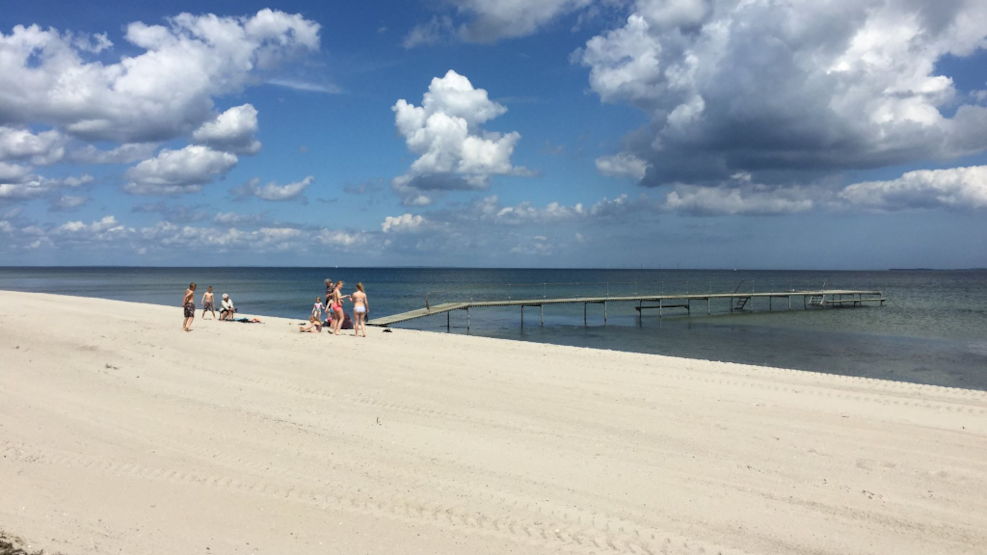 Hou Beach
By the harbour and ferry city Hou lies this child friendly sandy beach. The beach has got excellent quality of water for swimming, great facilities and options for shopping quite nearby.
One of the loveliest beaches by the Coast of Odder
Beautifully placed by the tranquil waters of Kattegat lies this wonderful sandy beach, which is great for families with children. By the beach is a wooden pier and toilet facilities with a handicap-friendly toilet. The beach is an extension of the harbour, which buzzes full of life in the summer.  Here, you can reprovision, enjoy a meal at the café or grab an ice-cream in the summer heat.
The waters by the beach are shallow and tranquil and the wind a seldom a challenge. Here, the children can safely play by the water, without you worrying about big waves or potholes. Hou Beach is certified with three stars within the white flag of swimming waters. This is your guarantee, that the waters are great for swimming and the security is high.
If you continue heading north, you will arrive at Hou North Beach, where you encounter the champing site Hou Beach Camping. Here is also a wooding pier – and there is access to the facilities of the camping site, including paid toilets.   
A day in Hou
Hou is known for its large leisure harbour and the harbour ferry with departures for the wonderful vacation islands Tunø and Samsø. By the harbour you can profitably take a walk and take in the maritime feel and enjoy an ice-cream at Mosters Ishus (ice cream parlour). From the city is a trail alongside at the beach. The Coastal Path at Hou is a lovely 10-kilometer hike, which leads you through the city and along the wonderful coast.
Is the raining outside?
Right behind Hou North Beach is the public indoor pool, Vandhalla. Here, you can always take a dip in the water – no matter the moody Danish summer weather. The public pool is handicap-friendly and has, among other things, got a 90 meter water slide.  
Accommodation at Hou Beach
You have the option to spend the night right on the beach at Hou Beach Camping or in a vacation house by Hou Sea Sport Centre. Hou is the ideal framework for your coastal vacation, through and through – quite close to beaches, harbour, islands and the big attractions and cities of East Jutland.
View more child-friendly beaches by the East Coast
The Coast of Odder and the Peninsula of Juelsminde encompasses lovey beaches with great facilities directed at the youngest members of the family. Get inspiration for other beaches in the area, here.
Destination Kystlandet © 2023