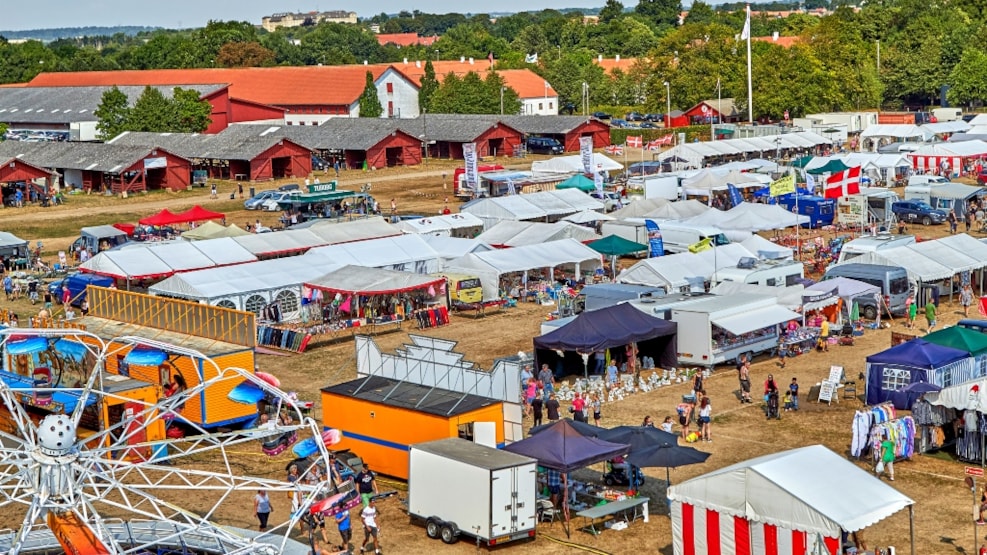 Horsens Flea Market (Kræmmermarked)
Go explore the more than 250 booths at the annual open-air Horsens Flea Market. This traditional Danish town-fair-style event offers live music, a small tivoli, food stands, and much more.  
A traditional Danish Flea Market
Every year at the end of July, Horsens Kræmmermarked becomes one of the biggest open-air flea markets in Denmark. 
Over the span of a single weekend, a flea-market-festival emerges with live music and other entertainment accompanied by several eateries and bars in the tents. On Saturday evening, the traditional roast pork barbecue is served, followed by a stand-up show and even more live music. 
Hundreds of interesting vendors
At Horsens Flea Market you will be able to find almost whatever your heart treasures! Up to 250 vendors are selling new, used, or antique commodities from their booths. An unofficial rule at Danish flea markets is to always try and haggle your way to the best offers.  
See opening hours, and entry prices, and find more information here. (Opens in Danish)
The County Fair Place 
Yes, we know... The name of the location is more descriptive than elegant. However, Dyrskuepladsen - or, "the county fair place" - is a historic, grass-covered marketplace, where many public open-air events have been held throughout time. Dyrskuepladsen is only a few kilometers from Horsens' city center, just across from Bygholm Park, and can easily be reached by foot or bike.
If you are looking for more events in Horsens and The Coastal land, go check out our online calendar.
Destination Kystlandet © 2023