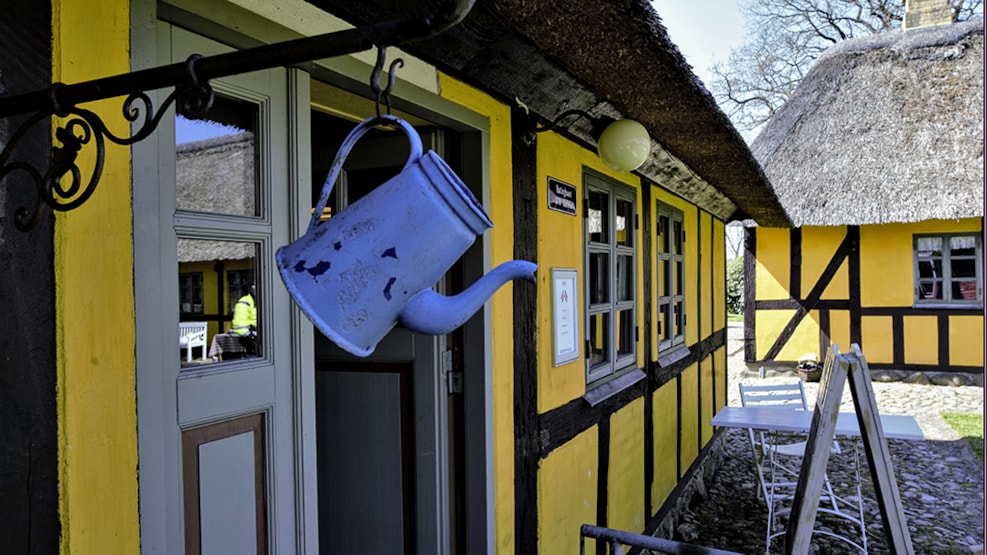 Hjortsvang Museum
Visit this exciting open-air museum and feel what it meant to live in the countryside in the olden days. In the beautiful old buildings, you can learn more about the way of life, decor, and occupations that were essential in small villages.  
Watch history unfold
At Hjortsvang Museum they celebrate life in villages and rural areas in the 18th-20th Century. The museum is authentically located in the rural area around the river Gudenå, in the western part of the Coastal Land, where the daily life and work life in villages such as Hjortsvang, Tørring and Uldum has inspired the many interesting exhibitions.
You can learn more about the old crafts such as mason, carpenter, cooper, saddler, tailor, and blacksmith and see workshops with all the tools of the time. In the charming old half-timbered houses, you can experience authentic decoration with furniture and adornments from the local area. You can also step inside the recreated grocery store – an exact replica of a local store in 1908 – and see what was sold in a classic Danish consumer cooperative that supplied the local area with groceries.
The museum also has snug corners where you can relax. Visit the coffee house where you can buy coffee and classic Danish cake or the pavilion by the lovely garden from around 1900.
The buildings
Hjortsvang Museum is built around the farm Vroldgård. Here, you can visit the farmhoiuse of the Markussen family, which has largely remained untouched since it was last inhabited in the 1950's.
Furthermore, many lovely half-timbered houses from the local area have been moved to the museum and now each has its own exhibition. The houses are from Tørring, Hatting and Honum among others, and the exhibitions are created in respect of the lives that were lived in the buildings.
It is an experience to walk around the area and visiting the old houses, scenically located in authentic, rural surroundings.
Visit the museum for events
Hjortsvang Museum frequently organizes interesting events. Every year, you can take part in traditional events such as harvest festival, Christmas market, apple harvest day, and the annual opening of the museum. For these events, you can visit workshops, stalls with interesting products, and entertainment such as live music and theater.
During holidays, the museum organizes family-friendly events of a historic nature.
Opening hours and prices
Visiting Hjortsvang Museum is affordable. The entry fee is 50 DKK and children under the age of 16 get free admission.
The museum is open Tuesday-Sunday from May-the end of September.
Do you want to explore the local area?
On this page you can find inspiration for other experiences in the area around Tørring and Hjortsvang.
Destination Kystlandet © 2023