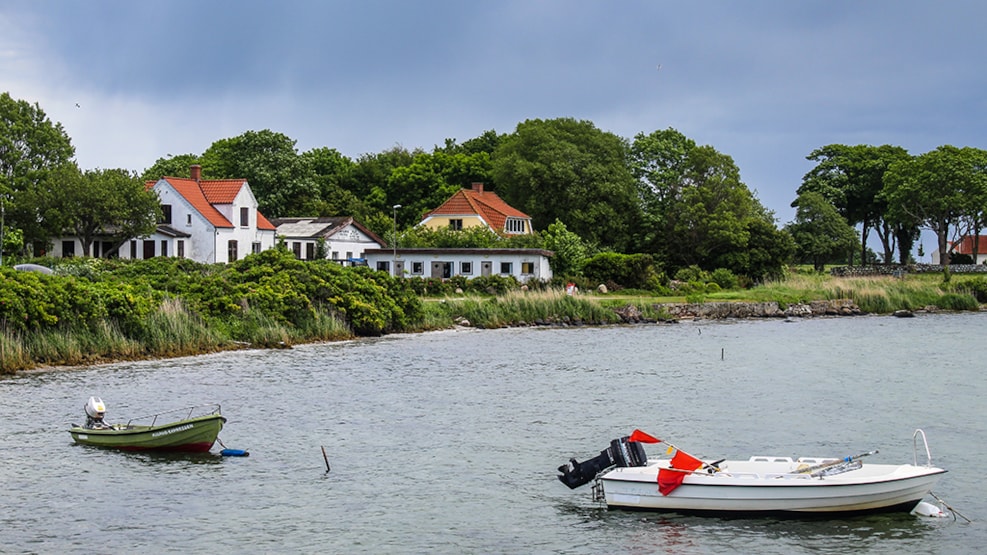 Hjarnø Marina (Bådehavn)
At the mouth of Horsens Fjord is the scenic island of Hjarnø. The island's marina is a small, cosy variety of its kind with fine facilities. Experience the charming island life from and spend the night at the best place at the island.
Atmospheric marina
The Hjarnø marina is not large. However, it exudes atmosphere, cosiness and togetherness. At the jetty, it is possible to sit at tables/benches and barbecue. And the children can use the crab-racetrack which is a great pastime for the youngest family members. A curious fact is that the remains of a Stone Age settlement has been found in the shallow waters by the harbour. It is possible to explore this and dapple around while looking for flint tools and other antiquities.
The marina has facilities to meet the most basic needs. There are toilets and shower facilities in the service building at the harbour.
Great experiences nearby
The Hjarnø harbour is well-placed in relation to the experiences available on the island. At the harbour, there is a hotdog stand and, nearby, you also find the island eatery, Café Den Gamle Smedie.
A few hundred metres from the harbour, there is the nice beach Hjarnø Odde. Here, you also find Kalvestenene which are Viking Age stone ships and Denmark's second-smallest church, Hjarnø Kirke.
Hjarnø is ideal for hiking in nature. You can find suggested routes on the map here and learn more about Hjarnø on this website.
Catch the ferry to the mainland
The marina is connected to the ferry harbour where the Hjarnø ferry puts in. However, this does not affect the experience of the marina – a palisade wall acts as a breakwater and provides shelter to the marina.
The Hjarnø ferry has 30 daily departures to Snaptun on the southern shore of Horsens Fjord. The crossing takes only five minutes which means that getting to Snaptun and experiencing the maritime atmosphere is the cosy harbour is easy. From Snaptun, you can take the popular coastal hiking route Kyststien Snaptun-Juelsminde. This quickly takes you along the coast to the beautiful forest of Tønballe Forest where you will find several vantage points. From the Snaptun harbour, you can catch the bus that connects Horsens and Juelsminde. 
From the harbour on Hjarnø you can also get on the little bicycle ferry that sails to the neighbor island Alrø during the summer period.