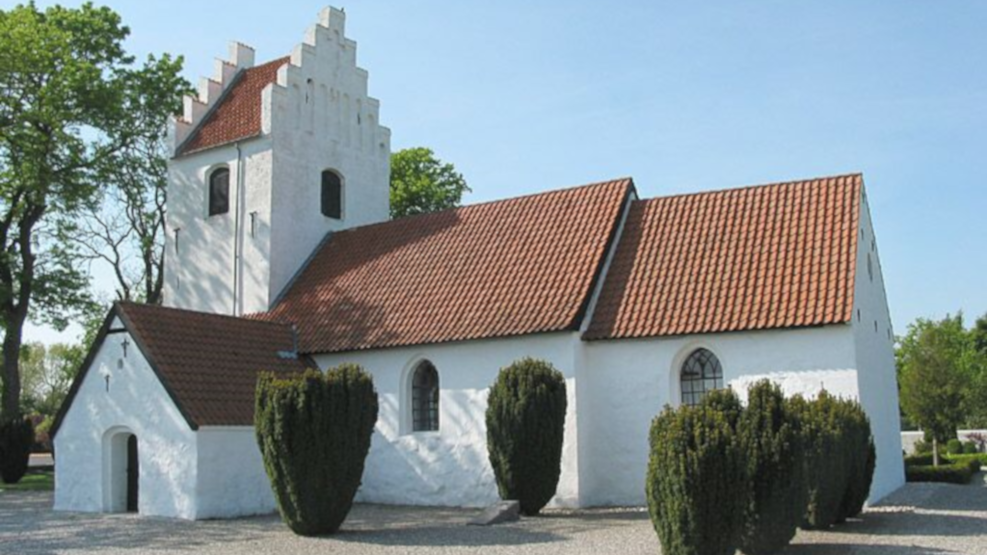 Halling Church
Halling Church is located on a hill in the generally flat landscape in the eastern part of Odder Municipality. The ferry- and marina town of Hou is a part of the Halling parish. In the past there were only two houses in the fishing village, but now Hou is growing fast. 
Halling Church is from around 1200. The church tower and porch were built in the period 1490-1500. The church is built of granite with rocks of many different sizes. The altarpiece consists of a canopy from 1939-40, forming a framework around a very beautiflul pieta. This was carved in one piece and probably originates from an ealier, 15th century altarpiece. The group of figures in the pieta depicts the Virgin Mary sitting with the dead body of Jesus in her lap, surrounded by John and Mary Magdalene with the ointment jar.
The pulpit is made by Peder Jensen Kolding around 1630 AD. The granite font is decorated with cable decoration motifs. The baptism bowl and water jug are made of brass. It was donated to the church in 1644. The organ is from 1978. 
The church is decorated with a model of the ship Brita Leth. The Halling Parish is located at the coast so it is natural to have a ship as decoration and a symbol in the church. Brita Leth is a schooner with two masts built in 1911. The ship now sails with students and tourists and occasionally calls into port at Hou Harbour. 
The cemetery has been expanded several times. You can see many different kinds of tombstones here from different periods of time. 
The church is open during the sexton's working hours.
Destination Kystlandet © 2023