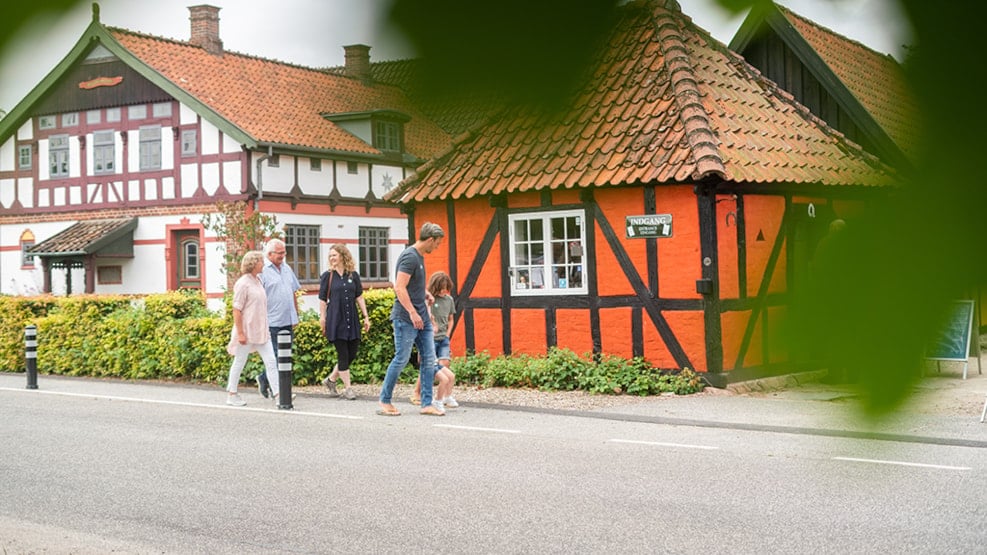 Glud Museum
Discover 350 years of village history at the open-air museum in the village of Glud. Visit Denmark's oldest dated farmhouse, take part in fun family activities, experience working workshops or see the big exhibition hall with agricultural tools, horse-drawn carriages and country crafts.
Visit the exciting open-air museum
Glud Museum is an open-air museum where you can experience 350 years of village history. Here, among other things, there is a timbered house built around a square, a small fisherman's house and smallholdings to explore. The museum tells of life in the small rural communities from the 17th century up to the 1950s.
The old farm
The many historic buildings each tell their story. Come into Rasmus Thomesøn's farmhouse from 1662, where you can have a look in the dark living rooms where alcoves, fireplaces and long tables stood close. In the small fisherman's house, fishing nets hang in the living rooms and the mattresses are stuffed with seaweed. In the tall transformer tower, you can experience what a revolution electricity was.
Visit the master painter's house
The local master painter, Søren Knudsen, founded Glud Museum in 1912 and the museum also has Søren Knudsen's home, Hildesheim, where you can go behind the museum's history and in many ways, the unusual life of the museum founder.
The history of forgotten things
In the big exhibition hall there hides stories of children's births, the fire service and everyday many pursuits. Here you can see mail carriages, butcher's blocks, alderman batons and maternity pots, objects that were once an important part of society but are now almost forgotten.
Life in the village
There are many exciting events throughout the year. Old livestock breeds takeover the museum for the Day of the Animals, the harvest comes in house for Harvest and Market Days, and Christmas is celebrated with the ancient traditions of Christmas in the village. During the summer there are holiday activities for the whole family, and you can meet blacksmiths, wooden turners and weavers when the many skilled volunteers demonstrate the old trades and handicrafts.
Live summer activities
You can take part in the pleasant family activities during the afternoons on Mondays to Thursdays during the summer holidays. Come and join in the old games, try playing skittles and walking on stilts. So, take the family by the hand and spend your afternoons with the many cosy activities at the museum. Every Tuesday-Thursday and Sunday afternoon our skilled volunteers demonstrate the trades and handicrafts in the working workshops. Here you can have a chat with the wood turner, experience the blacksmith working at the glowing forge, see the finest lace work and get an insight into how the white ruffed collars of priests are made.
You can see the full schedule of this year's summer activities at Glud Museum on their website (In danish).