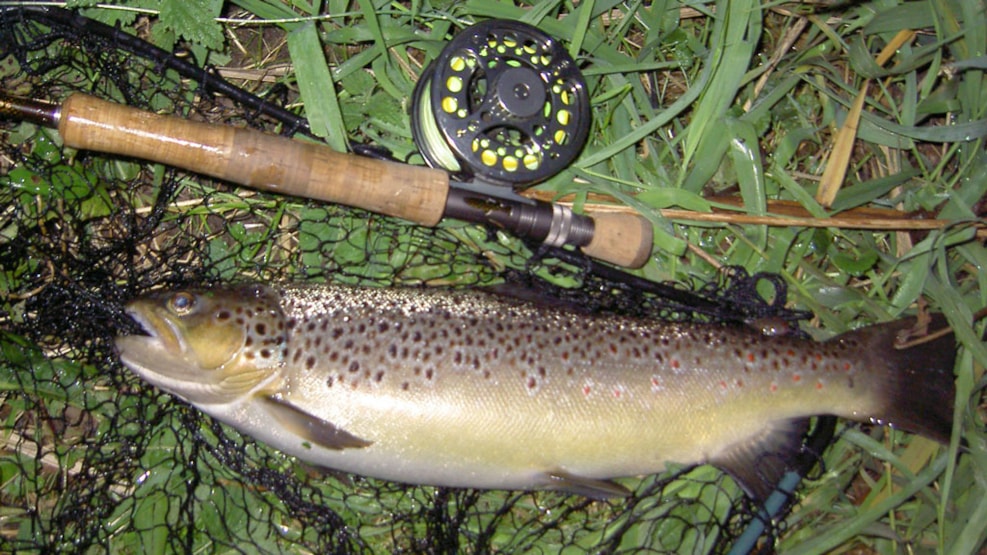 Fishing in rivers Gudenå and Hansted Å
Great outdoor experiences await in one of the most beautiful nature areas surrounding Denmark's longest river, Gudenå, the River Guden. With a good chance of hearing or seeing birds, swallows and deer, as a guest you can access these fishing waters with a valid fishing license. The area offers great opportunities to hook seatrout, brown trout, grayling and pike.
A day licence or a weeks licence apply to one of the following sections
1: In the upper part of the Gudenå river (upstream of Rask / Åle Bridge) Buy your licence here (in danish)
The area is extremely scenic and is part of a bird protection sanctuary. Fishing is permissible from Rask / Åle Bridge to approximately 3 km upstream at the "World End" in Hjortsvang Kær, and the river delivers all that you expect. The river is calm and meanders through deep hills and shallow stretches. It is perfect fly-fishing water, especially when the Mayflies hatch in June. Grayling, brown trout, river trout and pike can be caught in this area.
It is possible to park close to Rask / Åle Bridge.
Please keep in mind that grayling is a protected species and it is recommended that brown and river trout be released.
In Gudenå, The River Guden, the best fishing time is between June and July, but pleasant late summer and autumn days can also offer good fishing.
2: Greater Hansted River, Hansted Å (1.4 km) Buy your licence here (in danish)
The Greater Hansted River is located north of Horsens and passes the old prison. At the bottom, the river flows calmly. Here it is possible to catch both seatrout, brown trout and pike. Sea trout is best caught between July and November on days after rain.
Season runs from 1st March to 15th November.
There is parking on Skanderborgvej.
Fshing Guide
Contact Horsens Sports Fishing Association, the regions sports fishing association, to hear about the possibility of booking a guide to accompany you on the fishing trip.
Prices:
Day Licence: 100 kr.
Week Licence: 400 kr.
Buy your licence on www.fiskekort.dk 
Horsens Sports Fishing Association controls the rights to fishing in these waters. It is also possible to become a member of the association and thereby gain access to all the fishing waters in which the association has,  a total of approximately 40 km long.