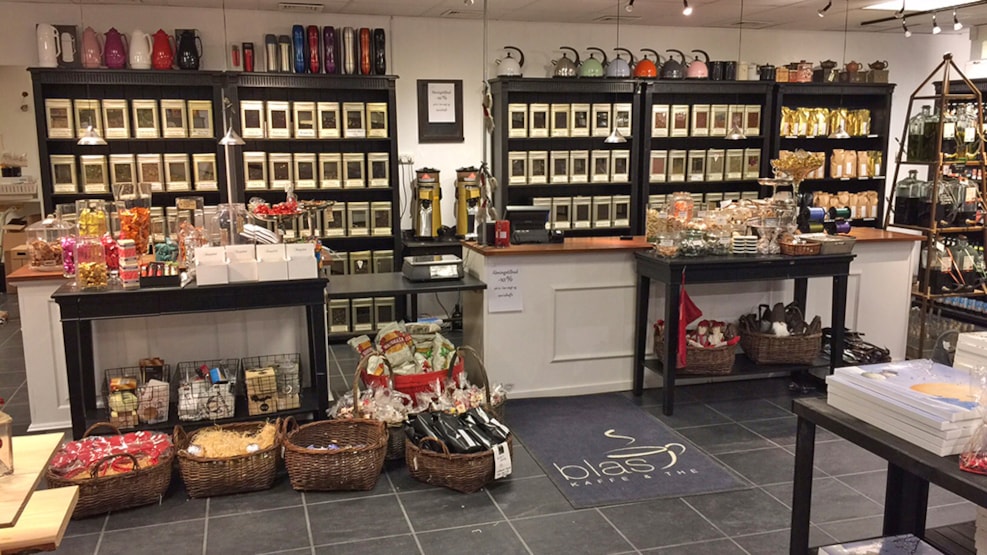 Blas Coffee & Tea (Kaffe og The)
At Blas Coffee & Tea in Odder, you get to indulge in shelf after shelf of high-quality, special blends of tea and coffee, sweet and salty delicacies, home decor, and unique brands of spirits.  
Specialties at the heart of Odder
The first thing that greets you when you enter the front door of Blas Coffee & Tea (Kaffe og The) on the high street, Rosensgade, in Odder is the fantastic aroma of freshly ground coffee and tea. The interior of the shop even resembles an old-fashioned grocery store, where good service and guidance are paramount. 
Taste the goods and order a cup of tea of your liking, enjoy a cup of freshly brewed coffee, or get the assistant's help putting together the perfect gift for someone you want to delight with something delicious.
Blas Coffee & Tea prides itself on having something for every taste - regardless of whether you like sweet, salty, or bitter. That is why you will always find a carefully selected range of exciting products. The staff is ready to guide you to the right purchase based on your preferences.
High-quality coffee and tea
On the shelves, you will find more than 100 types of tea and a varied selection of quality coffee, which cannot be compared to products from the supermarket. Blas has several in-house coffee blends as well as several types of aroma coffee with added flavors.
Tea lovers can look forward to an eldorado of fresh tea. Every week, the store receives a pallet of tea, and there are often new varieties on the shelves.
Read more about the store's large selection here. 
Specialties for any taste 
The store also offers a large selection of other specialties and delicacies. Try some of the best Danish brands of chocolate from, among others, Summerbird and Aalborg Chocolate, and the Scandinavian darling, licorice, from Johan Bülow and Bagsværd Licorice. Also, browse through a selection of wine, spirits, and craft beer, as well as everything from pesto to jams and honey.
Home decor and wellness products
Lastly, Blas Coffee & tea offers carefully selected pieces of decorating art for your home and has plenty of gift basket options, as well as an array of little quirky items, that are perfect if you are looking for a souvenir.  
You will also find delicious creams, oils, scrubs, and soaps along with other wellness products for your hair and body.
Opening Hours
Blas Coffee & Tea is open Monday-Saturday.

Se the current opening hours at the shop's website.  
Destination Kystlandet © 2023