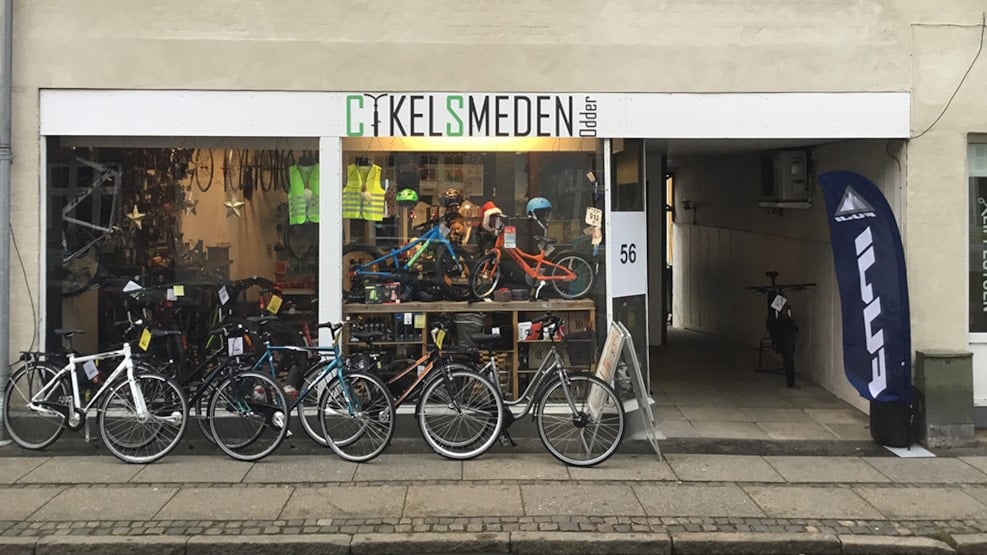 The Bicycle Repair Shop (Cykelsmeden Odder)
Do you want to rent a bicycle for today's excursion? Are you in urgent need of a mechanic or a tool kit on the bicycle holiday? Or are you looking for the perfect new bike? Then visit this bike shop in Odder for a cup of coffee and great service.
The place to go for cyclists
The Bicycle Repair Shop in Odder is your bike's best friend. Bicycle mechanic Dennis Bonnichsen's little store is the place for you if you are a tourist on bicycle holiday or a local bicycle aficionado in need of spare parts, guidance, or maybe an awesome new race bike.
In the store, located centrally on Rosensgade at the end of the pedestrian street, they service and repair all brands and types of bicycles from city bikes to gravel bikes, mountain bikes, and race bikes.
When the two-wheeler needs a bit of love
The Bicycle Repair Shop offers all types of repairs and service. So, if the chain needs to be lubricated, if the gears are slipping, or if the e-bike engine fails then stop by the shopå in Odder.
You can also use the DIY service station and the pump for free. There is a box with tools in front of the store, so you can do the most basic operations yourself, such as correcting the saddle or tightening the brakes.
Rent the bicycle for today's trip
If you need a solid bike for your bicycle holiday or today's excursion in nature, then you can rent it in the store. They offer city bikes and tourist-friendly bikes with handlebar baskets that are well-suited for shorter rides in the local area.
If you wish to rent a mountain bike or a race bike, then contact the Bicycle Repair shop and hear more about the options.
All bikes are equipped with a lock, mandatory reflectors, and a bell.
Prices for bike rental
Citybike Nexus 7 or Citybike with 9 external gears
1 day: 150 DKK
Per extra day: +120 DKK
One week: 800 DKK
Long term rental (1-12 months)
1-3 months: 1000 DKK per month
3-6 months: 800 DKK per month
6-12 months: 600 DKK per month


Deposit: 1500 DKK
Service and adjustment in the repair shop is included for long-term rental
Buy your new bicycle here
In the Bicycle Repair Shop you can find all types of bikes from children's bicycles to mtb and gravel. The store also has a large supply of equipment and spare parts. You can see a part of the assortment at their website. 
Destination Kystlandet © 2023