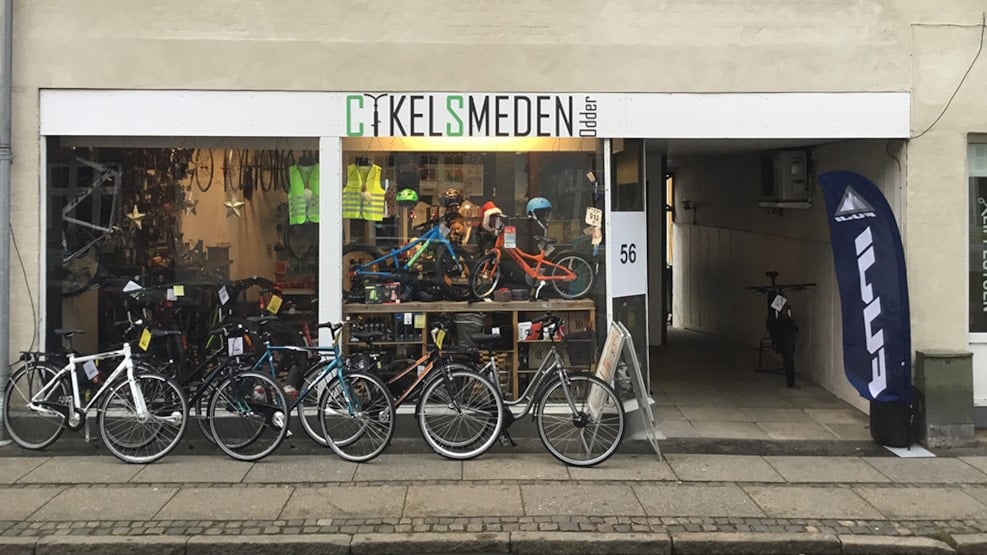 The Bicycle Repair Shop (Cykelsmeden Odder)
Cykelsmeden is a small and homely bike rental in Rosensgade – at the end of the pedestrian street towards Odder museum.
Come in and have a chat about your needs – we always have fresh coffee in the pot and a tool box  with the most basic tools that you can borrow and use in our yard.
Repairs of all kinds of bicycles
Rental of citybikes and MTB
"DIY" service station
Spare parts can be bought in our shop
Borrow a bicycle pump
Bike rental - prices
Citybike Nexus 7 or Citybike with 9 external gears
1 day: 150 DKK
Per extra day: +120 DKK
1 week: 800 DKK
Long-term rental 1-12 months
1-3 months: 1000 DKK per month
3-6 months: 800 DKK per month
6-12 months: 600 DKK per month
Deposit: 1500 DKK
All bikes are assembled with lock and the compulsory reflectors and bell.
In the case of long-term rental, service and tuning is included in the rent – the work is done in our workshop in Rosensgade 56 in Odder. Repairs that require extra spare parts are at the expense of the tenant.
If you wish to rent a mountain or road bike, then please contact us to hear more about the opportunities.