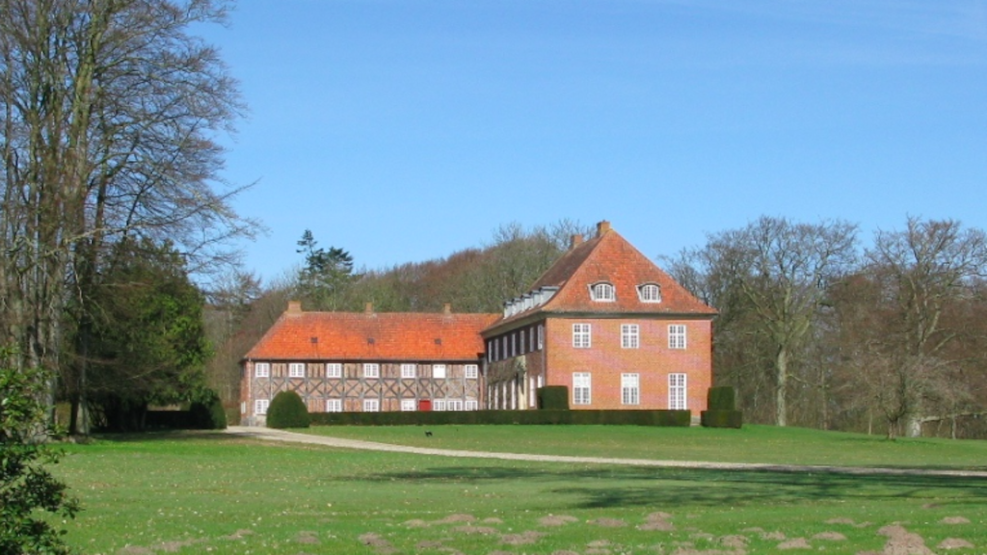 Barritskov Manor
Barritskov Castles mainbuilding is from 1916, where the old castle from around year 1500 was torn down. The remnants of the old Barritskov is still there as a ruin in the private park. East of the present mainbuilding, the manager house, goods office and former stables from 1880 are locatedThere has been big changes in use, looks and buildings as the development of Aarstiderne as a business has taken place.
Barritskov Manor has been known since 1261, where it belonged to Mr. Niels, who founded the franciskan monestary in Horsens.
Barritskov was a "hovedgaard" which meant that the property was divided in the manors land, which was owned by the landowner and the tenent land, which was rented out to tenant farmers. Barritskov owned most of Barrit and also had tenant farms in Vrigsted, Klakring and Rårup.
The landowner had several rights; he didn't have to pay tax, he was allowed to sentence his tenant farmers to penalties if they disobeyed him, he owned the hunt and fishing rights of all his land, but in turn he also had obligations. He had to collect taxes to the king and the church from his tenant farmers, to enroll soldiers for the army and to hire lawyers to fix contracts with the tenant farmers.
During the great reforms in the late 1700's, the tenant farmers gained rights. They could now buy their own farms, and in 1855 the manor was in a great lack of workers. The manor hired labour and quickly became the largest workplace in the area. Houses were built for the labourers and other employees.
In the bend west of Barritskov, there is an old labourer house – Barritlunds House – here 2 polish families with 21 children lived for a while. The workers had an international touch, the dairyman was from Holsten and a dancing instructer impregnated a Norwegian milkmaid.
South of the road along the millpond, houses of several workmanships were located. The driver, the mill, the smithy and the greenery. And southeast of the manor, the hunters lodge was located. Barritskov was a village in itself.
After approximately 150 years as a big scale farm owned by nobles, the manor was sold to the Harttung family, who run the manor. But after 1996, the started growing organic foods for wholesale and that's the company that is there today; Aarstiderne.
Barritskov Manor is privately owner and not open to the public.
Destination Kystlandet © 2023