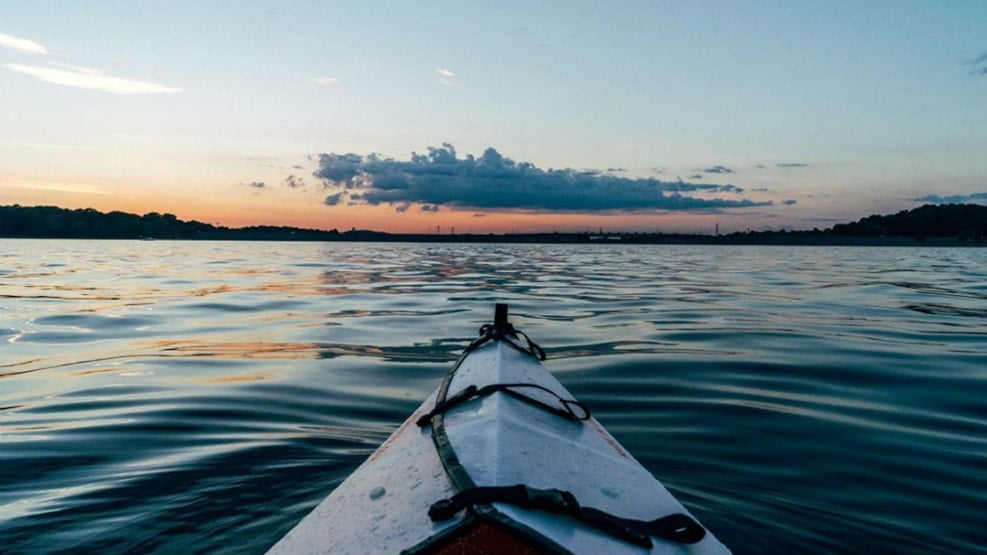 Around Horsens Fjord by kayak
Horsens Fjord is one of Denmark's most beautiful inlets with ideal conditions for sailing kayaks. You will experience diverse nature with forest, fields and islands as well as urban life at the harbour in Horsens. While sailing you might be lucky to spot harbour porpoises and seals, but we also have excellent conditions for fishing. Experience the maritime surroundings by the islands Hjarnø and Alrø and the harbour town Snaptun on the southside of the inlet. 
A trip around Horsens Fjord in a sea kayak is highly recommended, and with this guide you will find perfect places for resting along the way. We recommend a trip of 44 kilometres, which can easily be split up into various stages. 
Husodde Strand-Brigsted 7,5 kilometres
Brigsted-Sondrup 9 kilometres
Sondrup-Snaptun 9 kilometres
Snaptun-Horsens Lystbådehavn 15,5 kilometres
Horsens Marina-Husodde Strand 3 kilometres
Husodde Strand-Brigsted
Your kayaking trip starts at Husodde Strand. Here you will find plenty of life during summer at the children- and swimming friendly beach and Horsens City Camping. At the camping ground you can buy ice cream and refreshments before heading out in your kayaks. If you do not have your own sea kayak, you can rent one here. 
When getting your kayak in the water, note that Husodde has some quite big rocks at the shoreline. You will now be heading east along the northern part of Horsens Fjord. The first part takes you along the forests at Stensballe. When the inlet breaks towards north, you will be following the coast west of the small island called Vorsø. This island is a preserved area protected by the Danish Department of Environment, and is therefore not free to enter for the public, unless accompanied by the local nature guide. A large population of birds lives here - among others, over 4000 cormorants. Be attentive of the quite shallow waters in this area around Vorsø. In the period between February 1st and July 15th it is not allowed to be within less than 200 metres of Vorsø, and generally you should not travel north of the island. This stage of the trip ends at Brigsted near Vorsø. Here you will find a nature campsite with shelters and a toilet. 
Horsens Municipality organises guided tours to Vorsø from Brigsted a few days a year. This is the only way to visit Vorsø.
Brigsted-Sondrup
From Brigsted you can paddle back south along Haldrup Beach and in a large curve around Vorsø. The destination is Sondrup Beach east of Brigsted. Sondrup Beach is located at the end of a beautiful hilly and forested landscape. Here you will find the gorgeous nature areas Sondrup Plantage (plantation), Sondrup/Uldrup Bakker (Hills) and Trustrup Udsigtshøje (Trustrup hills with a view). Sondrup Beach is a great starting point for a hike in the beautiful landscape. 
Sondrup-Snaptun
The trip continues to the southern part of Horsens Fjord. Directly south of Sondrup you will reach Alrø. This island is connected with the mainland by a dam. This charming island is known for its great eateries. You will find a total of three great restaurants - e.g. Café Alrø with their giant filled patty shells of nationwide fame or Møllegården located in a transformed pig house. 
From Alrø you can hop on the tiny bicycle ferry, which then takes you to Hjarnø and further on with the Hjarnø ferry to the beautiful harbour town Snaptun. Snaptun is also the destination for your kayak trip. 
Sail on the western side of Alrø and east of Borre Knob through the narrow channel separating the two areas. This channel is the only passage through the inlet for both boats and ships, so be very attentive when passing this part of the trip. Sail along the eastside of Borre Knob and turn east towards Snaptun, where this stage ends. Snaptun is a charming marina and ferry harbour with ferry departures for Endelave. Here you can get a nice meal or an ice cream before heading on towards Horsens. 
Snaptun-Horsens Marina
From Snaptun you will now be sailing all the way back to Horsens. Follow Borre Knob to the channel - the same way as you passed when entering the marina. Borre Knob is an elongated peninsula, stretching from the southern end of Horsens Fjord. The peninsula has some peaceful sandy beaches as well as a conference center. Follow Borre Knob all the way and be attentive of the fairway. From this point, you will follow along the coast all the way to Horsens Marina. The southern coast of the inlet is characterised by fields and cultivated areas, but you will also pass Boller Skov (forest), where you will see Boller Slot (castle). From here you can follow Planetstien (the planet path) to the marina, where this stage of your trip comes to an end. At Horsens Kajakklub (kayak club), you can get your kayak on the ground and later back in the water. 
Horsens Marina-Husodde Strand
The last stage of your trip around Horsens Fjord is the relatively short passage from the marina back to Husodde Strand, where you started off. Horsens Marina is undergoing some big changes these years, and we can recommend taking a stroll around the area and getting an impression of these new parts of the town taking shape. At the marina there is a couple of nice places to eat, and you can also stock up on drinks, snacks or ice cream before taking off again. 
You will now be kayaking along the northern shore of the inlet along the centre of Horsens and to the part of town called Stensballe and Husodde. First you will pass the local beach Langelinie, buzzing of life during summer. Later you will see Strandparken (the beach park), and from here you can gaze upon the beautiful big old houses in first row to a great sea view. The trip ends where it all started. At Husodde Strand and Horsens City Camping you can turn in your rented kayak and perhaps finish the day with a game of miniature golf.