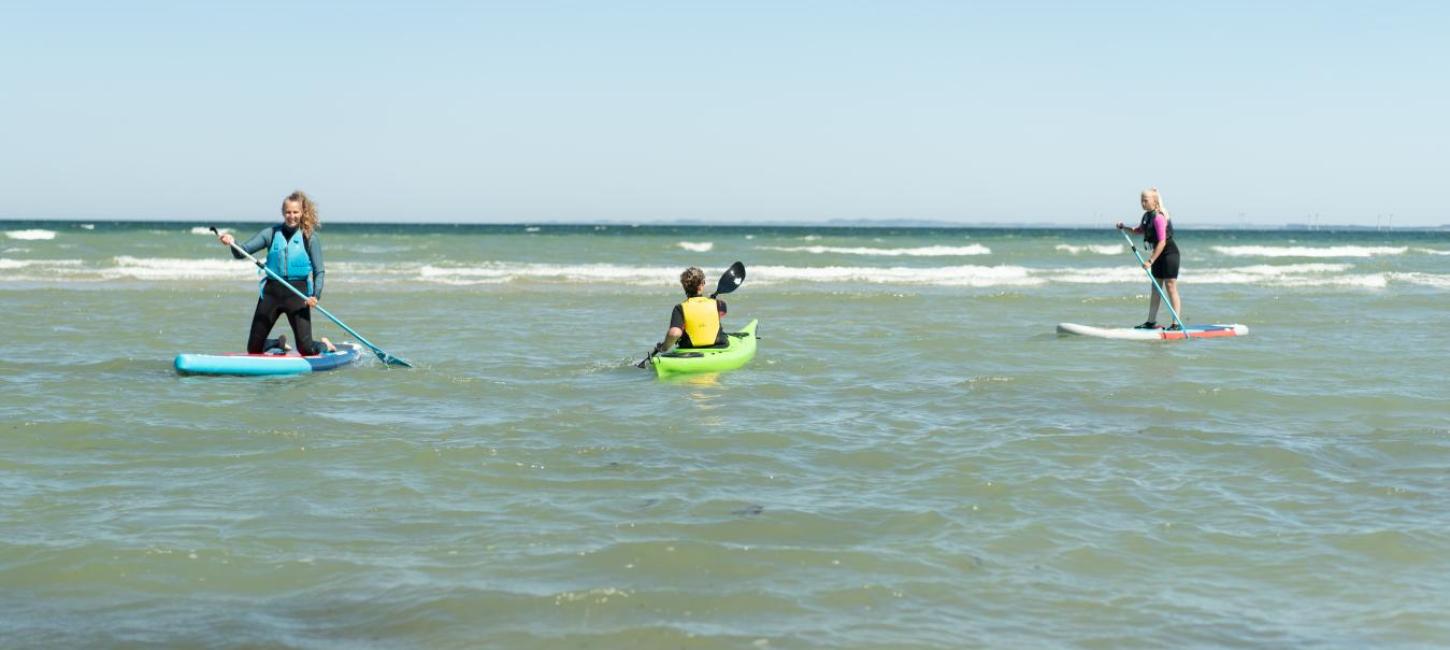 Kayak and SUP - exercise and fun on the fjord and sea
Photo:
Destination Coastal Land
The quiet waters of the east coast of Jutland and the area's many fjords are perfectly suited to a wide variety of water sport activities. In the Coastal Land there are great opportunities to try your hand at both kayaking and the popular Stand Up Paddle boards - even if you don't have you
What's SUP? Easily accessible water sports for all
At record speed, the sport of Stand Up Paddle has become incredibly popular in Denmark and has almost become a national heritage. And that's easy to understand. SUP is cheaper than other water sport activities, and the equipment is easy to transport. It's good for the body - you strengthen your upper body muscles and it improves balance. And then, not the least, it's a fun activity for both children and adult water enthusiasts. 
Are you considering buying a board, but want to try it first? Or are you just looking for a fun and unique activity on your coastal holiday? Around the coast of the Coastal Land it is possible to hire SUP-boards and other equipment. And if you would like an experienced guide along on the water, then there are also courses where you learn all the basics including safety and get to play and compete on the water. 
SUP on your own
You can hire SUP-boards and set out on the water at these coastal towns. 
Did you know that many campsites along the coast hire out both SUP-boards and kayaks? And it's not just for overnight guests. Everyone is welcome.
Kayaking is freedom on the water
Kayaking is a great and healthy way to experience nature. Kayaking is said to be lonely and demanding, but it doesn't need to be at all. There are many types of kayaks - some more beginner-friendly than others. The first time you go kayaking, it's a good idea to have an experienced guide with, so you learn the basic techniques and know all about safety. Outdoor Connection organises regular kayaking courses in the calm waters of Langelinie and Husodde Beach in Horsens. Here you can try your hand at a new outdoor activity, and find out whether kayaking is something for you.  
Family-friendly kayaks
A particularly beginner-friendly type of kayak the sit-on-top kayak, where, as the name suggests, you sit on top of the kayak rather than being lowered into it. It's far more stable than a sea kayak, and it's possible to have two adults and one child in the kayak - exactly as in a canoe. At Juelsminde Peninsula's Kayak Rental you have the option to hire a sit-on-top kayak. You can hire kayaks from Juelsminde Peninsula's Kayak Rental at Juelsminde harbour, but you can also get the kayak driven out to you if you are staying around Horsens Fjord or Vejle Fjord.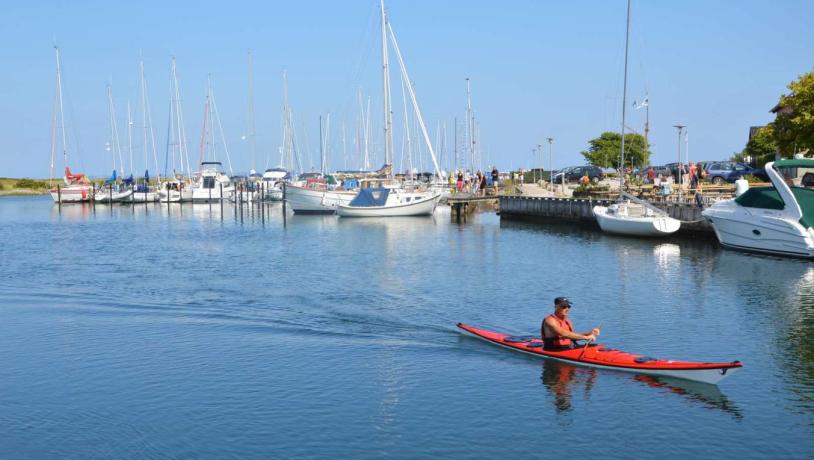 Photo:Roald Kramer
Here, you can rent kayaks in the Coastal Land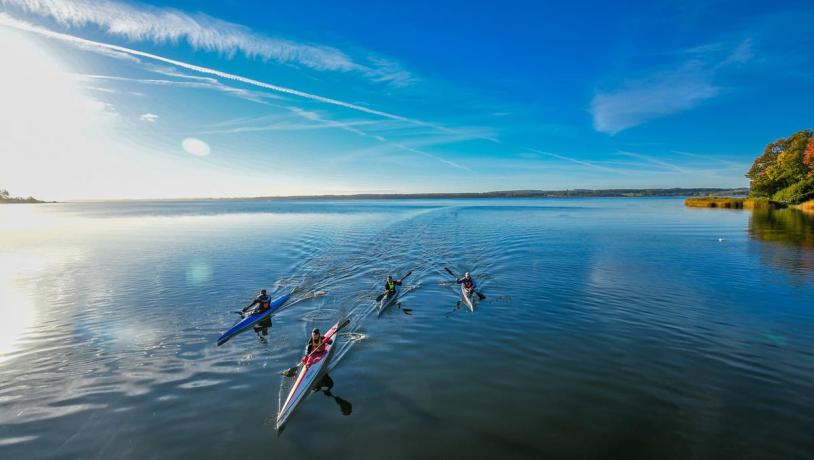 Photo: Destination Coastal Land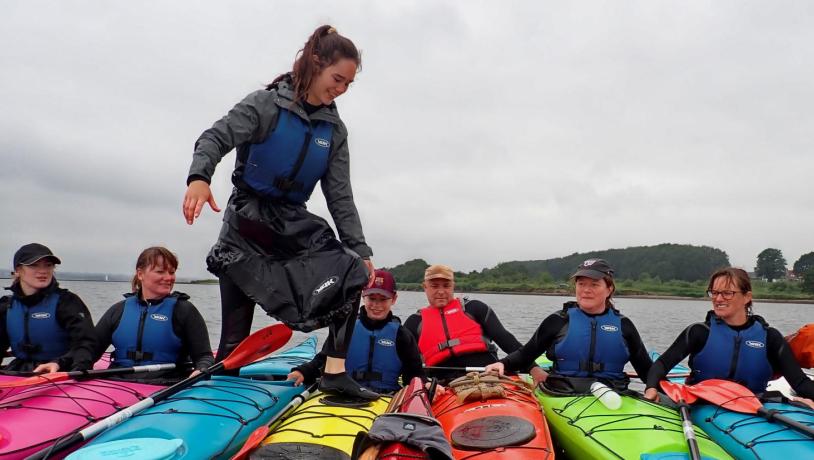 Photo: Outdoor Connection
At Saksild Strand Camping you can hire SUP-boards, solo kayaks, double kayaks, pedal kayaks and motorboats. The pedal kayak is a very stable kayak where you create the momentum with your feet. It's a beginner-friendly kayak that is simultaneously a good and fun way to get exercise.
Kayak routes in the Coastal Land
Take a trip around one of the Coastal Land's three fjords, take the trip around one of the islands of the East Jutland Archipelago or enjoy navigating the beautiful Gudenå river in a kayak. There's a wide range of options. Either way, you have excellent conditions and calm water. On the map below you can see our suggestions for your next trip. 
Kayak and SUP on the Gudenå river
The Gudenå is not just for canoes. You may want to paddle on Denmark's only river in a kayak or on a paddleboard, but please get a navigation permit (sejltilladelse) regardless of the type of vessel on the stretch between Tørring and The Monastery Mill (the southernmost part of the Gudenå). Navigation is allowed from 16/06 - 31/12. You can order your guest permit on this link. 
At Tørring Canoe Rental you can hire a kayak for the trip. Then you only have to think about showing up - they take care of the permit.