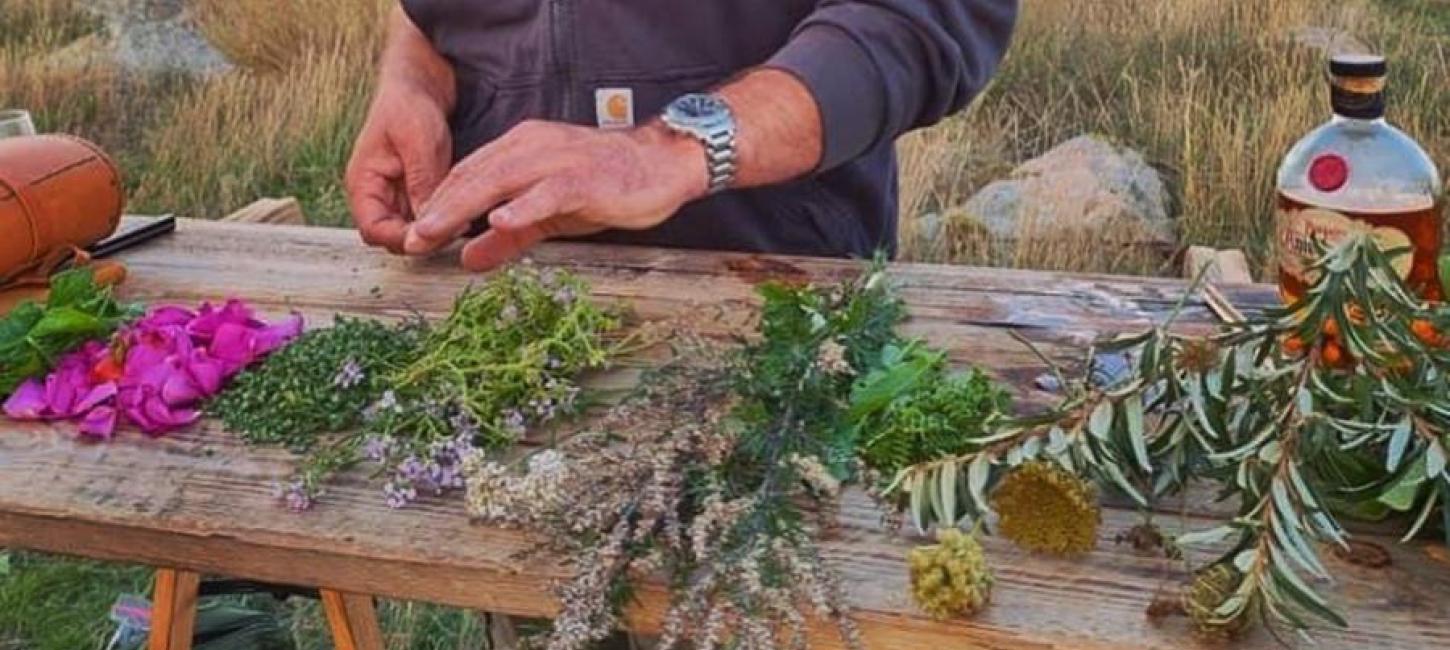 Foraging in The Coastal Land
Photo:
Svend Hamann, strandhoest.dk
With several hundred kilometres of coast, The Coastal Land offers great possibilities for foraging in nature's pantry. Together with Svend Hamann from Strandhøst we bring you a top-5 over the most accessible edible plants and other delicacies from the coast.
A foraging trip along the coast is both fun and educational no matter your age. It is also a great pleasure to supply oneself with free goodies from nature's own reserve. Especially the coast near Odder offers some of the most widespread edible plants.
Edible beach plants
Svend Hamanns favorite edible plants you can forage along the coast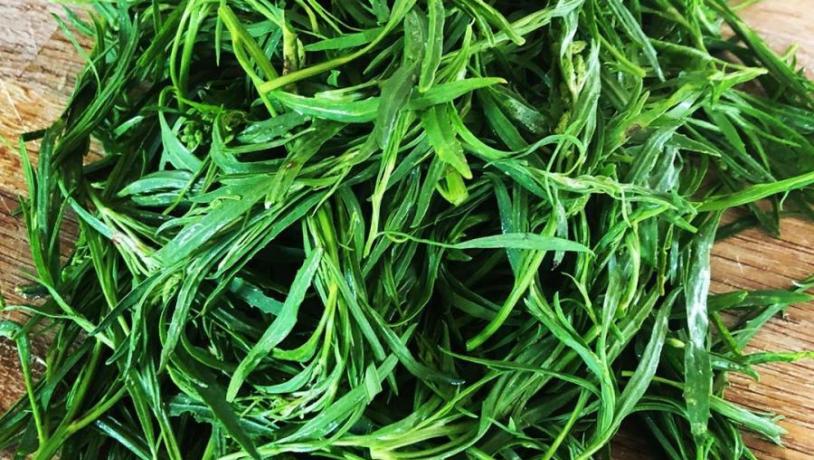 Svend Hamann, strandhoest.dk
Grassleaf Orache
The grassleaf orache is the spinach of the coast, and it has just as many applications. The grassleaf orache is quite ubiquitous but it is especially prevalent where beached seaweed is found. Grassleaf orache is best when the new leaves are harvested in the spring but can be harvested and enjoyed until august when the plant sets seed.
Svend Hamann, strandhoest.dk
Beach Rose
The beach rose is found on most beaches. Many know the diverse applications of the hip rose fruit. But the beach rose's pink petals are likewise very useful. As an example, they can be used in salads where they add a flowery taste of summer. They can also be used to make beach rose sirup or simply to garnish your food. Beach rose is an invasive species so pick as many as you can!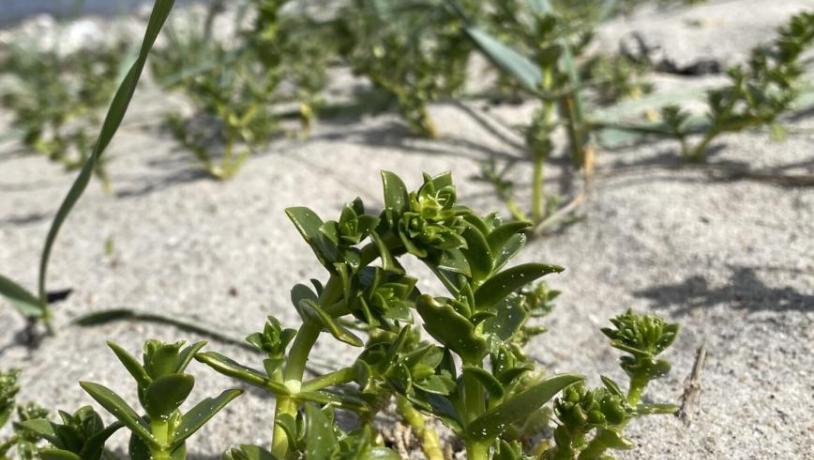 Svend Hamann, strandhoest.dk
Sea Sandwort
The sea sandwort looks like a small Christmas tree and has a fresh cucumberlike taste. The small Christmas tree is one of the few plants that grow directly in the sand, and it is a very common sight on Danish coasts. Sea sandwort is a very tasty addition to any salad and like cucumber it can be pickled.
"Rule number 1: Never eat anything you cannot identify with absolute certainty."
Svend Hamann, owner, Strandhøst
In shallow waters
The shallow waters of the coast offer delicacies that can lift your diner to new heights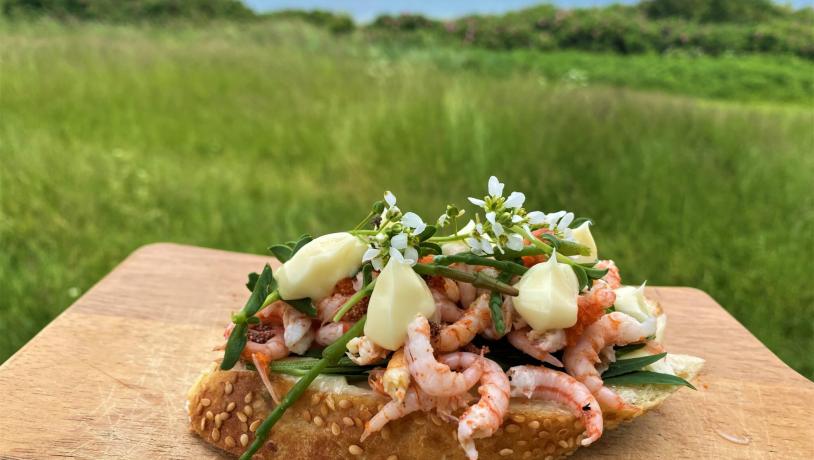 Baltic Prawns
A piece of toasted, white bread with a large handful of prawns is a staple on every Danish lunch table. Catching the prawns yourself certainly doesn't diminish the enjoyment. It is very easy to get started. All it takes is a prawn net with a completely flat bottom. Go into the water until it reaches your knees or hips and push the net in front of you. To catch baltic prawns look for spots with kelp or eelgrass while common shrimp is found in places with a sand bottom. Read more about prawn catching at strandhoest.dk.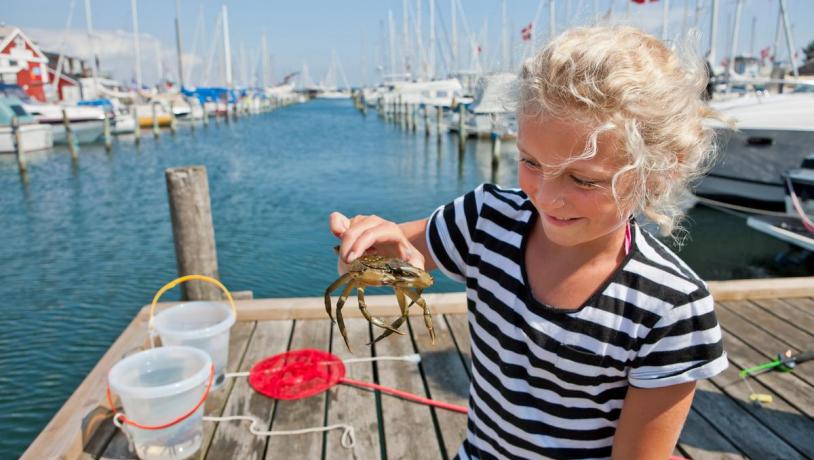 Shore Crabs
Crabbing is a popular sport among Danish kids in the summer season. But apart from being a good source of entertainment during your visit to the beach it can also be a source of food. It is quite easy to make a delicious crab bisque using shore crabs. The crabs can be caught using string with a mussel on a clothespin or simply with a net. Catching shore crabs when snorkeling in shallow waters is also a particularly fun and effective method.
Pro tips for beginners
Three tips from Svend Hamann for those of you who are foraging for the first time
Only forage what you can identify with absolute certainty.

Only forage what you can use. It's just good manners. The rule of thumb is to never forage more, than what a shopping bag can hold.

Always forage from clean places: Steer clear of sewage pipes, harbours, and water streams. Be on the lookout for algae growths and seasons.
The Super Forager Svend Hamann
The outdoor guide Svend Hamann has foraged in The Coastal Land for more than 35 years. With his company Strandhøst he has combined his passion for nature with his knowledge of gastronomy. The purpose of Strandhøst is to inspire others to forage for food out in nature and at the same time showcase nature as a place where you can escape tablets, phones and the humdrum of everyday life.
You can book Svend for a wide range of activities and events centered around the great pantry of nature. Read more about oyster events, cooking events, foraging trips, nature therapy  an many more experiences in nature at www.strandhoest.dk