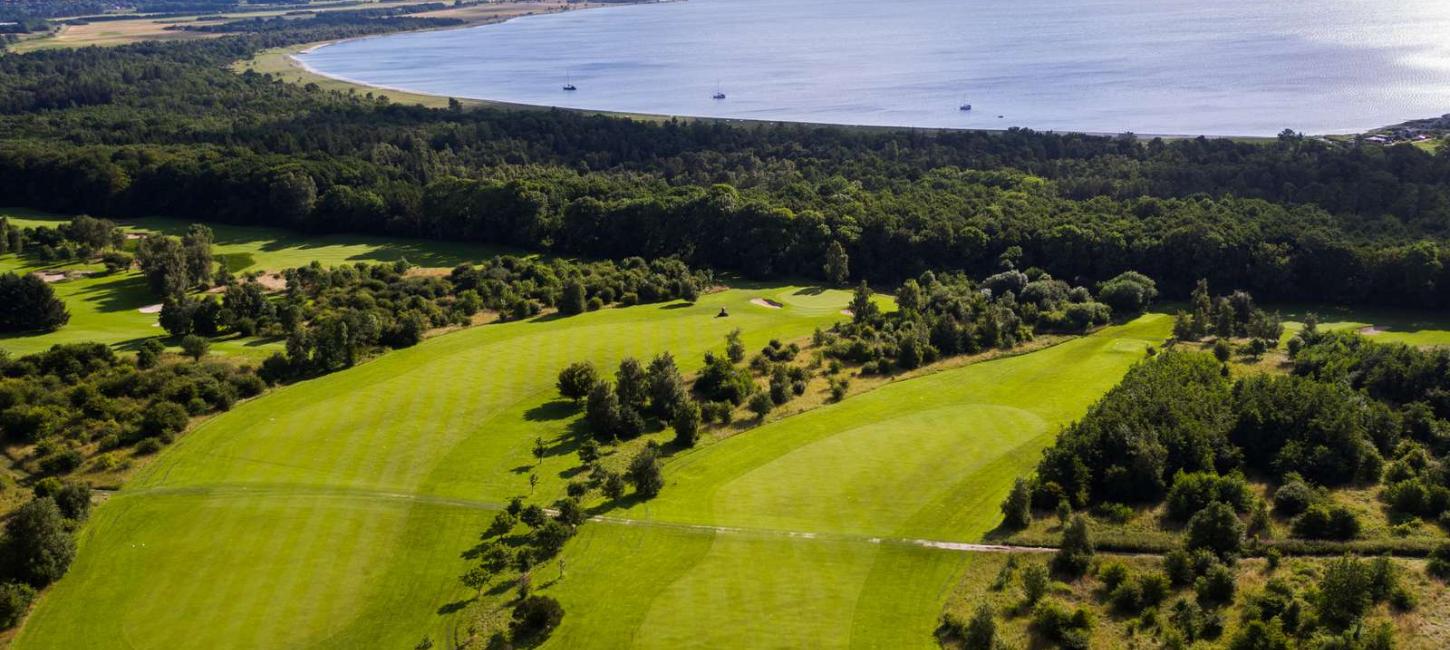 Tee off and have a great golf day in Juelsminde
Photo:
Juelsminde Golf Glub
Juelsminde is often associated with sailing and genuine sailing atmosphere. However, it's also a perfect destination for a great day with sea-view greens, as well as lovely shops and eateries so close to the sea and harbour that you can almost hear the ripples as you relax, shop or eat.
Golf is a sport with a direct course towards green, wonderful nature experiences, healthy competition and socialising with the club, mates, team, family or your better half.
Take a day out of the calendar and swing the clubs on the beautiful course in Juelsminde and continue the round with delicious food and shopping in the wonderful harbour environment of Juelsminde town.
Golf with a sea view
Juelsminde Golf Club has a fantastic course where the landscape and nature experience is combined with some varied, fun and challenging golf holes.
Here you will find long holes with wide fairways and a wow factor, and shorter, more technically demanding holes where you can challenge your swing.
Also look forward to the unique views from Hole 2, which has the most stunning view of Juelsminde Bay and Juelsminde Marina, which makes even the busiest golfer stop and enjoy the breath-taking views.
Anyone with a DGU card is welcome. Read more about green fees and the golf café.
Continue the round in Juelsminde town
When the golf round is over, you can continue the good company on the cosy waterfront in Juelsminde town.
Here you will experience a very special harbour atmosphere with rocking masts and clinking glasses and cutlery from the happy, diners all around the cosy marina.
There is free parking in Juelsminde. For example, leave the car in the car park at Rousthøjs Allé/Odelsgade or on the street called Havnen.
Enjoy the special harbour atmosphere
The harbour in Juelsminde is filled with cosy restaurants and cafés where golfers, sailors and other lovers of life meet over a chilled glass of white wine, a cold draught beer, freshly caught fish or other delicious goodies.
If you head towards the old ferry harbour, you can enjoy honest, delicious food at Restaurant Møllers and Restaurant På Havnen. And on Færgegårdsbakke a little further up in the town, you will always find exciting dishes on the menu at Restaurant Færgegården at Hotel Juelsminde Strand.
Shop to the sound of the waves
Continue the trip with some shopping and walk around the town's cosy streets and alleys. In Juelsminde, the town's shops are gathered around the marina and the town's "shopping street", Odelsgade.
Did you manage to see everything?
If not, stay overnight and extend your visit with more golf and more experiences.